The Dilemma
After reviewing the vaccine debate over the last 25 years, I have seen ample evidence for why people have solid reasons for choosing to receive a vaccine, or not choosing to receive a vaccine.  The dilemma is who gets to make that choice for an individual.
Most of us have been presented the case that millions of doses of the Covid-19 vaccine have been administered and the vaccine has been deemed "safe and effective", and we should possibly move into mandates and even "vaccine passports".   I present the following information to bring a broader scope to the conversation that I hope will bring further review of the issue.
As I have stated in my other post, I will also state here: I have personally had more than a moderate case of Covid-19, and experienced some 'long-haul" symptoms, (recently resolved). Most of my family, and many of my friends have had Covid-19, mostly mild.  A friend of mine has died of Covid-19.  Thus, yes, I know that Covid-19 is very real. 
I affirm a person's right to receive a vaccine, as long as it is their choice, and they are not mandated to get one in order to travel, work, do business, or attend school.
Current Reports of Adverse Events
Since first writing this blog post, I have split the content into two separate posts.  The information in this post primarily gives info on news articles and personal stories on adverse reactions, how we need to start buidling trust, and the need for choice. To access the data to 4 government sites on adverse reactions that have been reported, click below:
These are the current adverse reactions as of 2/14/2021
Click
HERE
for
all data links:
You can break down into categories such as Deaths, Bell's Palsy and Anaphylactic shock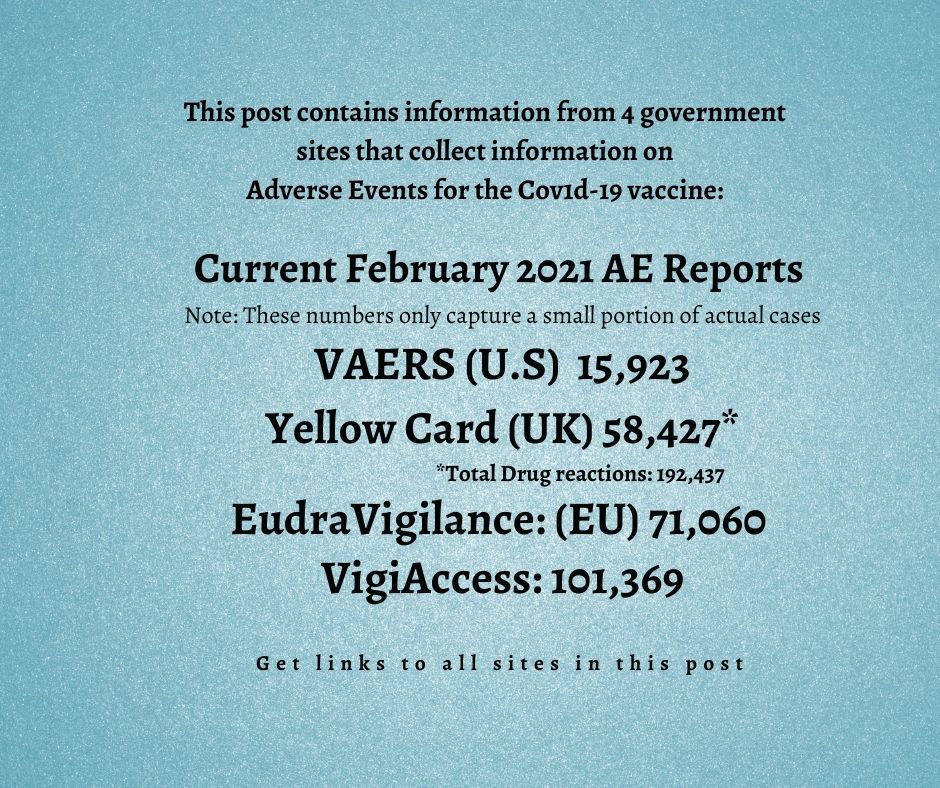 SERIOUS ADVERSE REACTIONS
Please watch these videos:
Click on post to start video – Part 1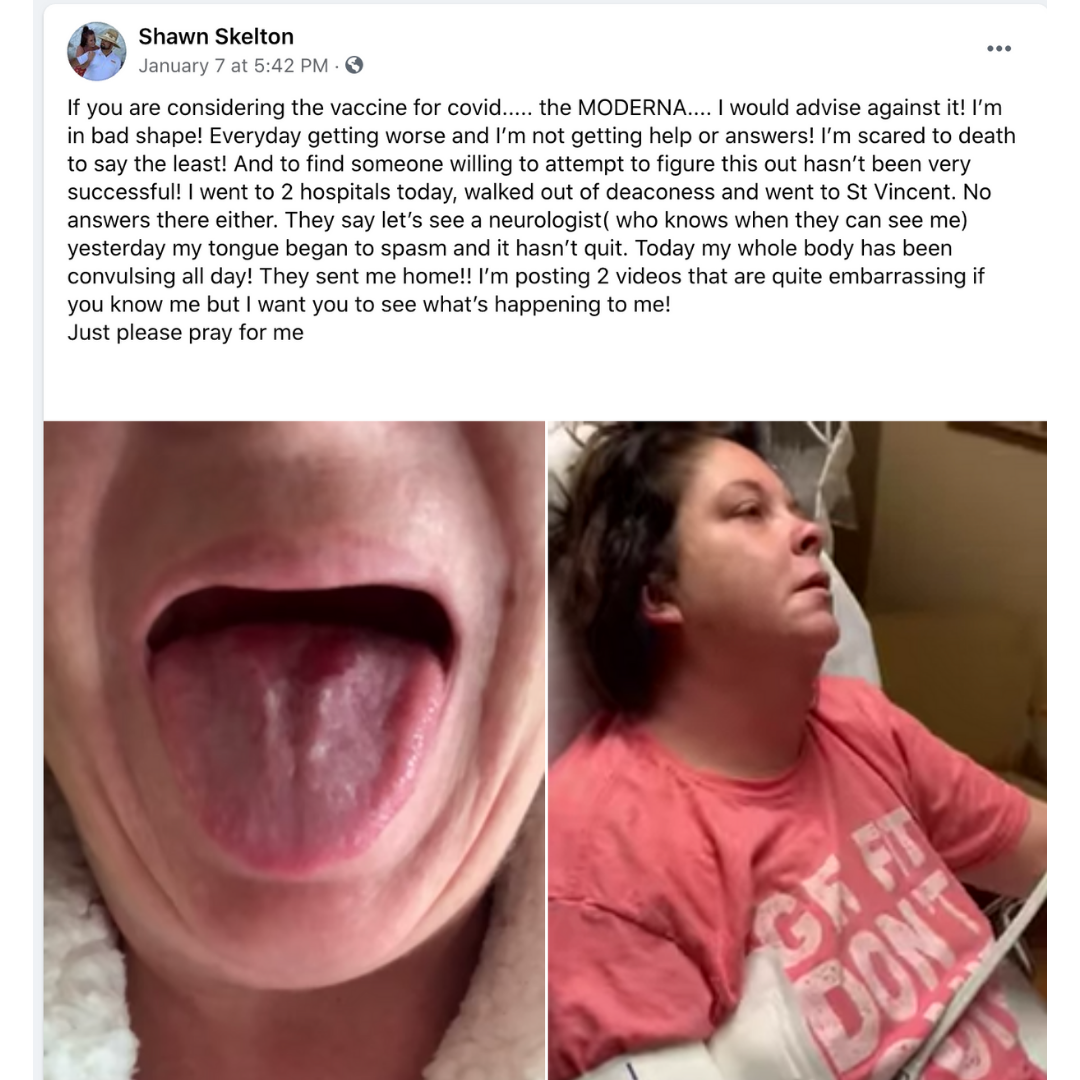 Click on picture to start video of Shawn – Part 2

What is really heartbreaking is that some people have called this a hoax. This is the response of some:
Stephen Doig, a data journalism professor at Arizona State University and board member of the National Center on Disability and Journalism, told the Daily Dot that Skelton "is clearly faking a problem."
So now not only is Shawn fighting with the adverse reactions, she has to fight agaisnt those calling her a liar. How does Mr. Doig come to such a conclusion? Are all the people having this reaction faking it? In addition, because Shawn never reported her reaction to the health department or VAERS, they dismiss the claim. This would also confirm my earlier point that VAERS only captures a very small number of actual cases.
Experimental vaccines have been created at "warp speed" using brand new technology, never before used in humans, were tested for several months, and then rolled out to vaccinate a global population.
Why is it so hard to believe that someone could possibly have a reaction to this vaccine?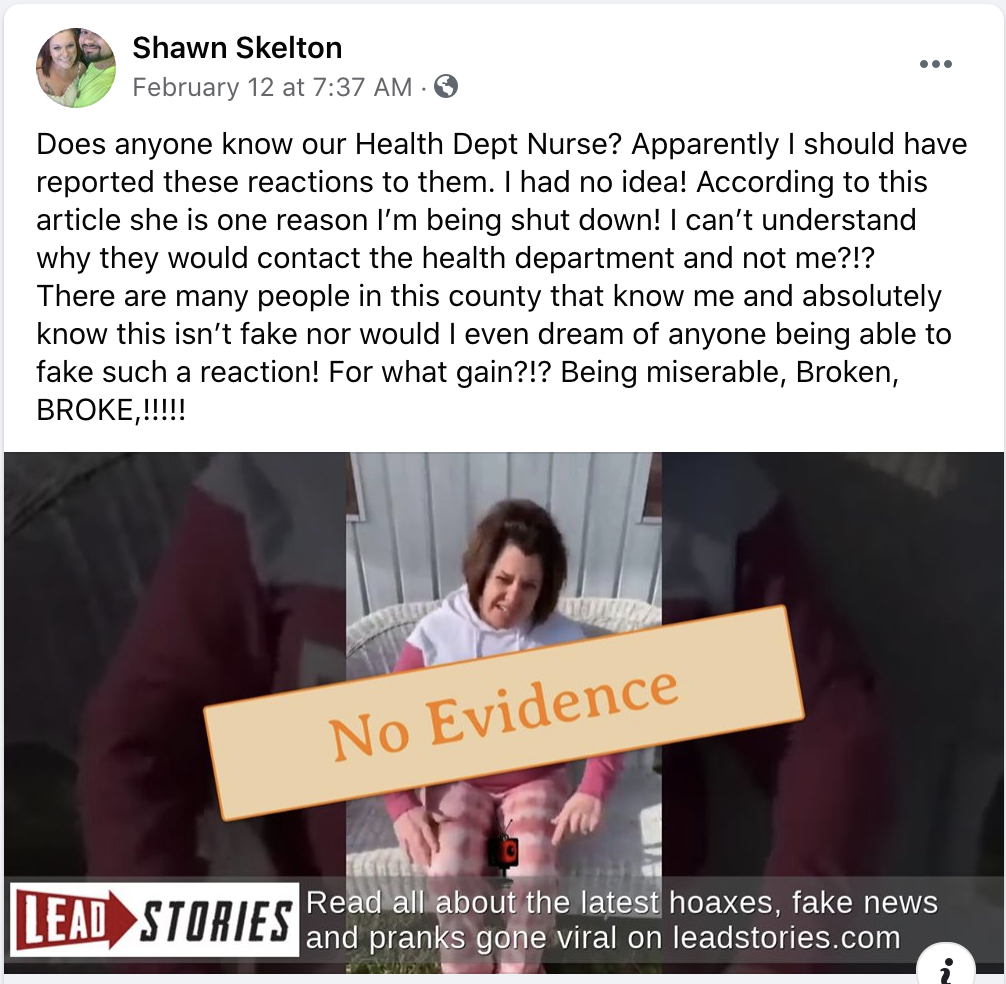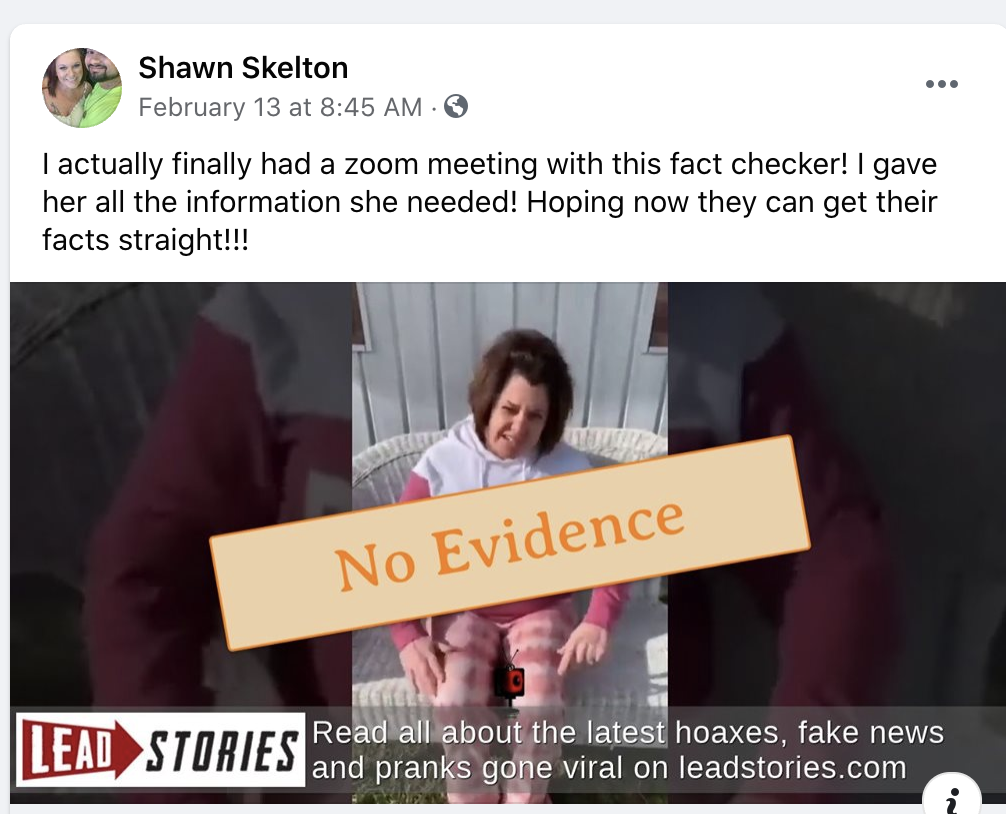 Click on post to start video:
The same thing happening to Shawn is happening to Brant's mom.
Kristi, and RN, started having non-stop tremors after the vaccine and mentions that she knows 5 other people this has happened to. 
Click photo to watch.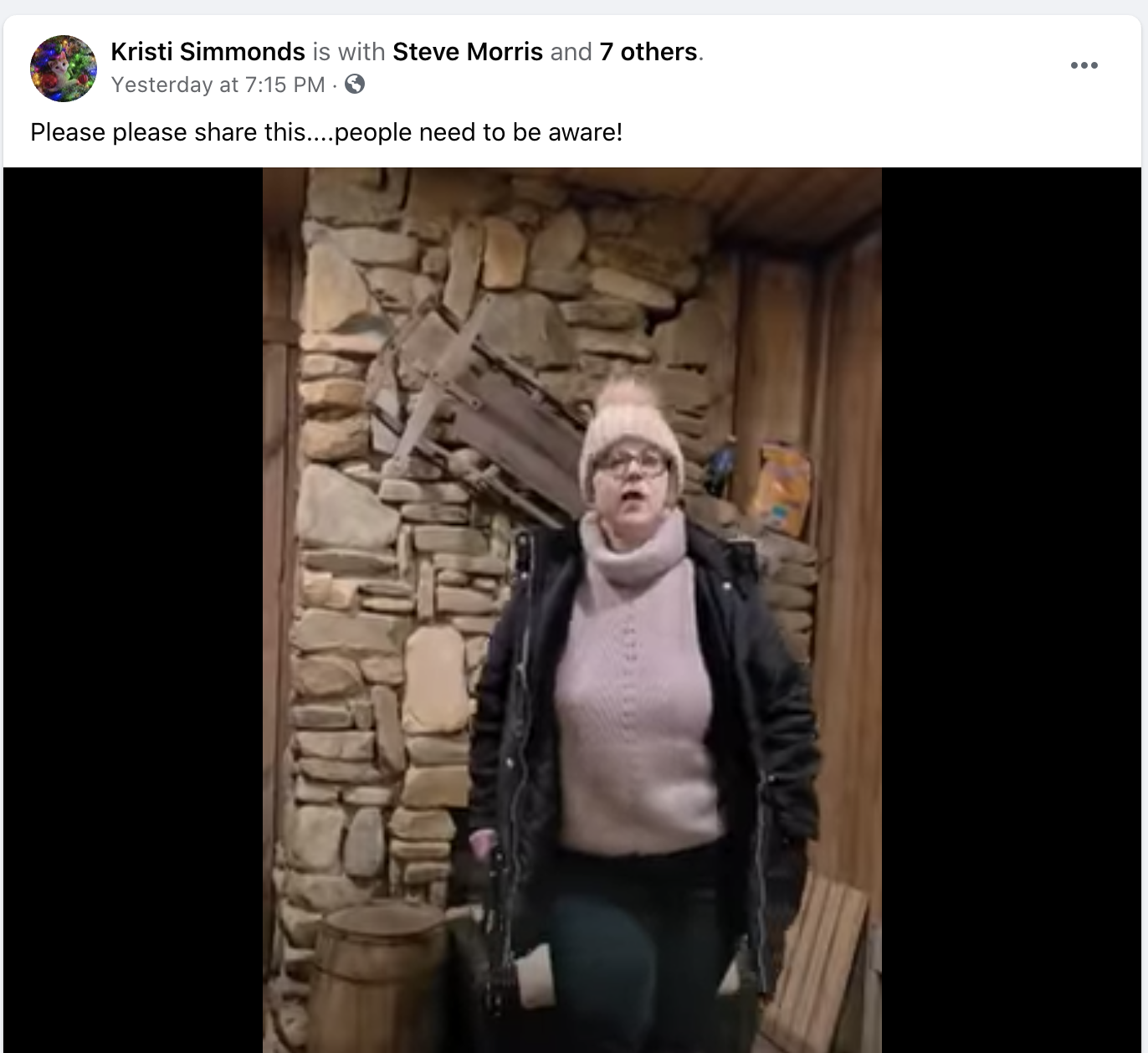 This Covid nurse had the Pfizer vaccine and at the time of this video was still experiencing Bell's Palsey symptoms.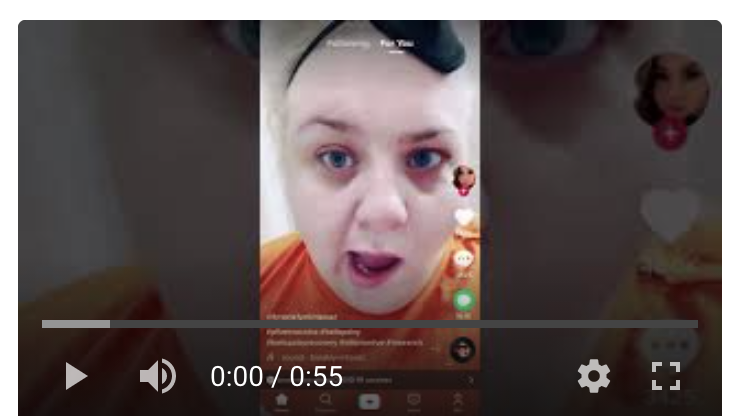 Concern For the Elderly
Something to consider. Initial vaccine  trials are generally done with the healthier of the population.  That certainly makes sense because you would not want to start the trials with the "frail and/or elderly", or really anyone who may have some underlying health conditions.   However, is that not what we are now doing? We really do not have adequate information as to ascertain what the reactions may be with this population because the vaccine was not primarily tested on this demographic.
To approve the use of an experimental technology on such a massive scale without such data on a vulnerable demographic group seems potentially imprudent.
Click on each picture for the story.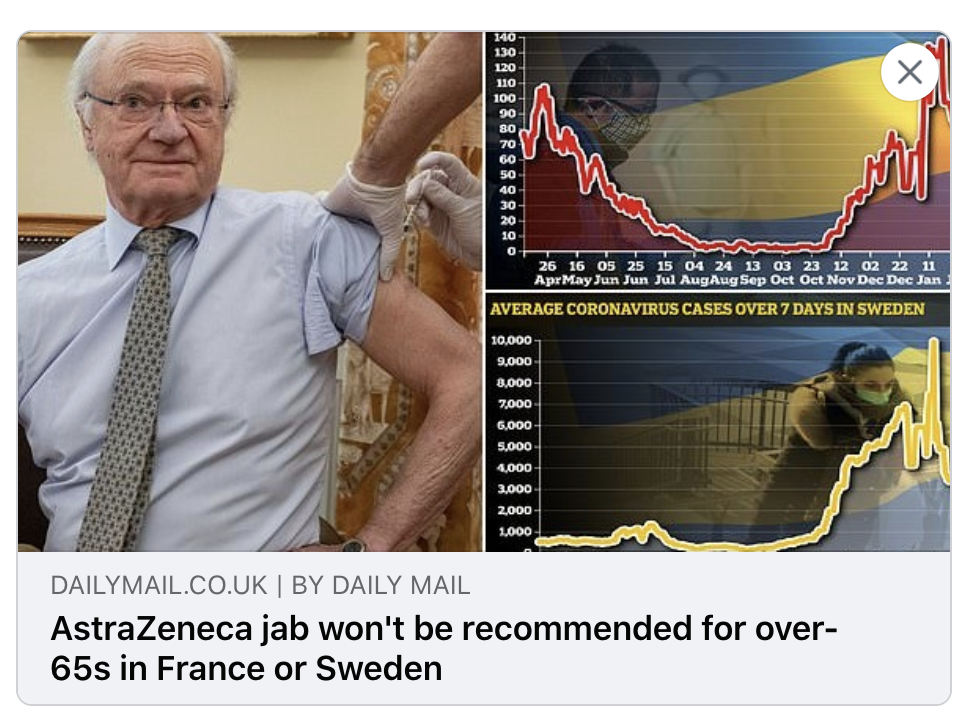 The Oxford AstraZeneca vaccine will not be recommended for over-65s in France or Sweden, the countries' health ministries announced today.
It comes after Germany advised against administering the jab to those over 65 and Emmanuel Macron claimed it was 'almost ineffective' for the age bracket.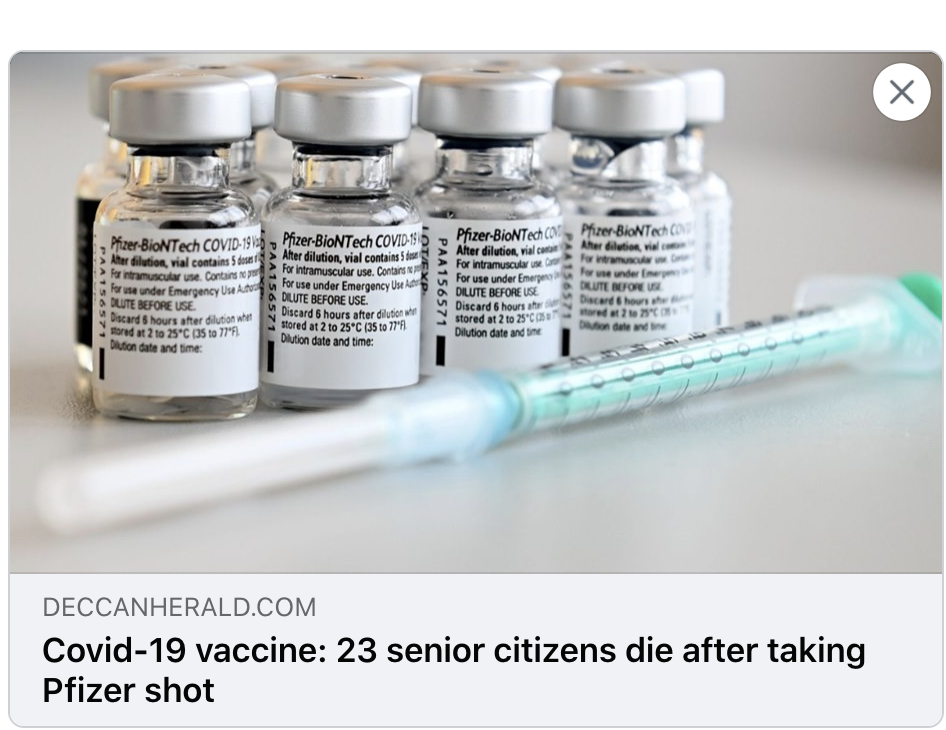 Norwegian officials said 23 people had died in the country a short time after receiving their first dose of the Covid-19 vaccine. Of those deaths, 13 have been autopsied, with the results suggesting that common side effects may have contributed to severe reactions in frail, elderly people, according to the Norwegian Medicines Agency.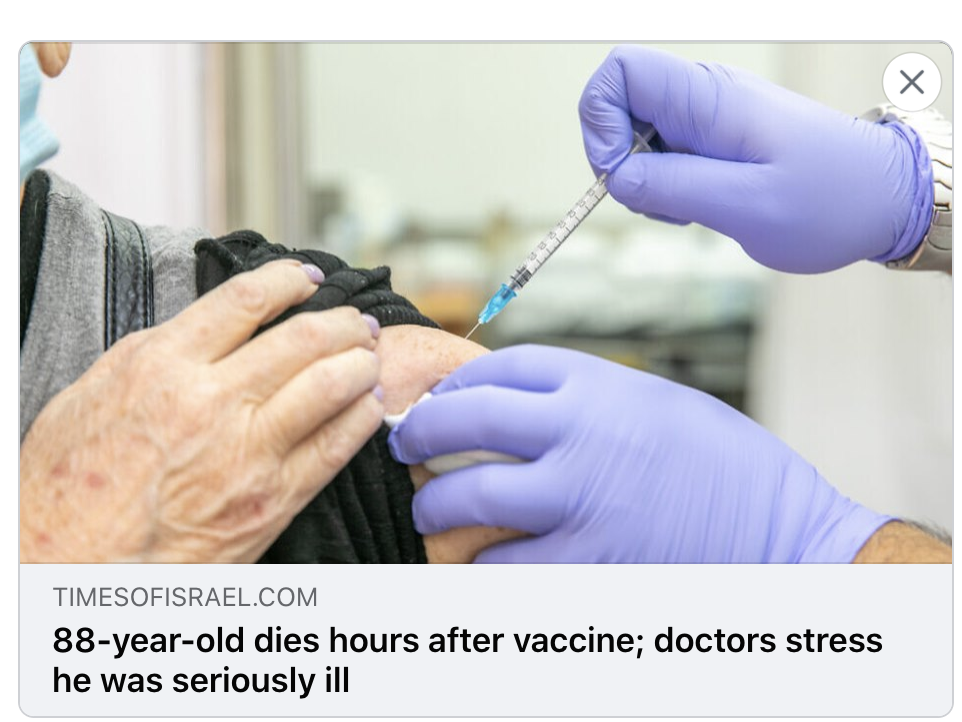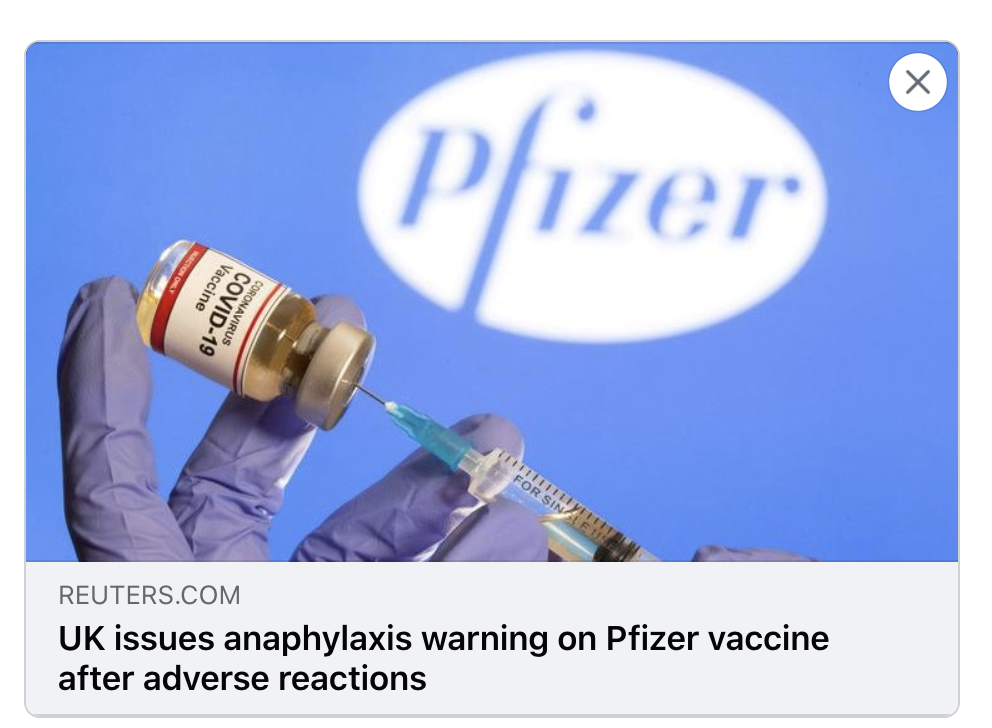 Britain's medicine regulator said anyone with a history of anaphylaxis to a medicine or food should not get the Pfizer-BioNTech COVID-19 vaccine, giving fuller guidance on an earlier allergy warning about the shot.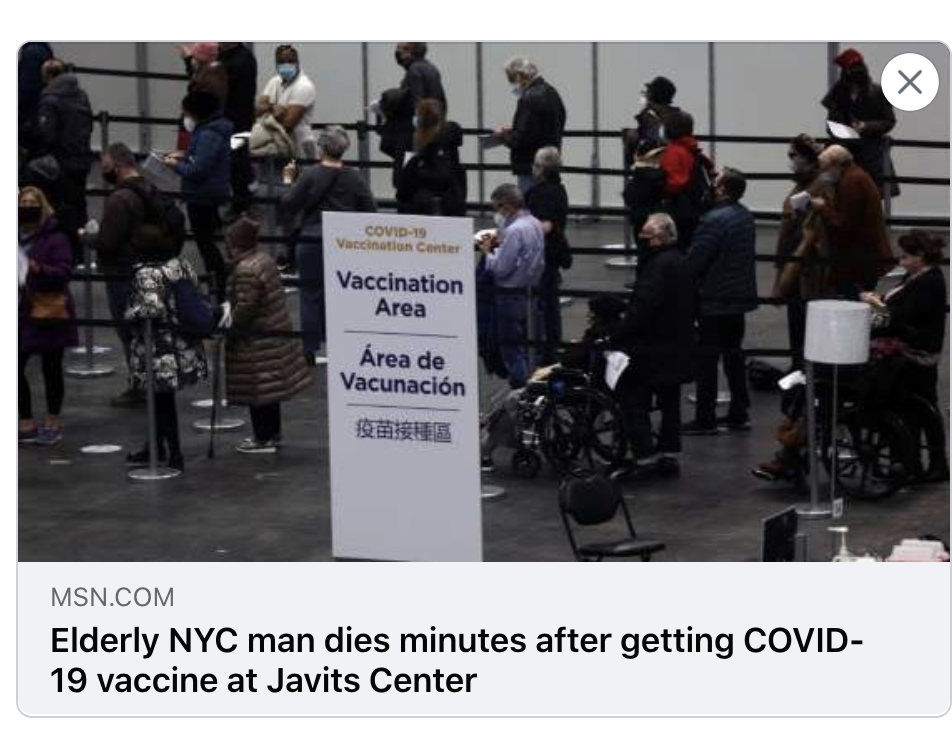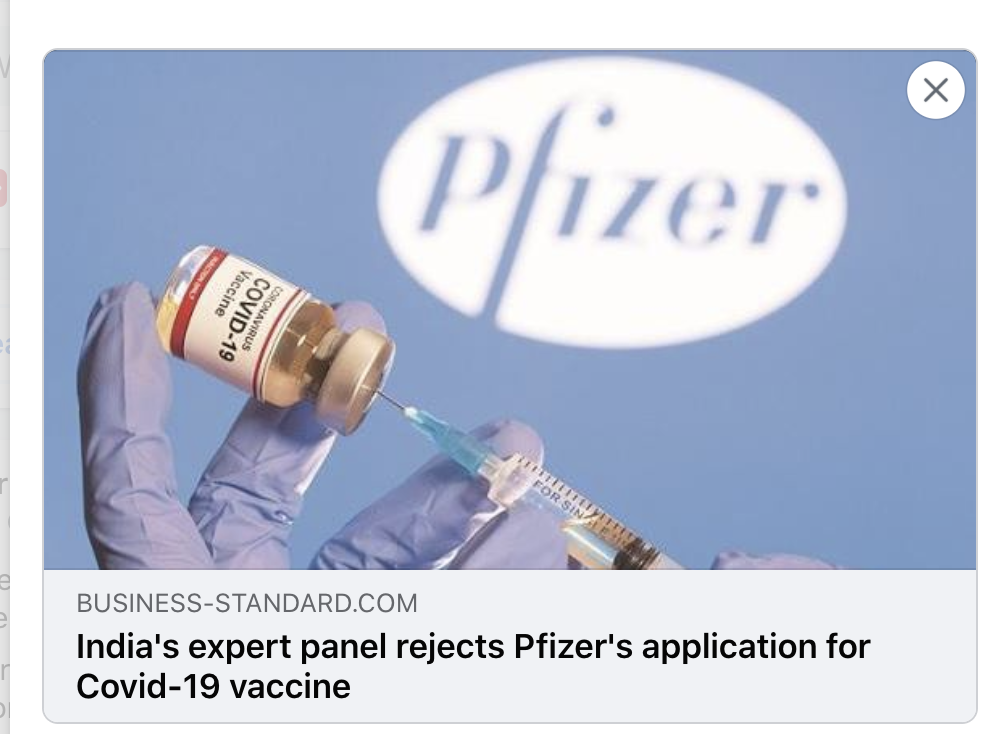 The committee noted that incidents of palsy, anaphylaxis, and other serious adverse events (SAEs) have been reported during post marketing, and the causality of the events with the vaccine is being investigated.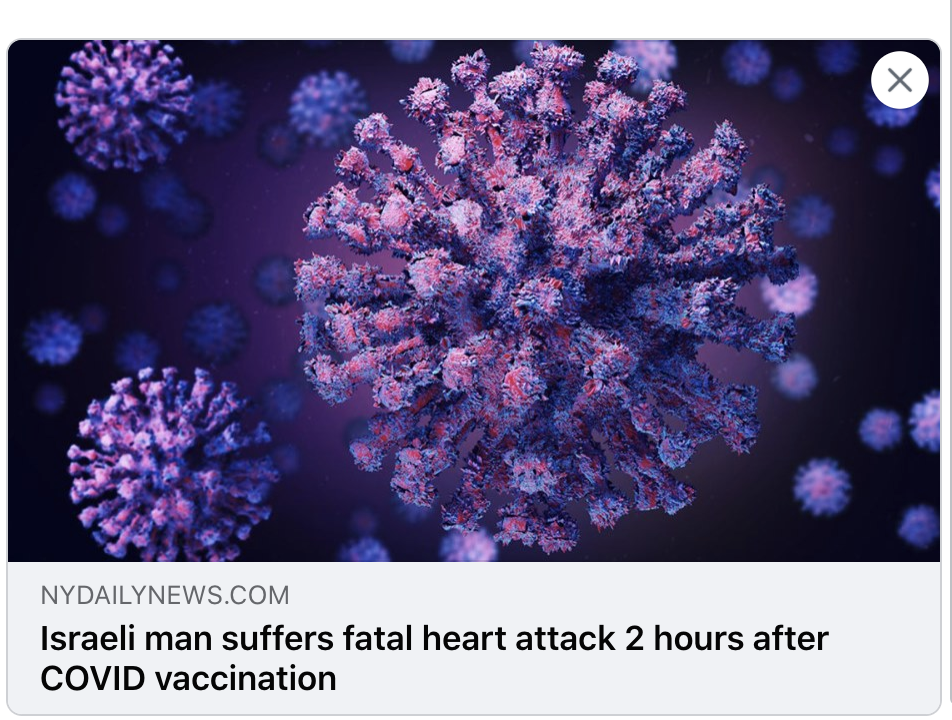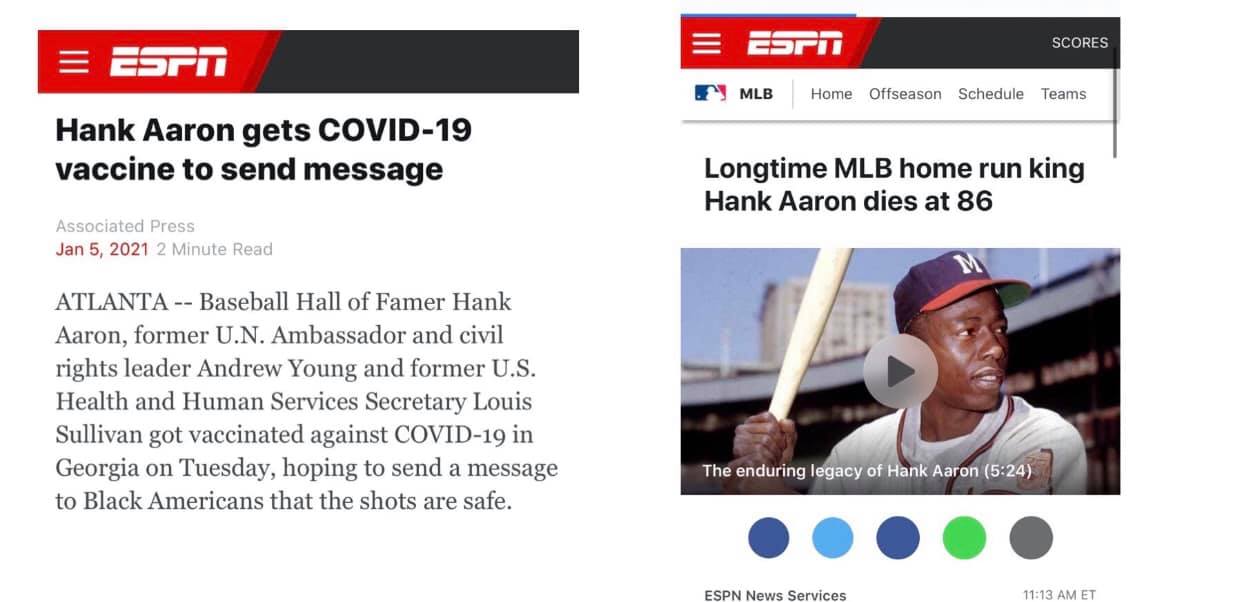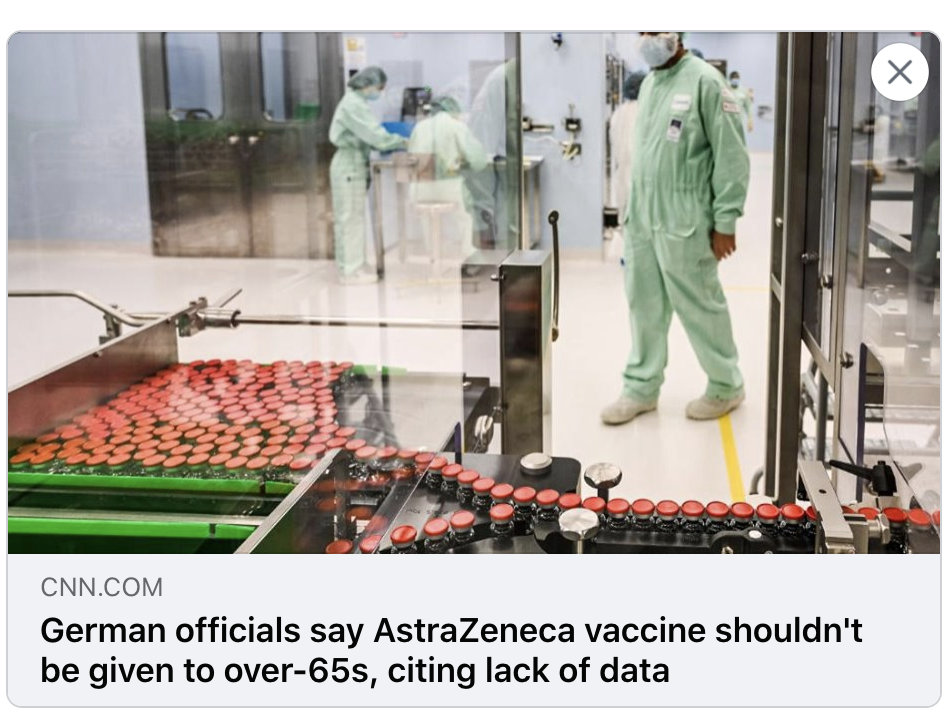 "Due to the small number of study participants in the age group ≥65 years, no conclusion can be made regarding efficacy and safety in the elderly."
Further Concerns
My focus in this blog post is in presenting the "other side" of the Covid-19 vaccine narrative, so that people can be fully informed. Again, I affirm everyone's right to get the vaccine or not to get the vaccine. The goal is to maintian choice.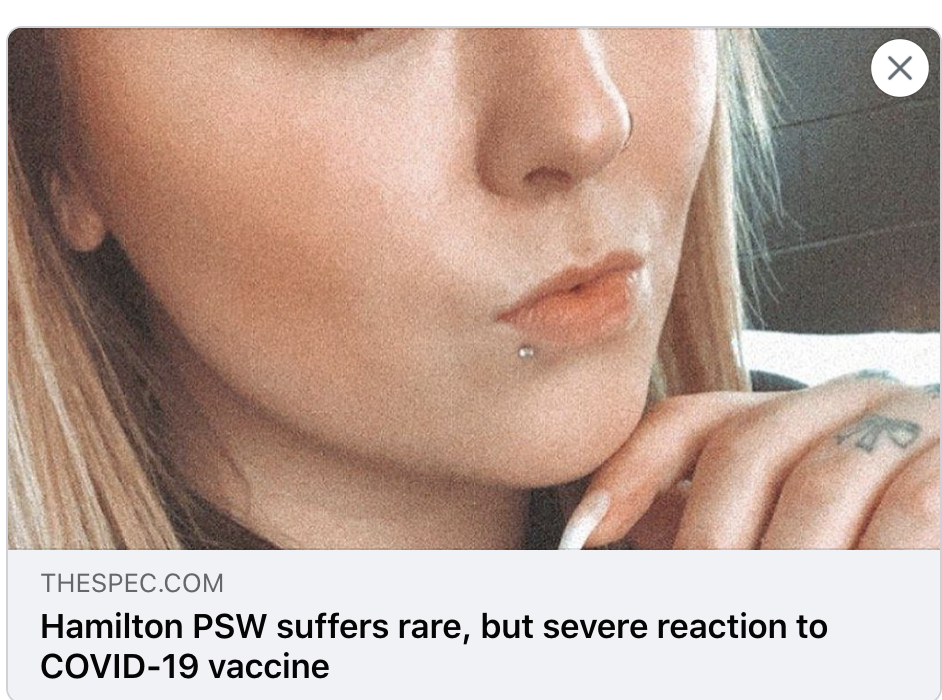 "After taking the Benadryl, Tilli said she felt better momentarily but within minutes her symptoms came back stronger. The paramedics gave her an EpiPen and that's when things "started to go downhill."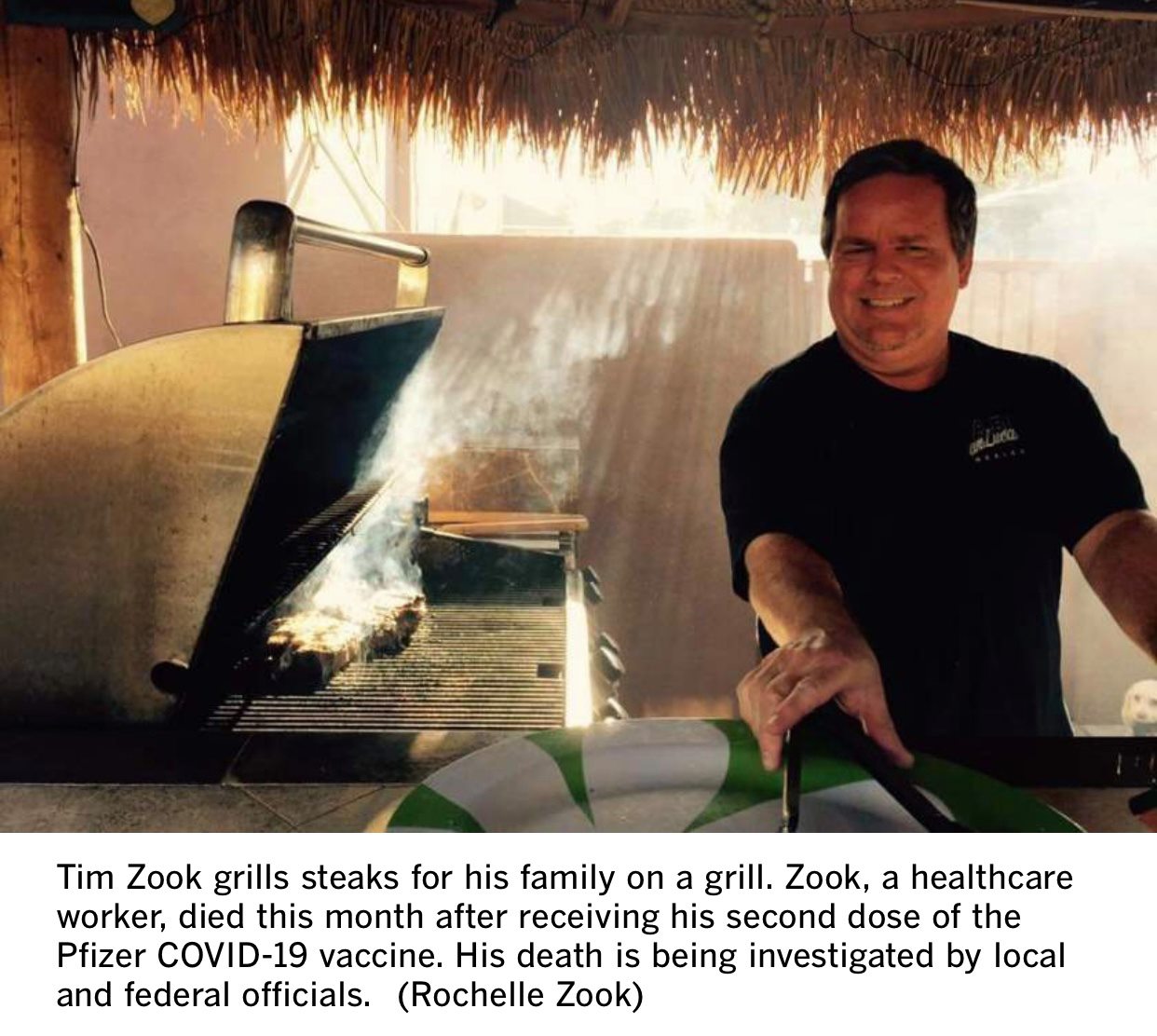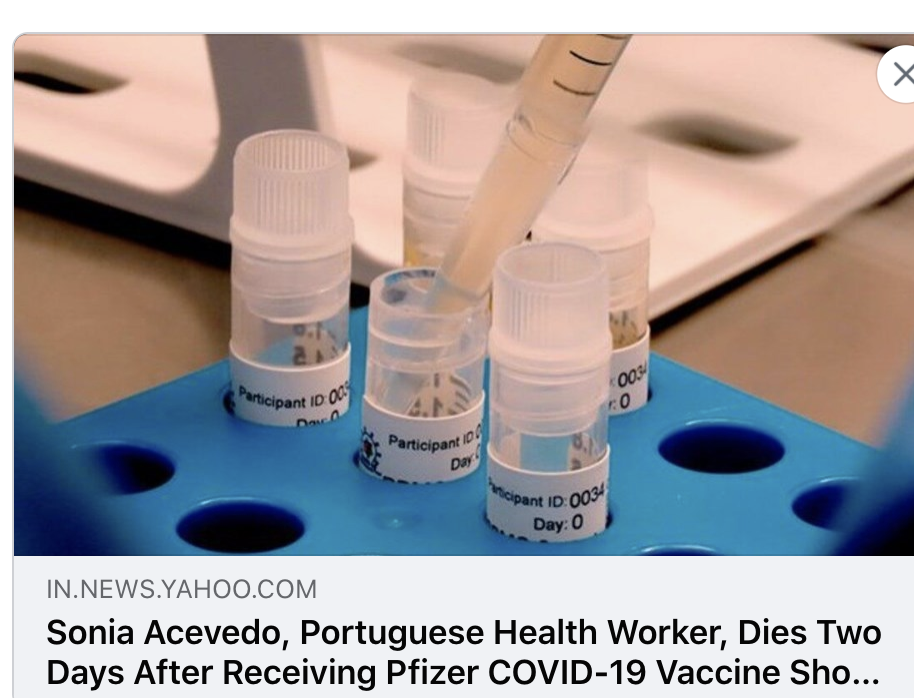 "We found out that the young man had contracted the coronavirus asymptomatically before he was vaccinated. It may be accidental but I would not underestimate it. Care must be taken in vaccination of people who were sick with coronavirus in the past."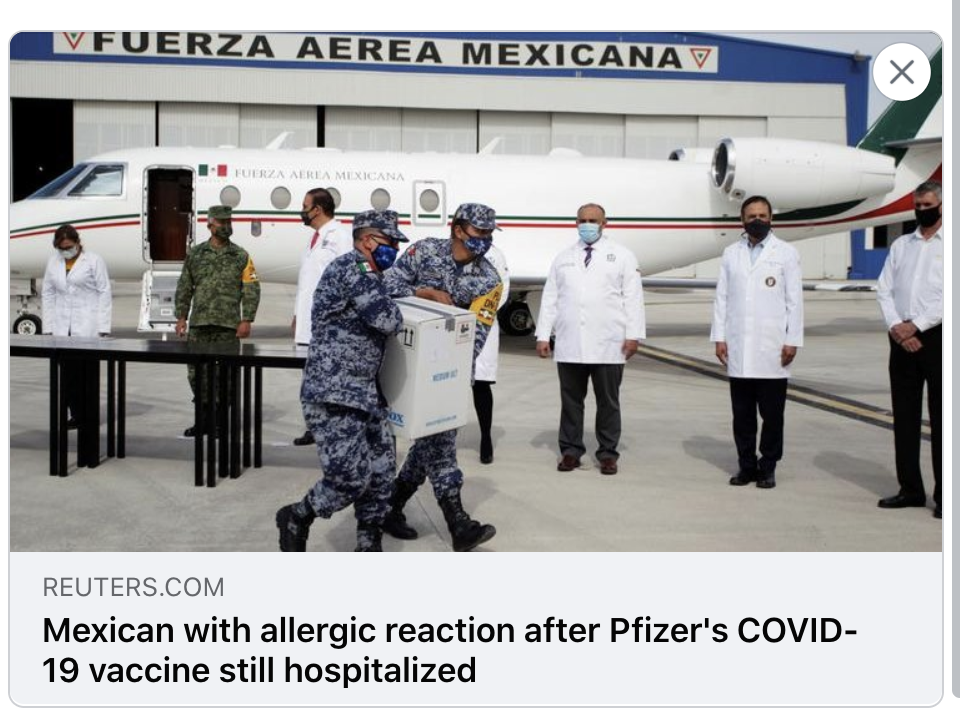 "A Mexican doctor who had a serious allergic reaction after receiving Pfizer Inc and BioNTech's vaccine against COVID-19 remains hospitalized and has not fully recovered muscle strength, health authorities said on Wednesday."
Click on photo for story.
'In my mind his death was 100 percent linked to the vaccine. There is no other explanation,' she told DailyMail.com, fighting back tears. He was in very good health. He didn't smoke, he drank alcohol once in a while but only socially. He worked out, we had kayaks, he was a deep sea fisherman. They tested him for everything you can imagine afterwards, even cancer, and there was absolutely nothing else wrong with him.'
"MIS is a reaction in someone who has had the COVID infection weeks or months earlier and mounted a severe, delayed immune reaction, which often causes significant damage to the organs."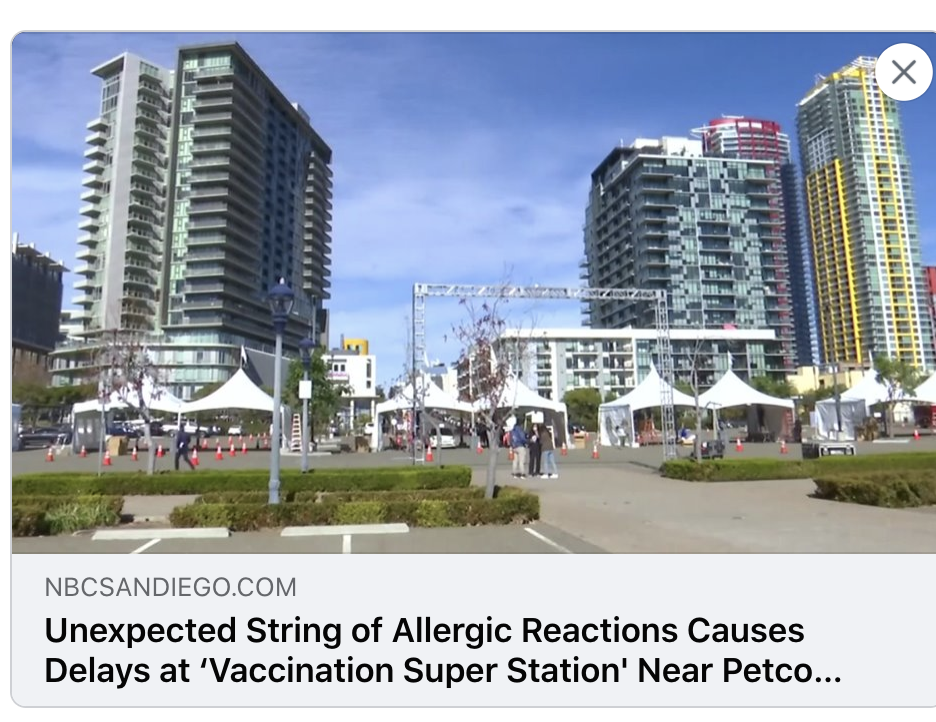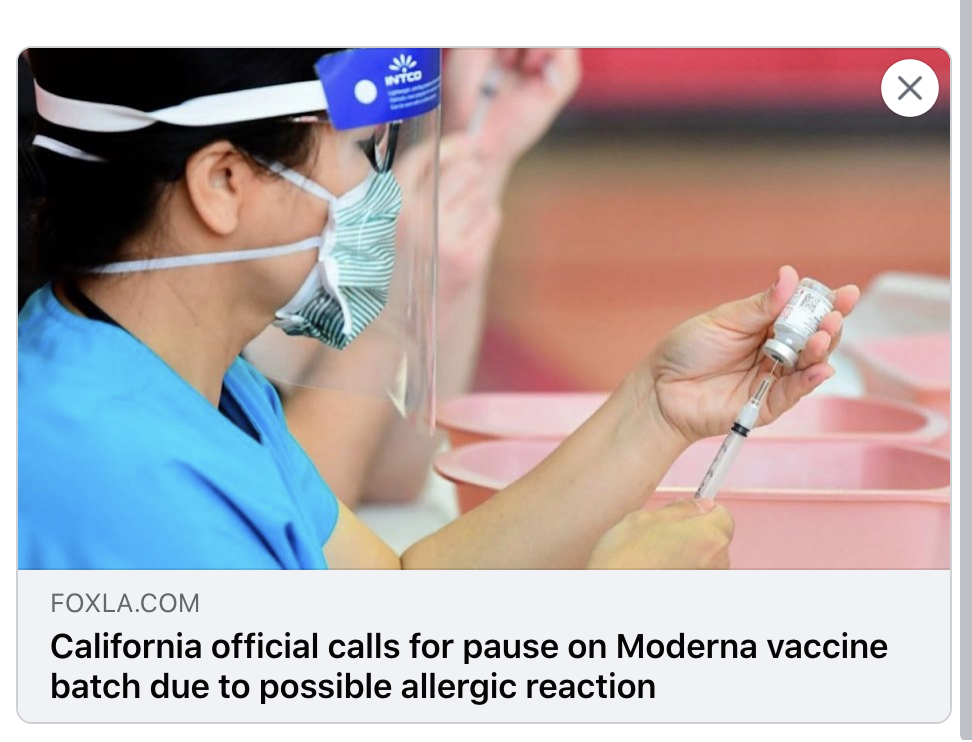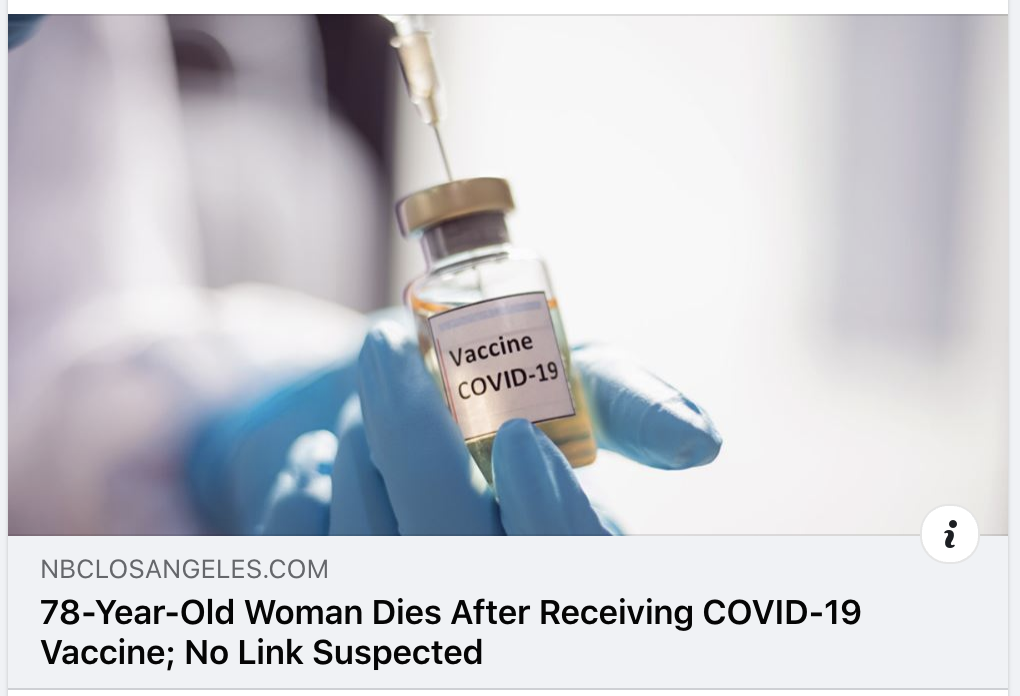 She has the vaccine and dies while in the observation area, yet it said there is no connection. How do they know this without an autopsy?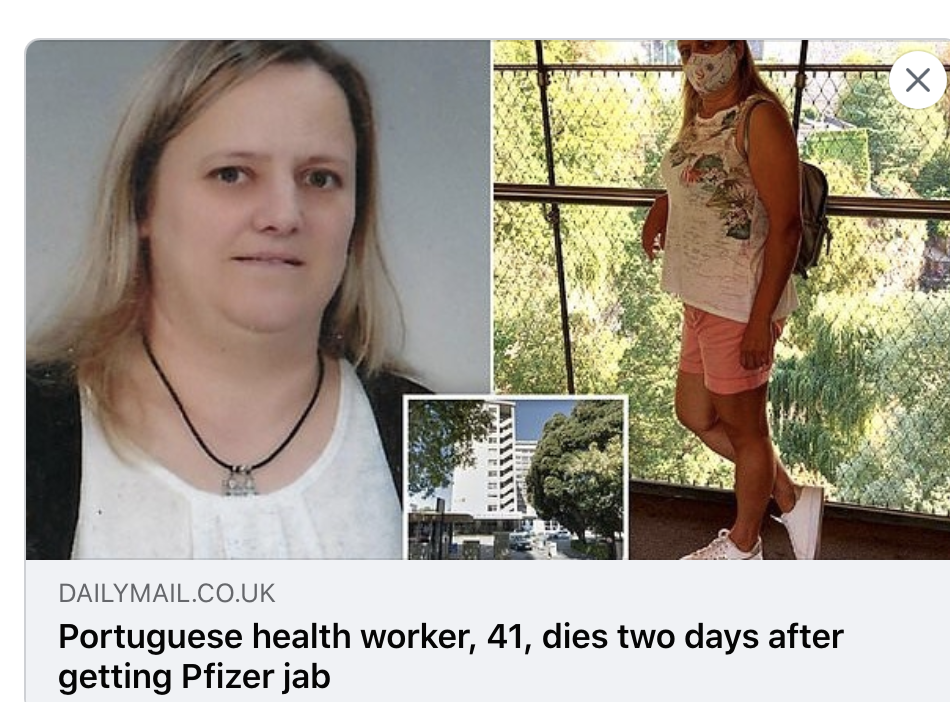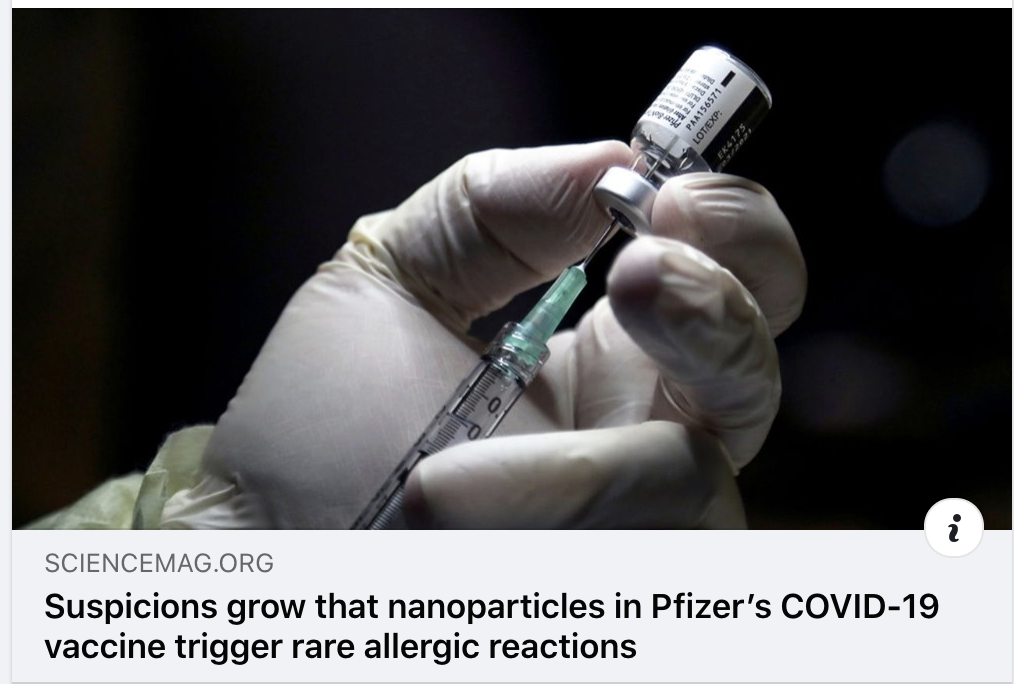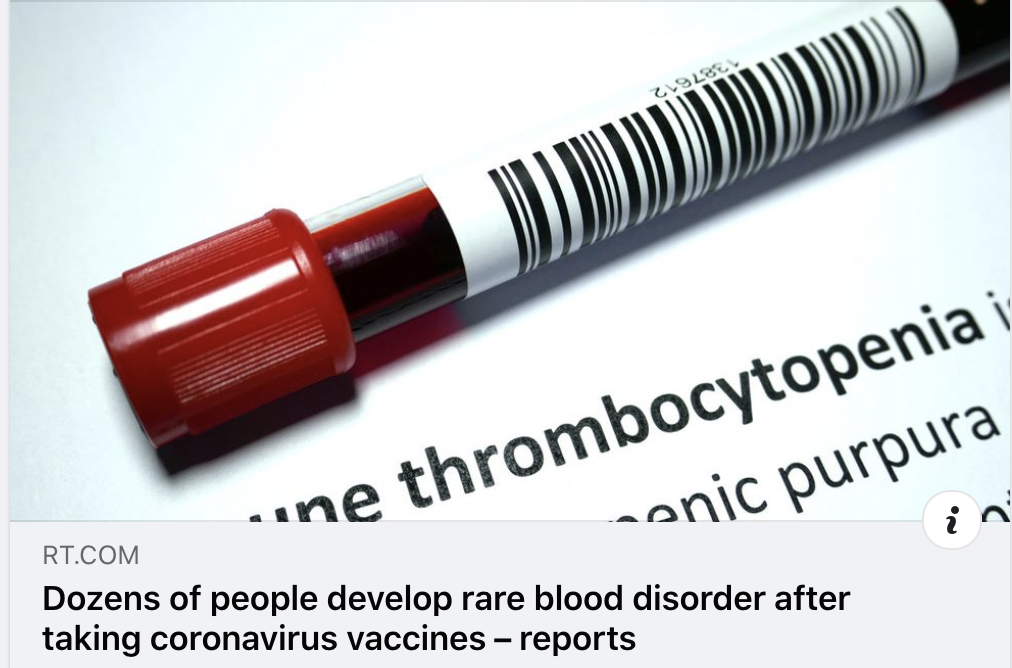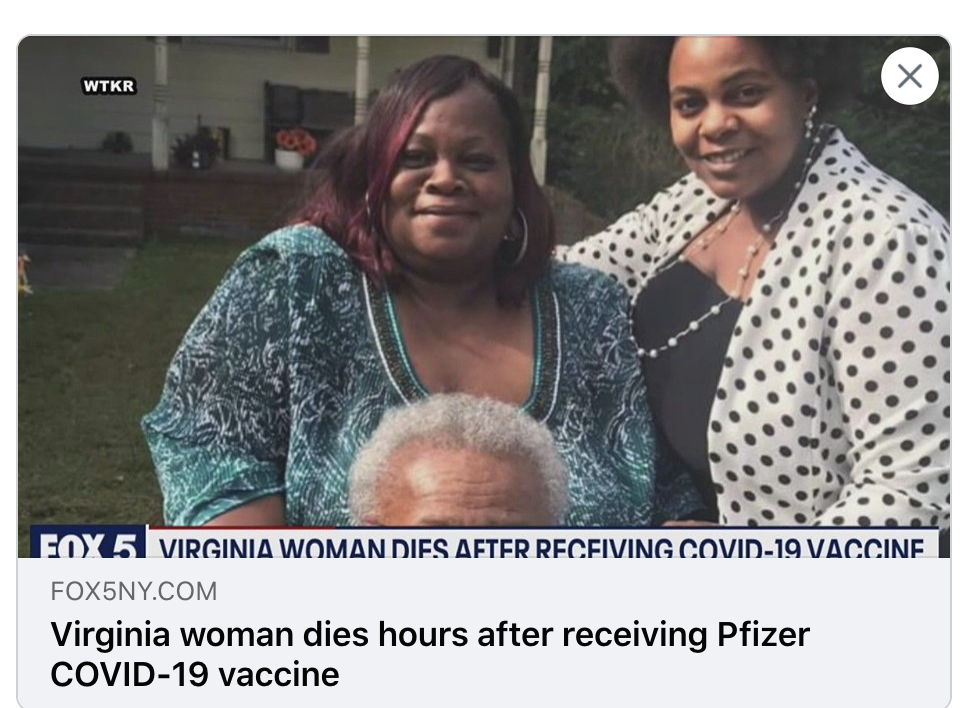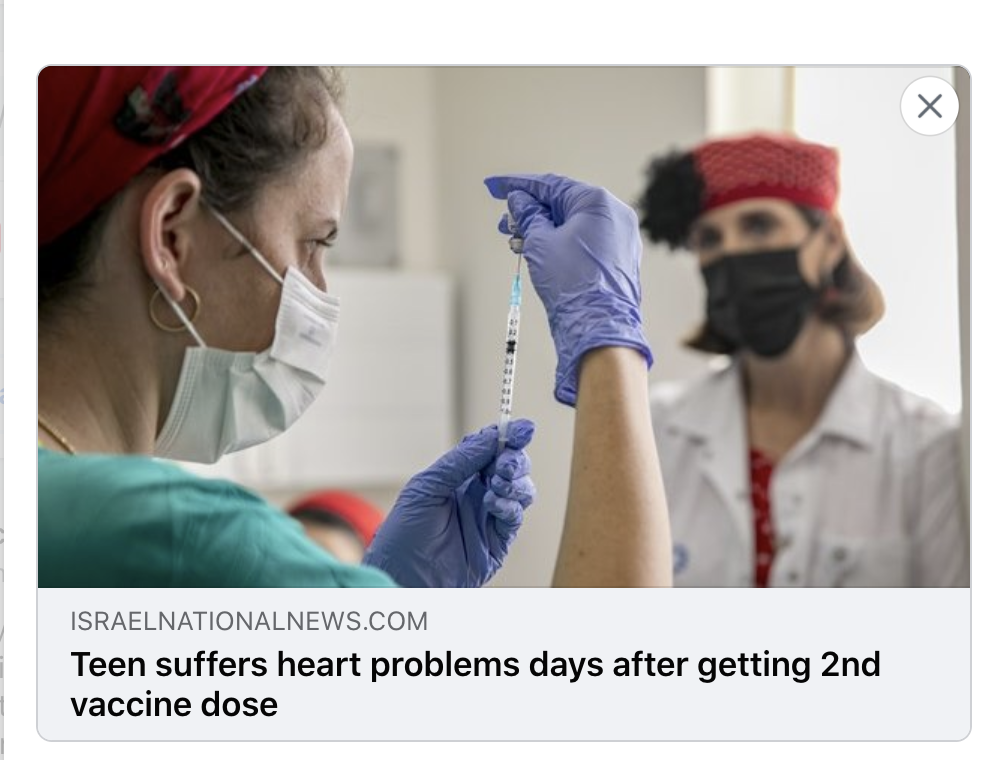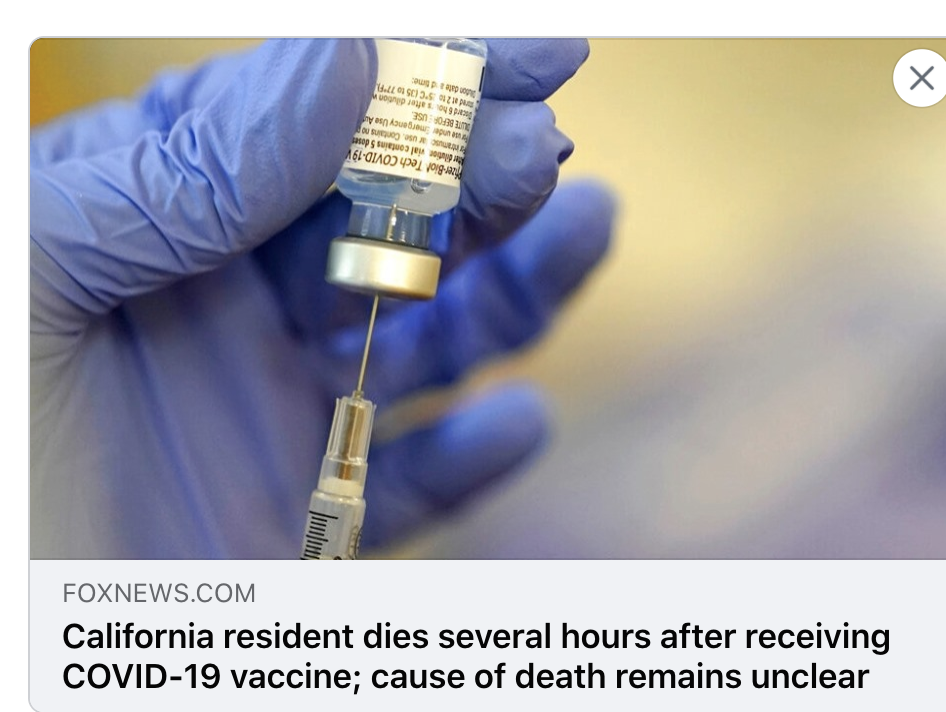 Moore
 

told the Times

 

that officials "seem to have abandoned science completely now and are just trying to guess their way out of a mess."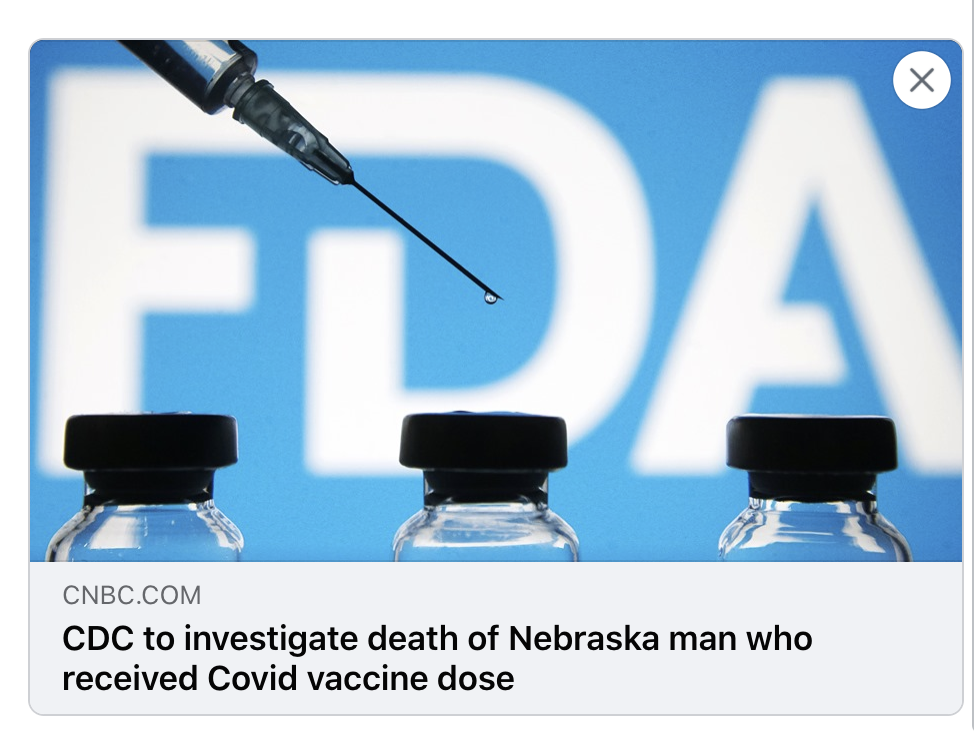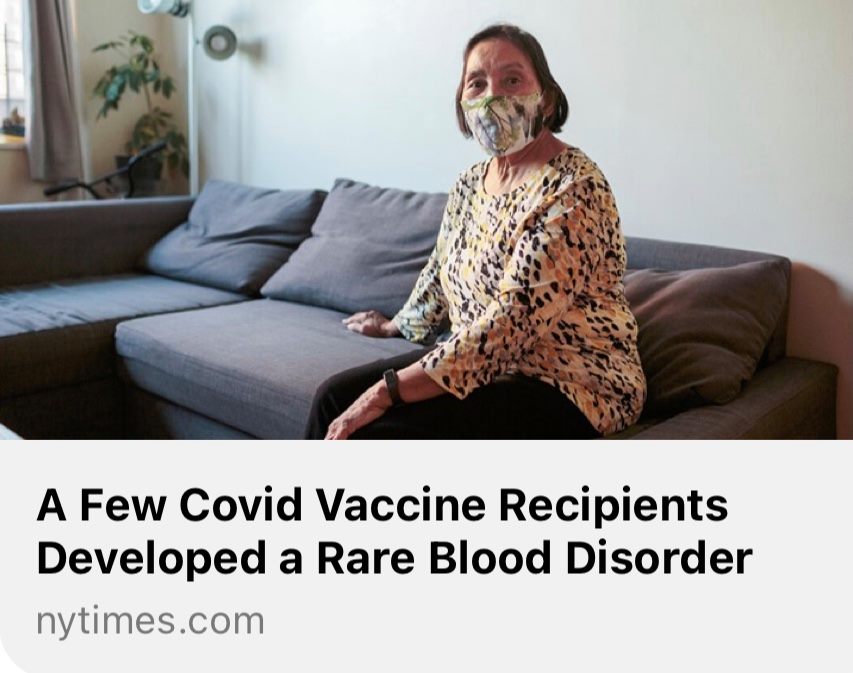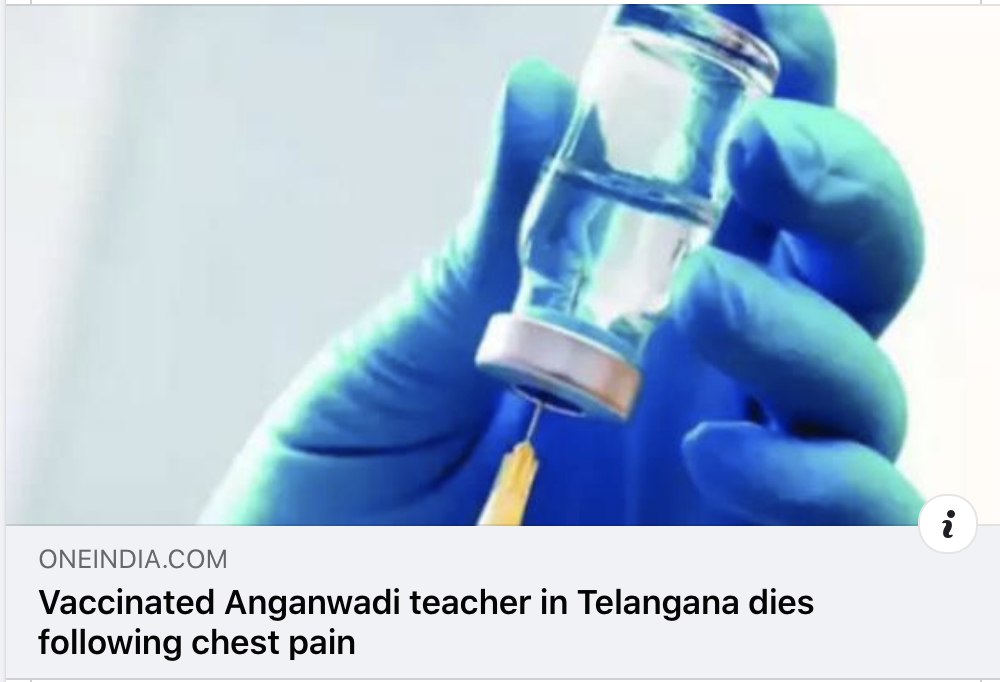 She is the second person, who had taken COVID-19 vaccination, to have died in the state after complaining of chest pain. Earlier, a 42-year-old healthcare worker in Nirmal district died on January 20 but a health official had said preliminary findings suggested it was unrelated to the vaccination.
Anaphylaxis, an acute and potentially life-threatening allergic reaction, has been reported following vaccination with
 Pfizer and Moderna

 

COVID-19 vaccines.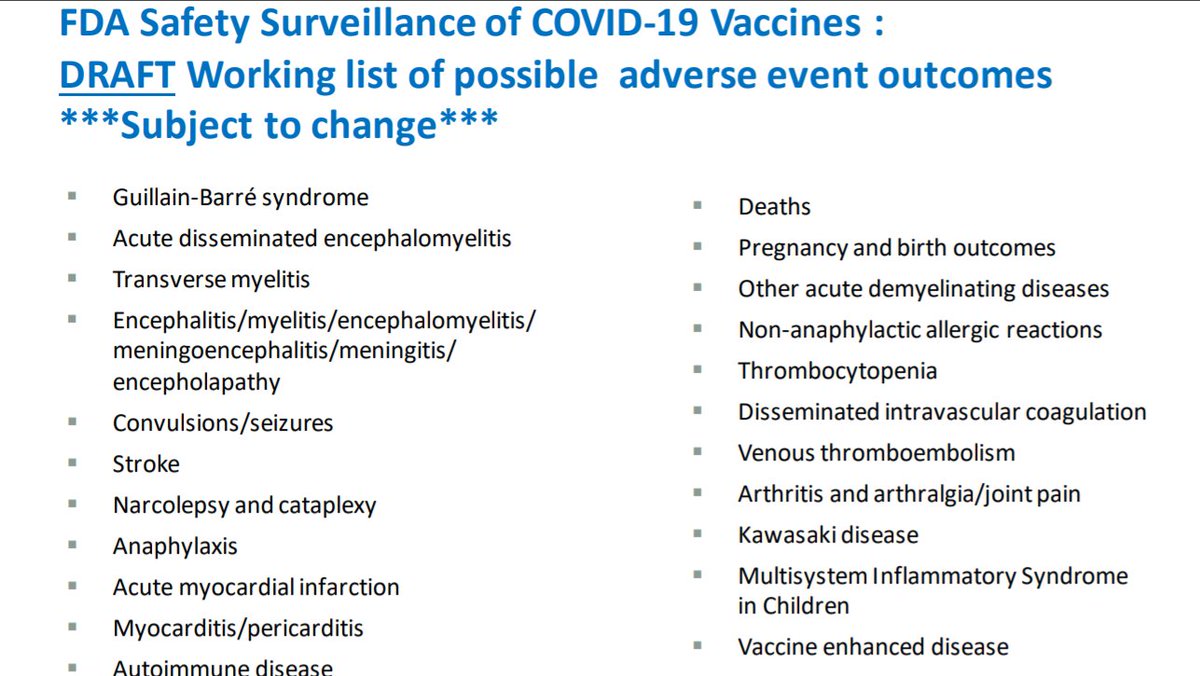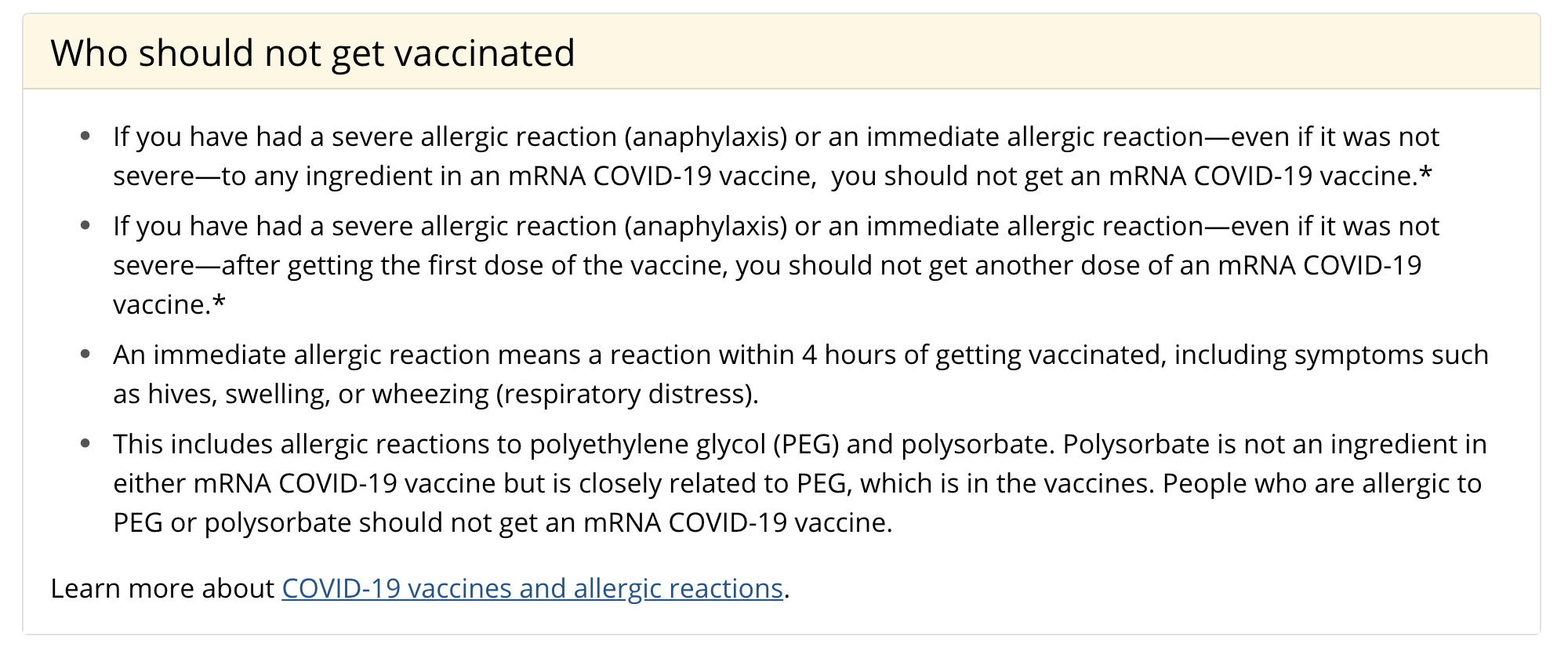 From the 2/12/2021 release of VAERS date:
Found 929 Cases where Vaccine targets COVID-19 and Patient Died 
VAERS is very clear that correlation does not mean causation. This information is presented for informational purposes only.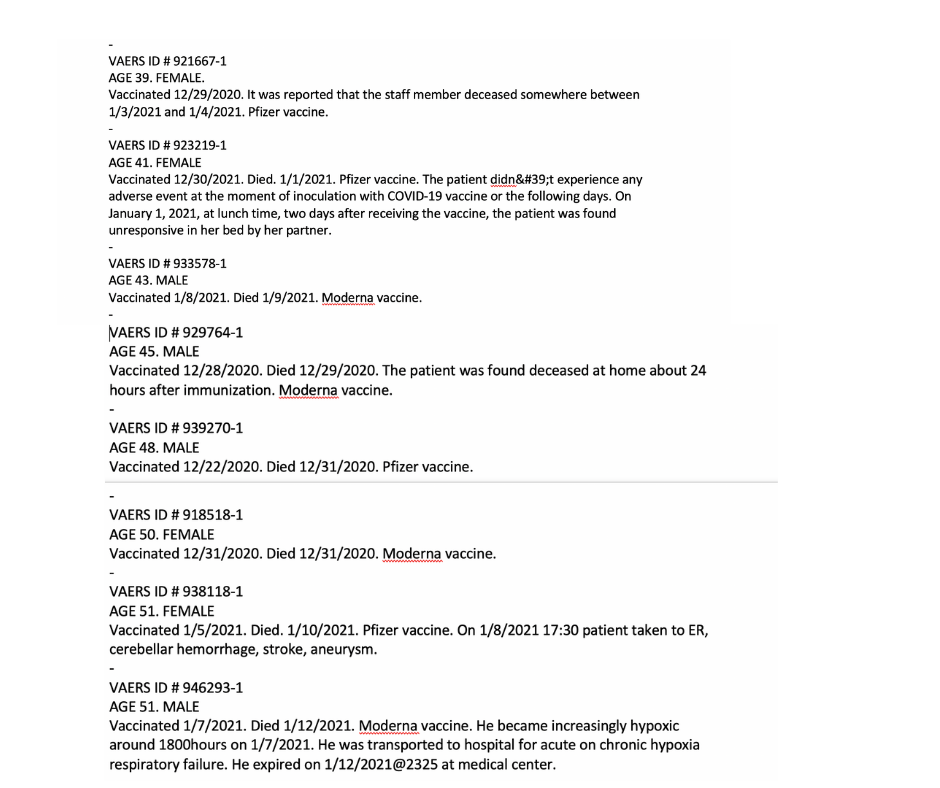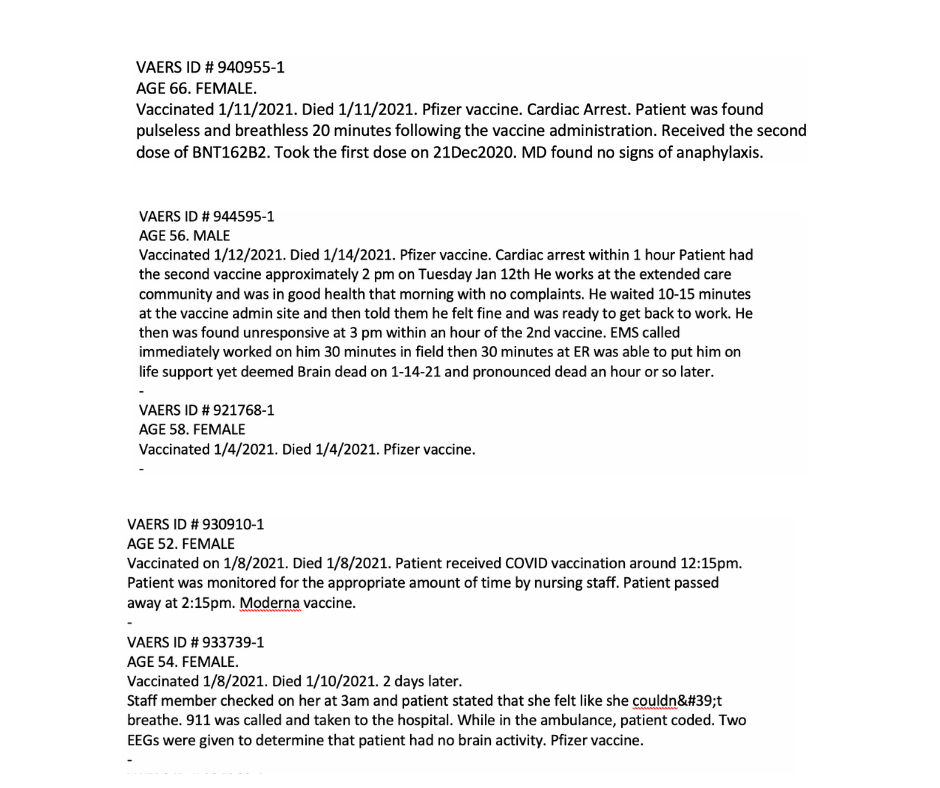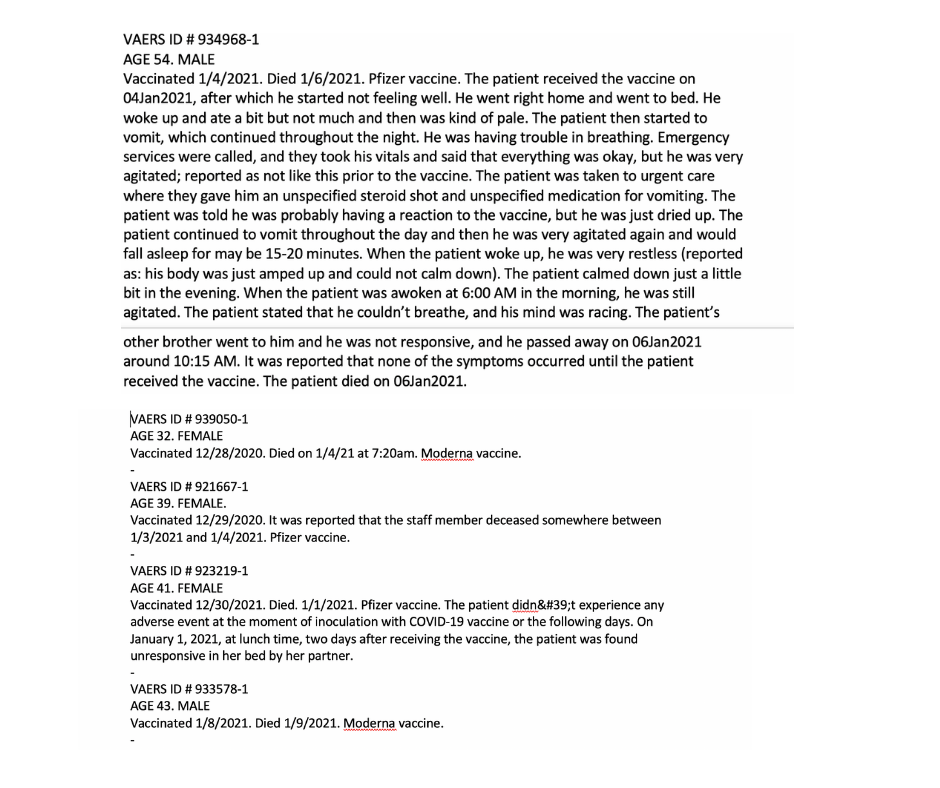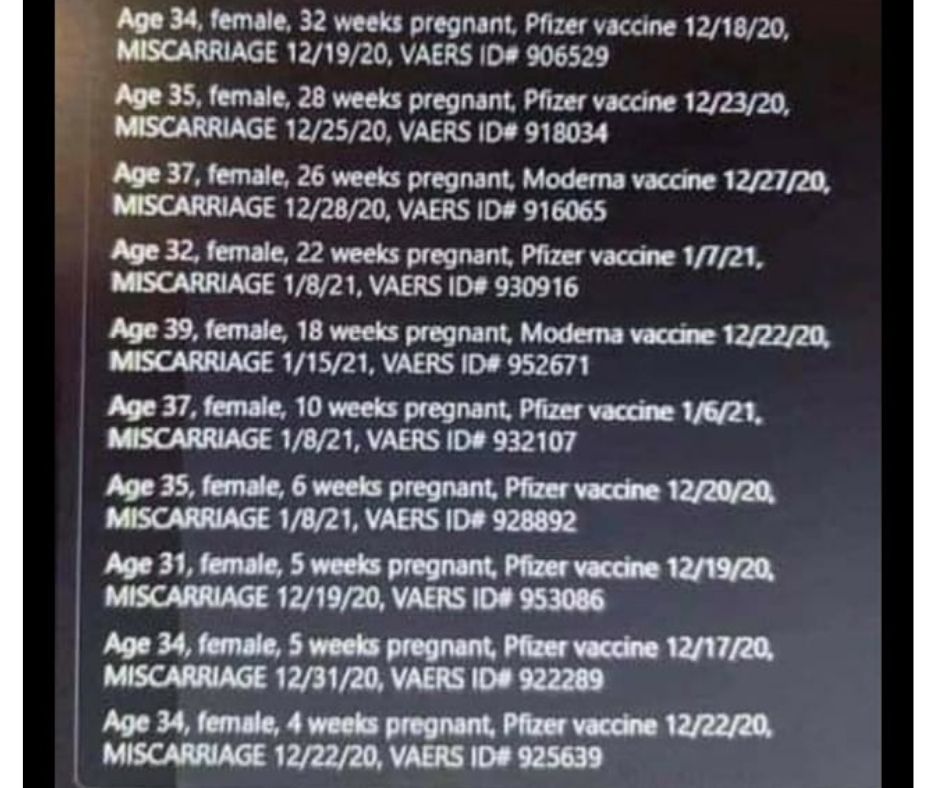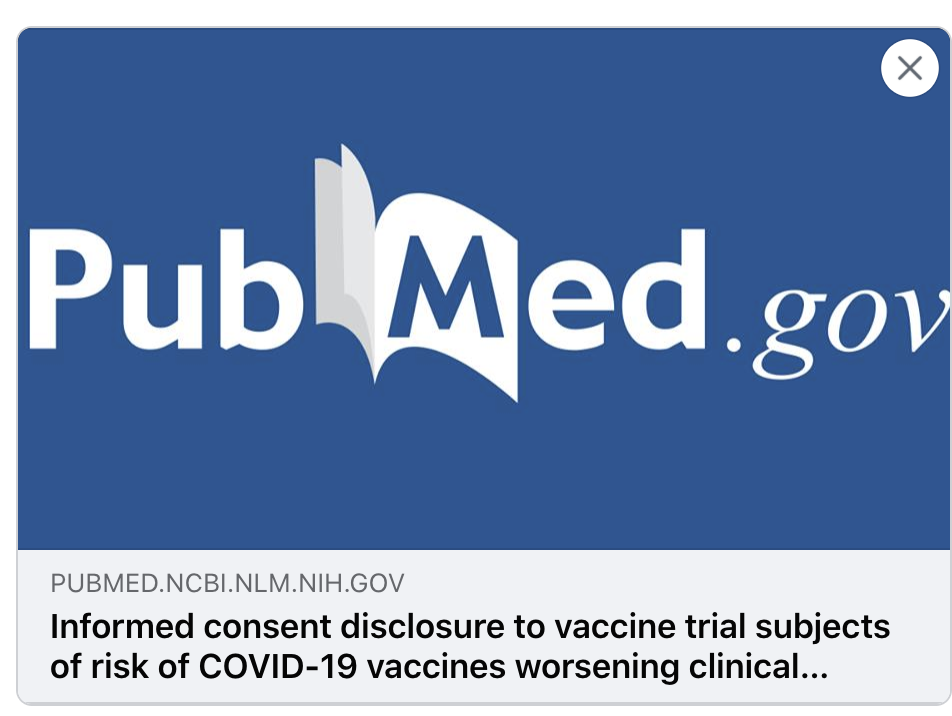 "Results of the study: COVID-19 vaccines designed to elicit neutralising antibodies may sensitise vaccine recipients to more severe disease than if they were not vaccinated."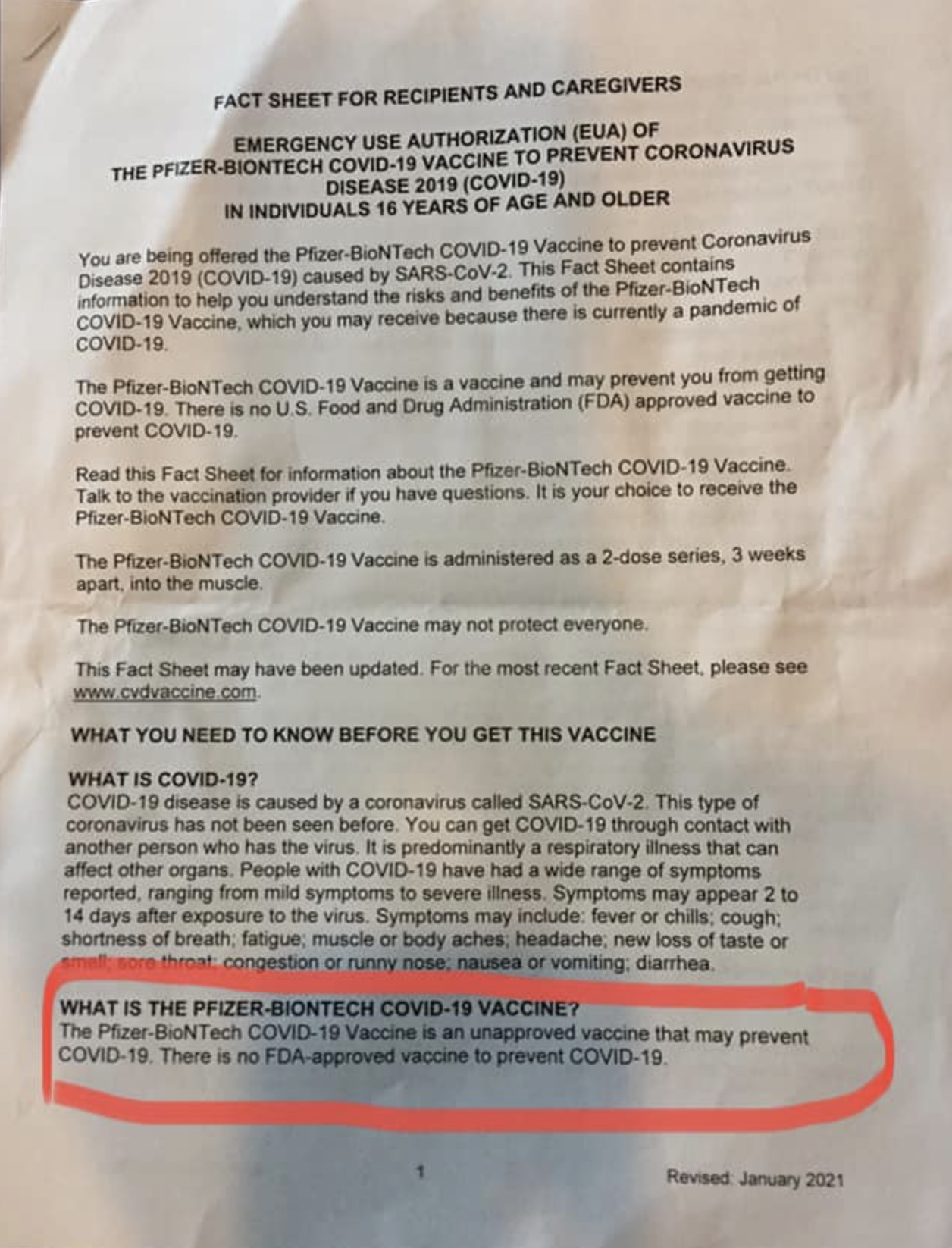 This is an experimental "vaccine". mRNA technology has never been used before in a vaccine for humans. It is my understanding that in order to receive the vaccine you will be asked to sign a consent form stating you understand that this is an experimental vaccine and has not been approved for the FDA. It has only been authorized for emergency use.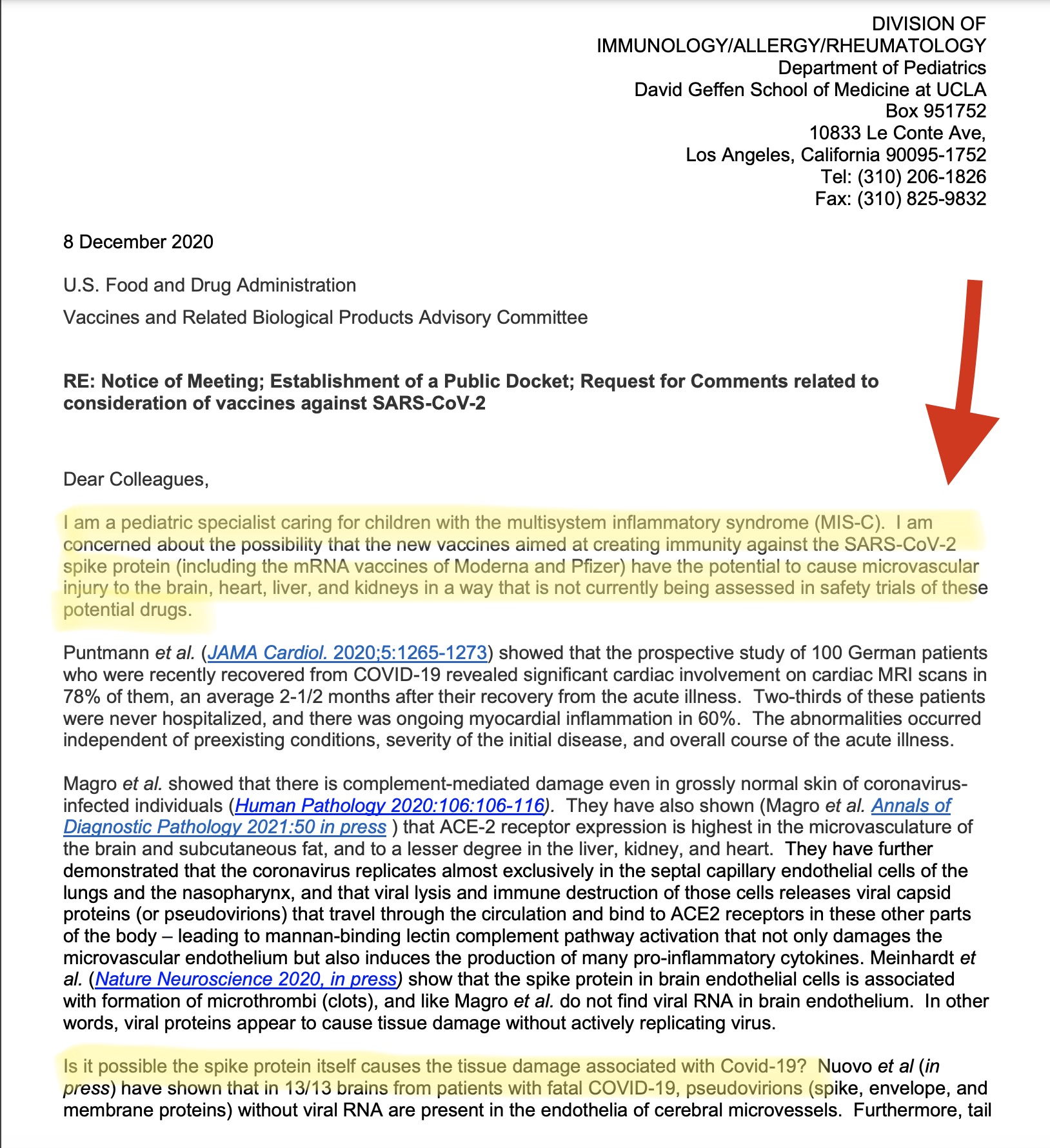 Keep in mind that it is the "instructions" to make ONLY the spike protein that is used in the mRNA vaccines.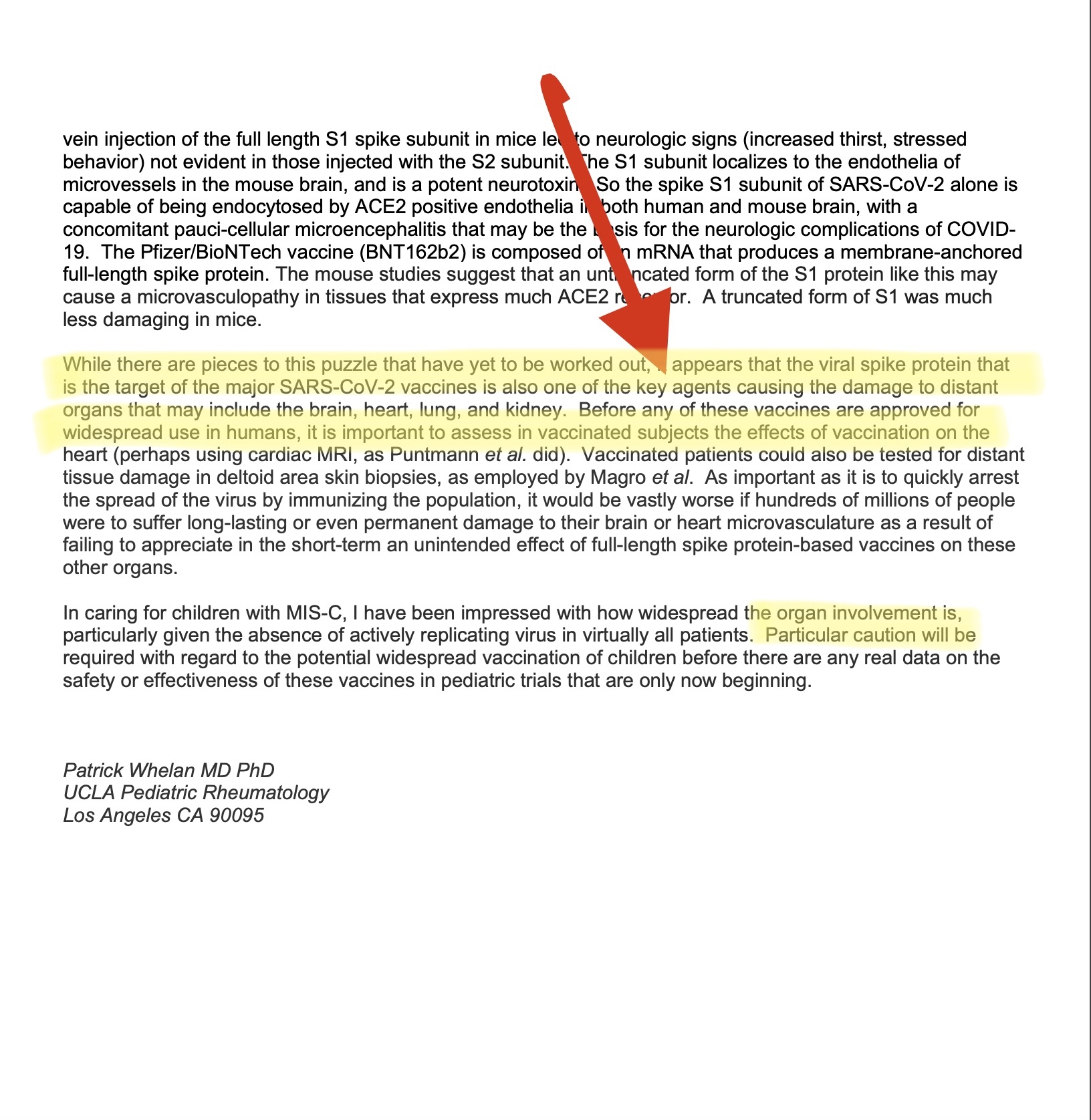 More Anecdotal Stories
Here are some anecdotal stories from people who have had reactions; you can further research the validity of each case. Again, I CANNOT stress enough that my point in posting these stories is not to use fear to keep someone from getting the vaccine if they think it is best for them. My point is to present information to show why choice should be an option. 
You can surely find evidence of people currently having no adverse reactions.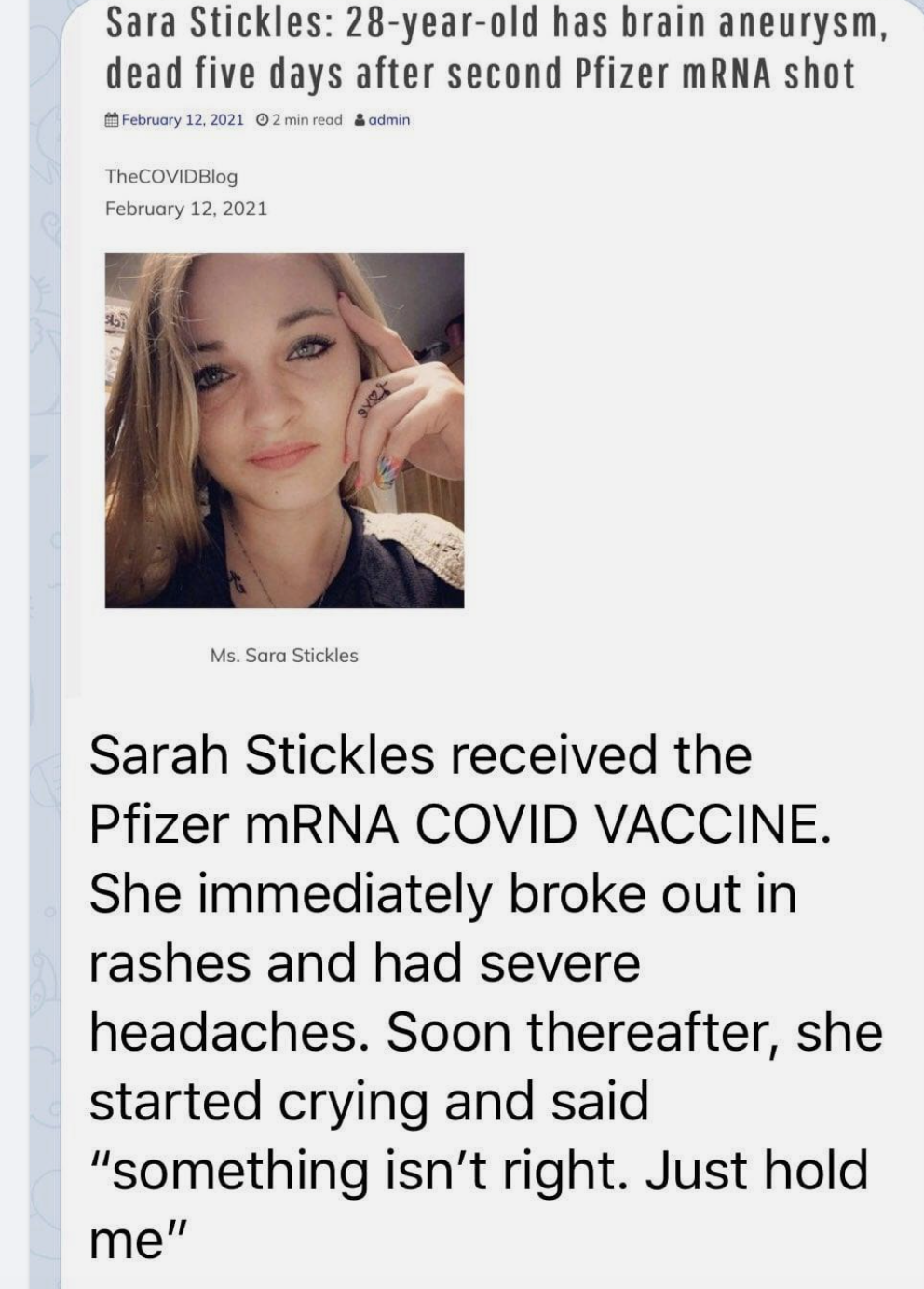 Sara  apparently did have an underlying health conditions, but perhaps then, people with such conditions should be advised as to the possible risks involved. She was a health care worker.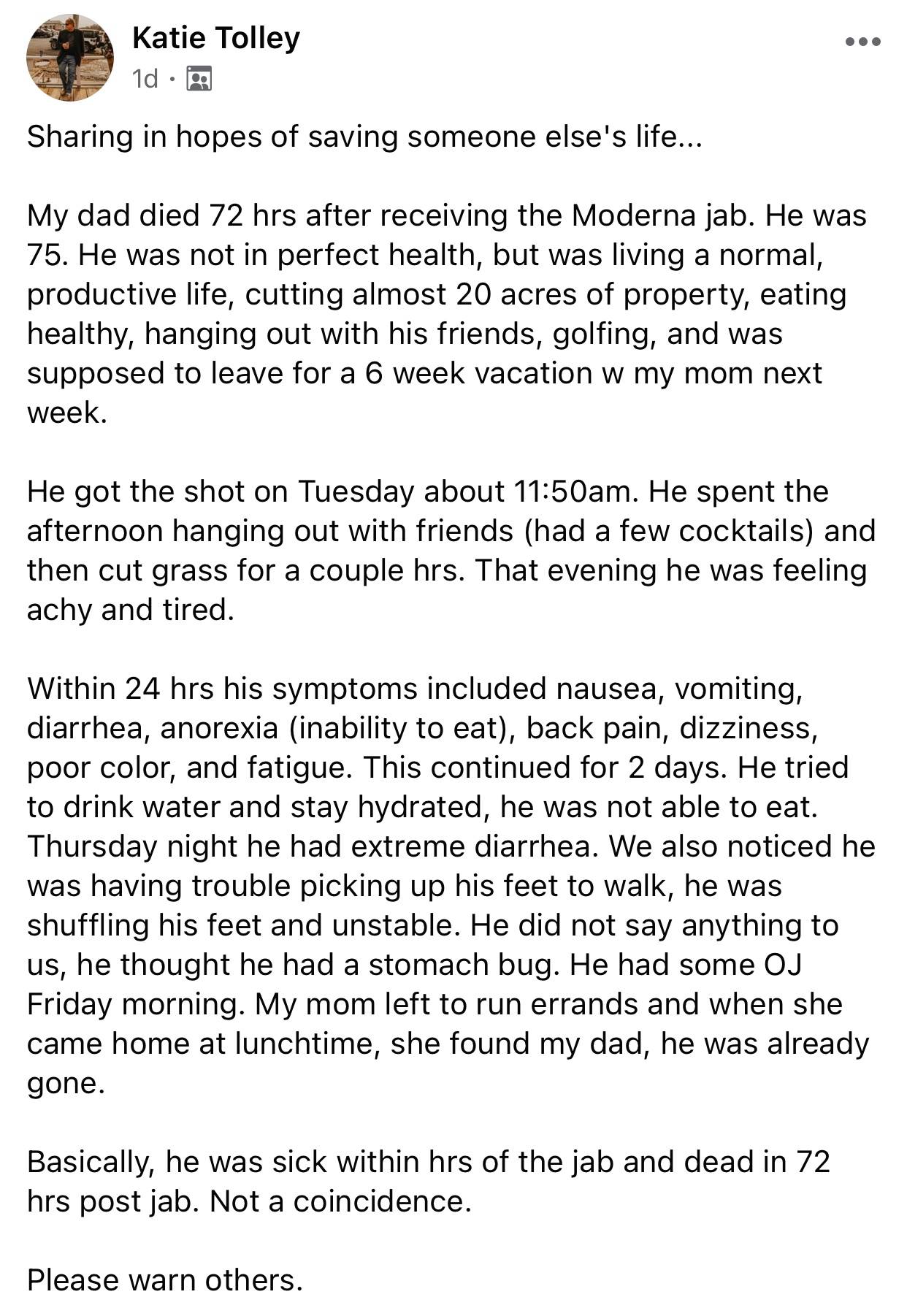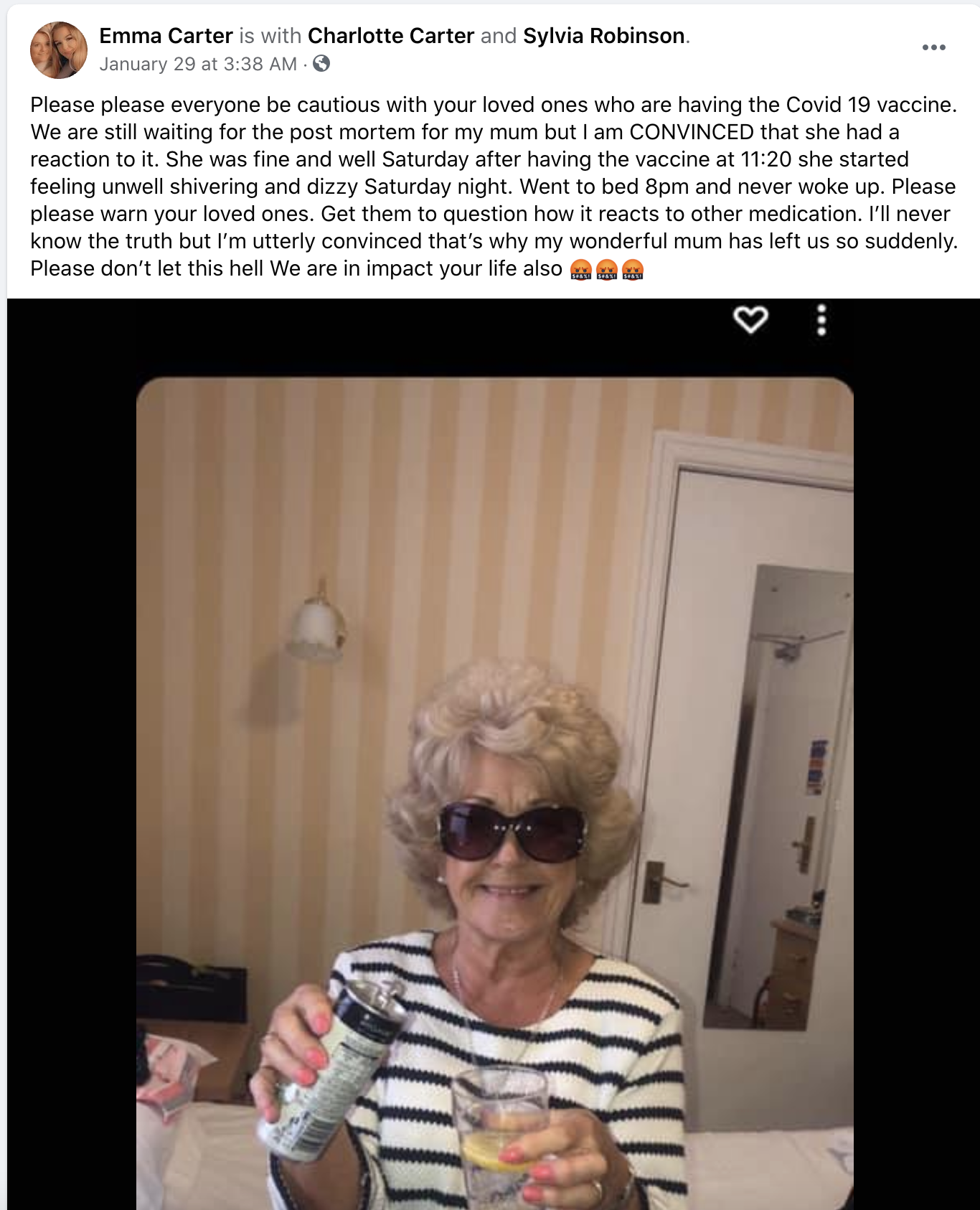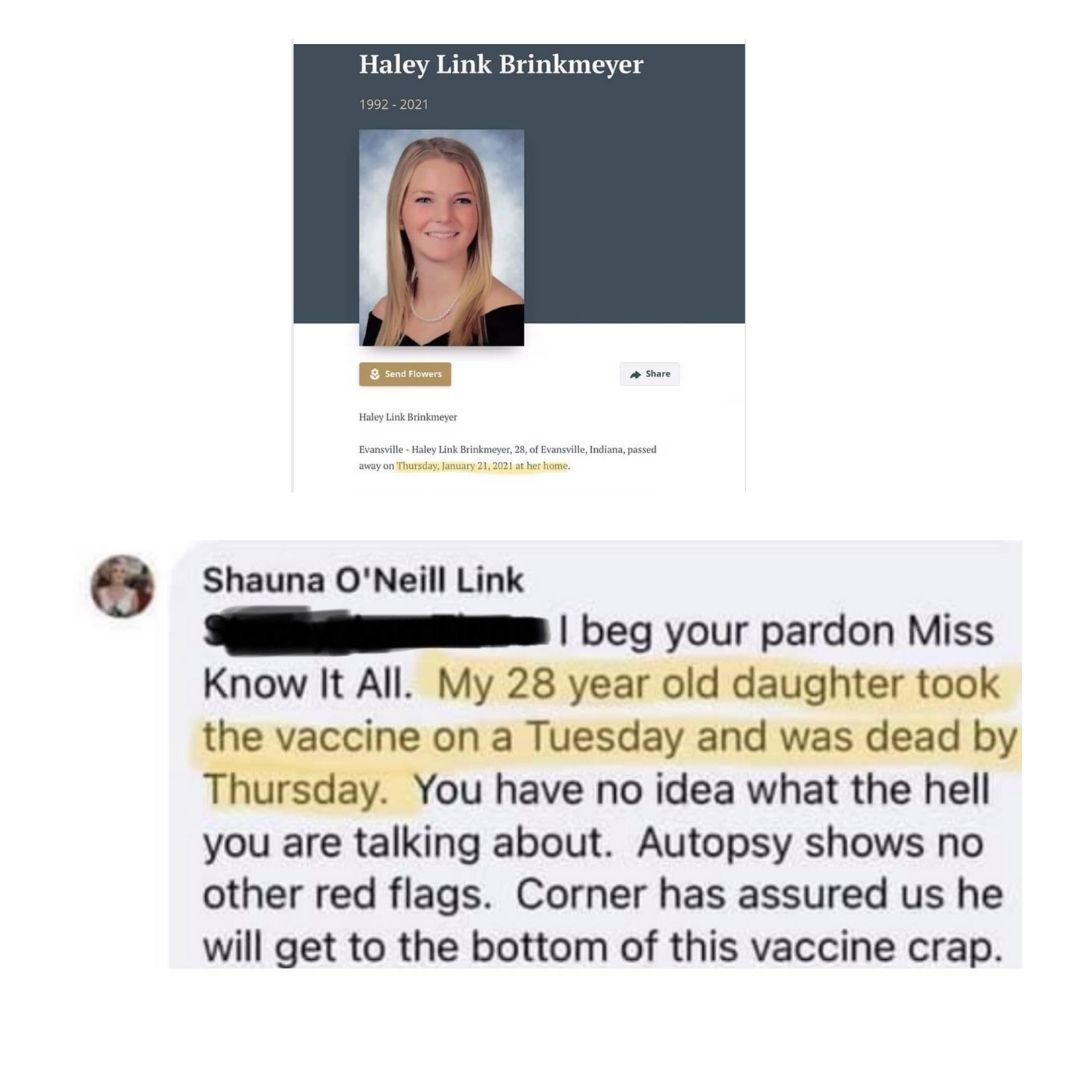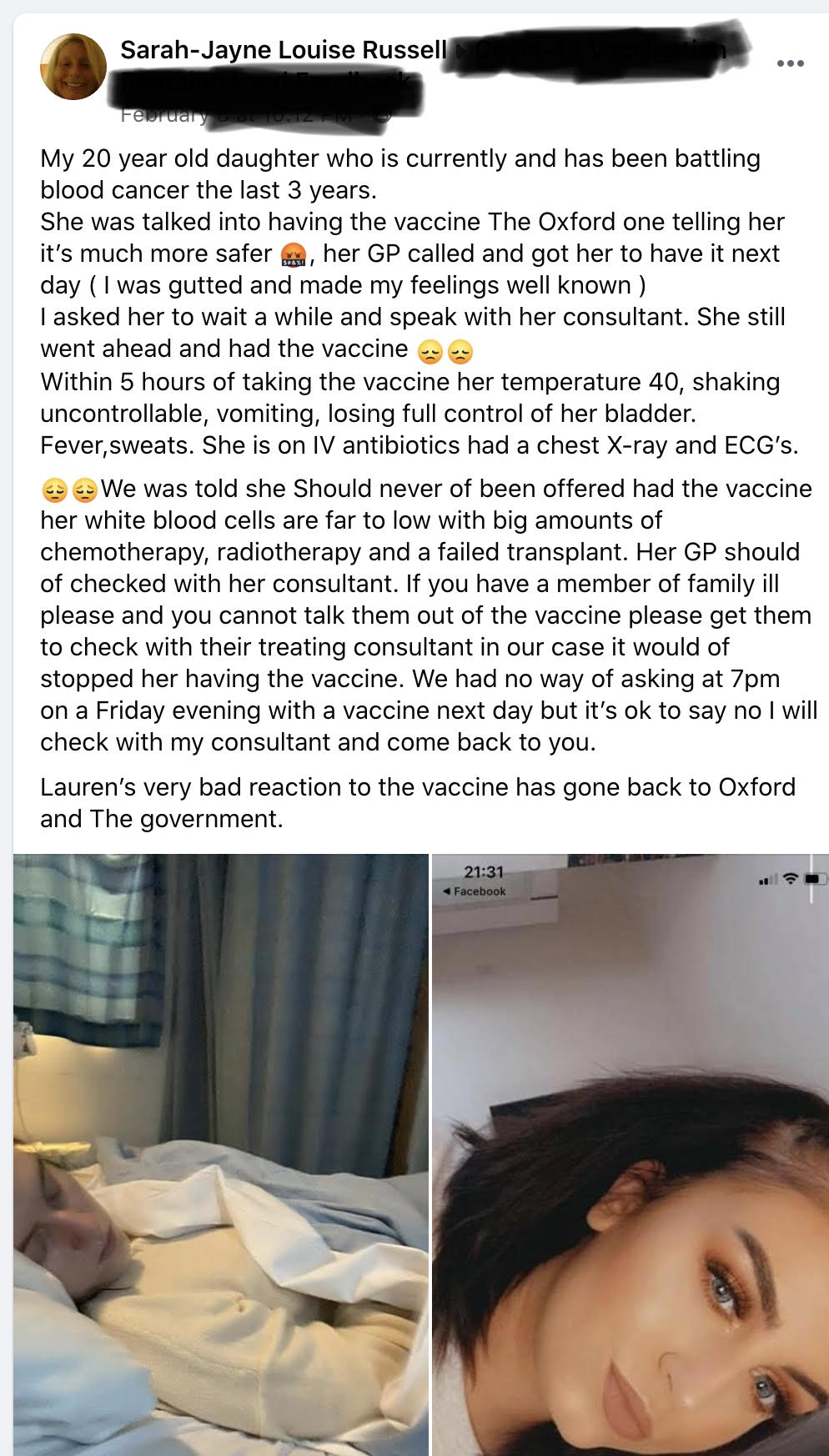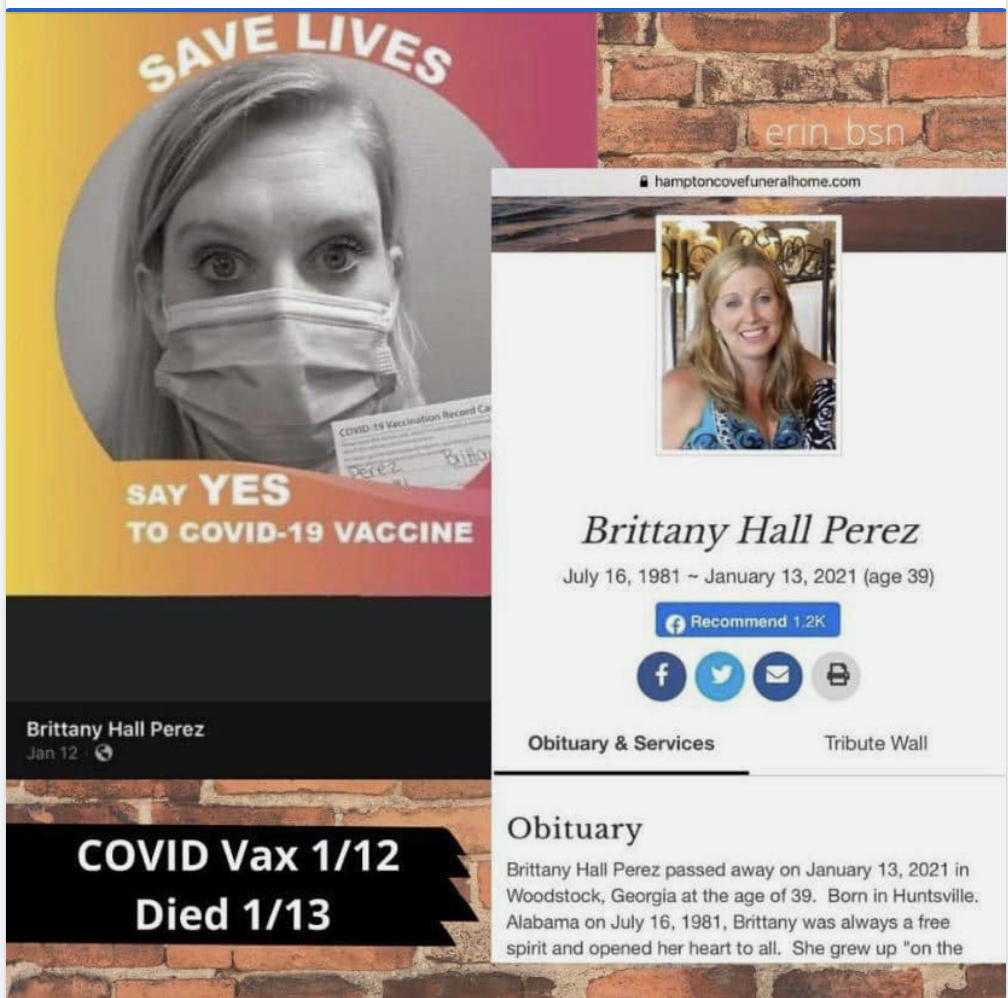 There is a Go Fund Me Page that has been set up by the family created for a college fund for her daughters. Click Here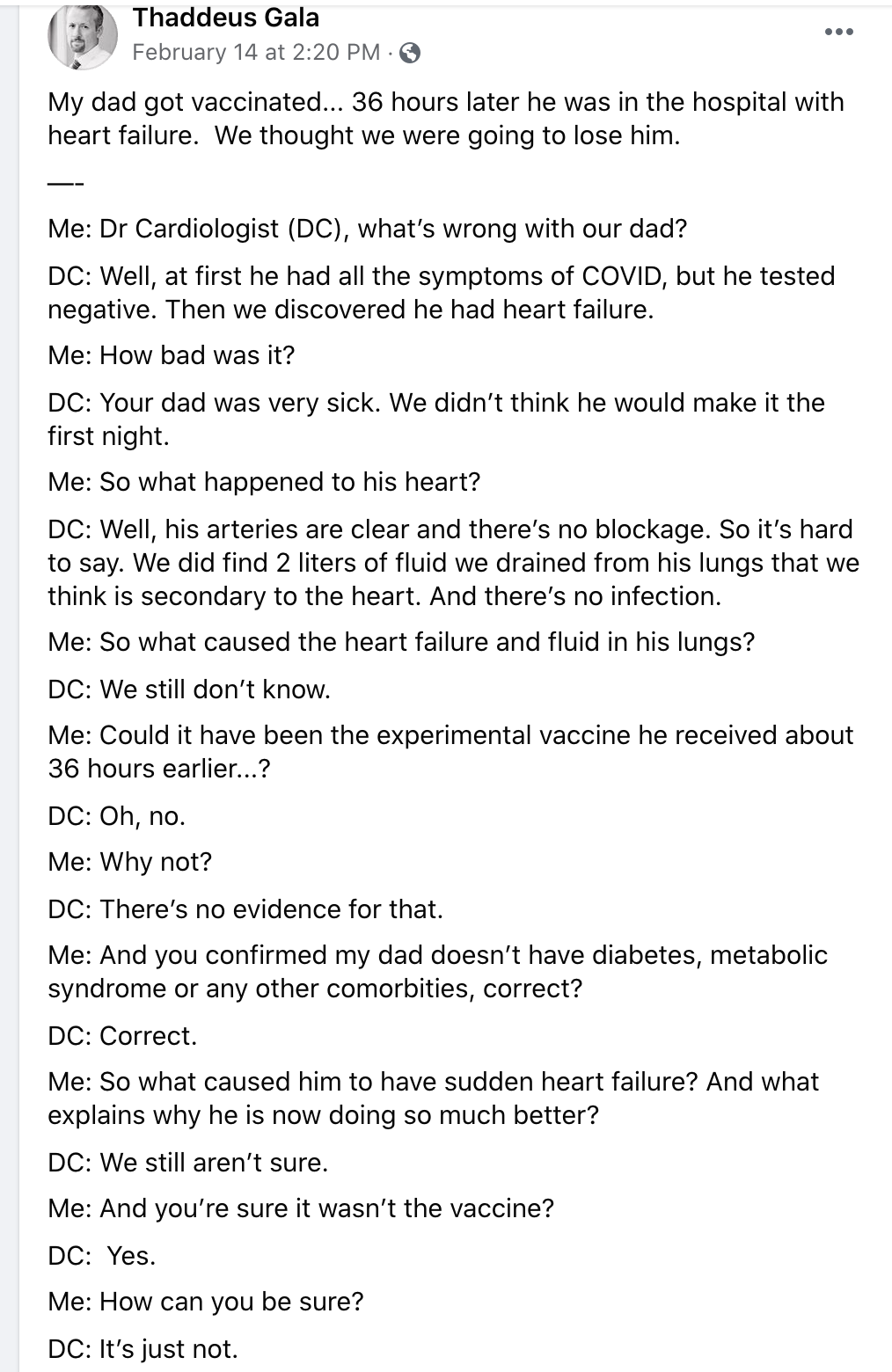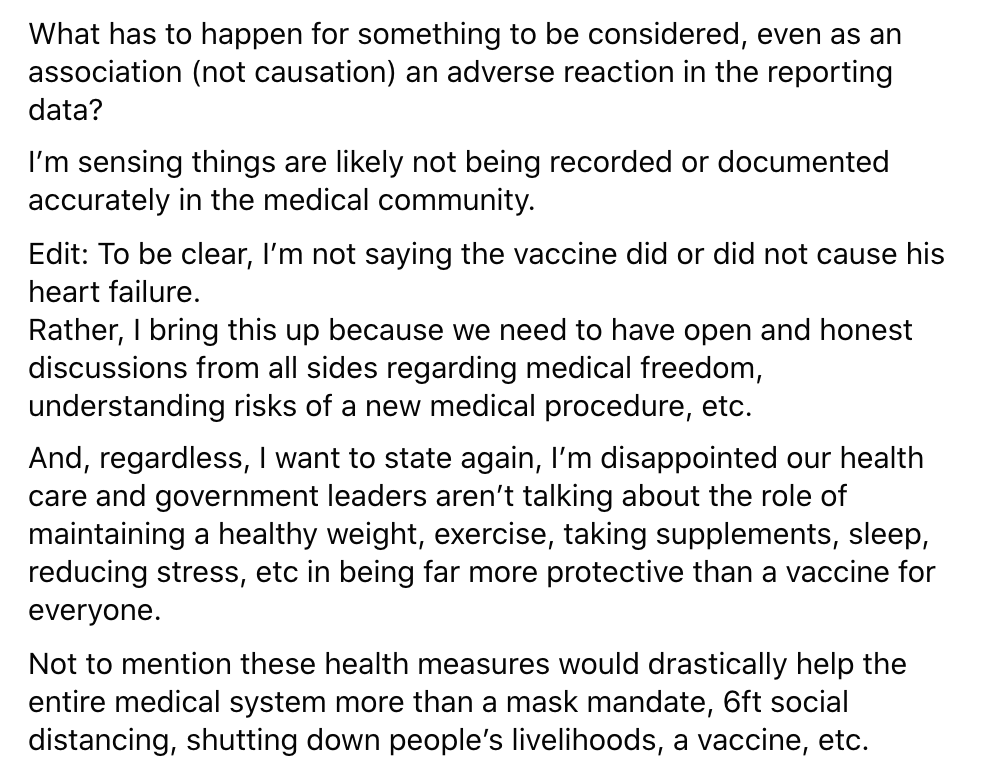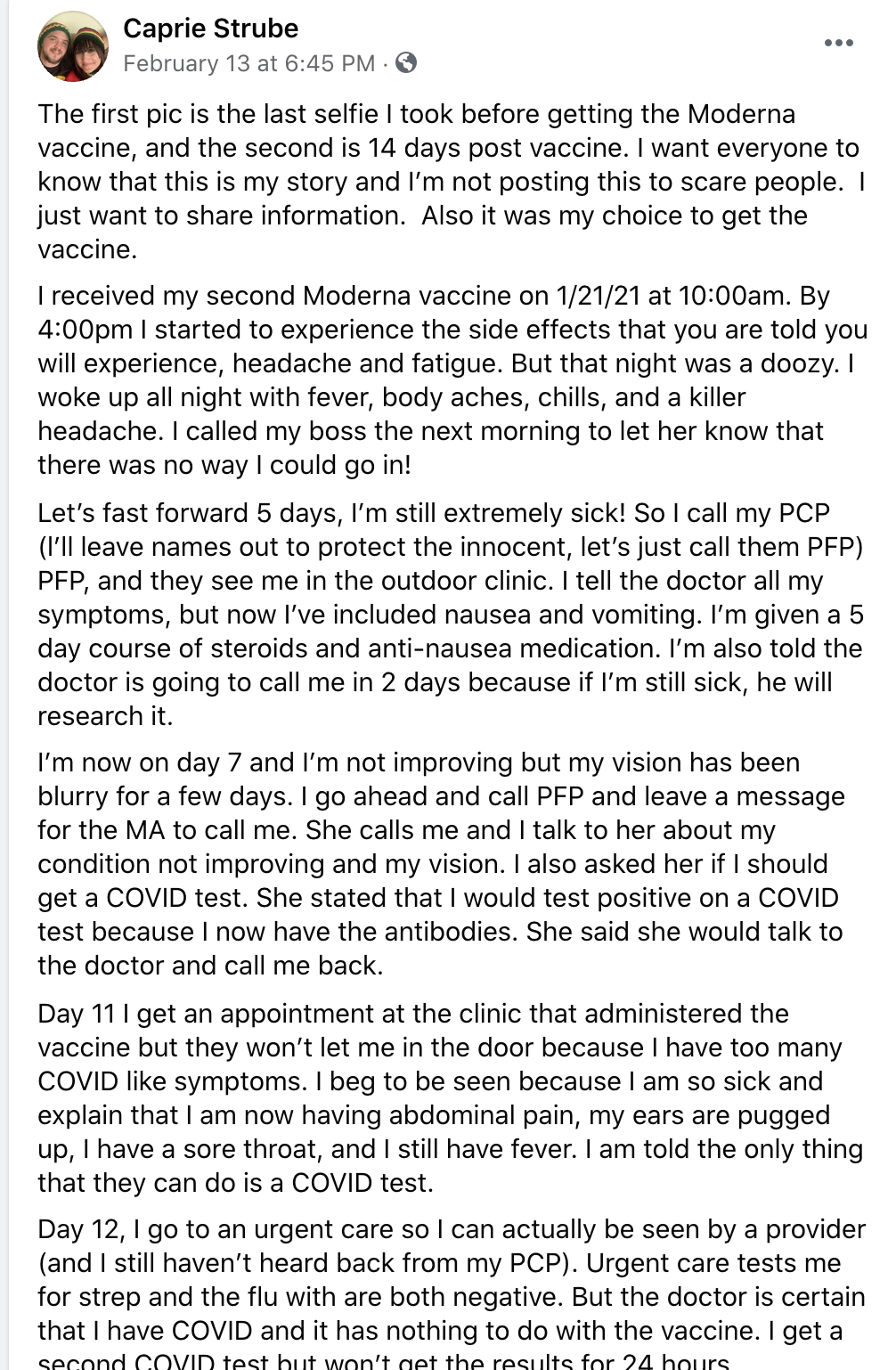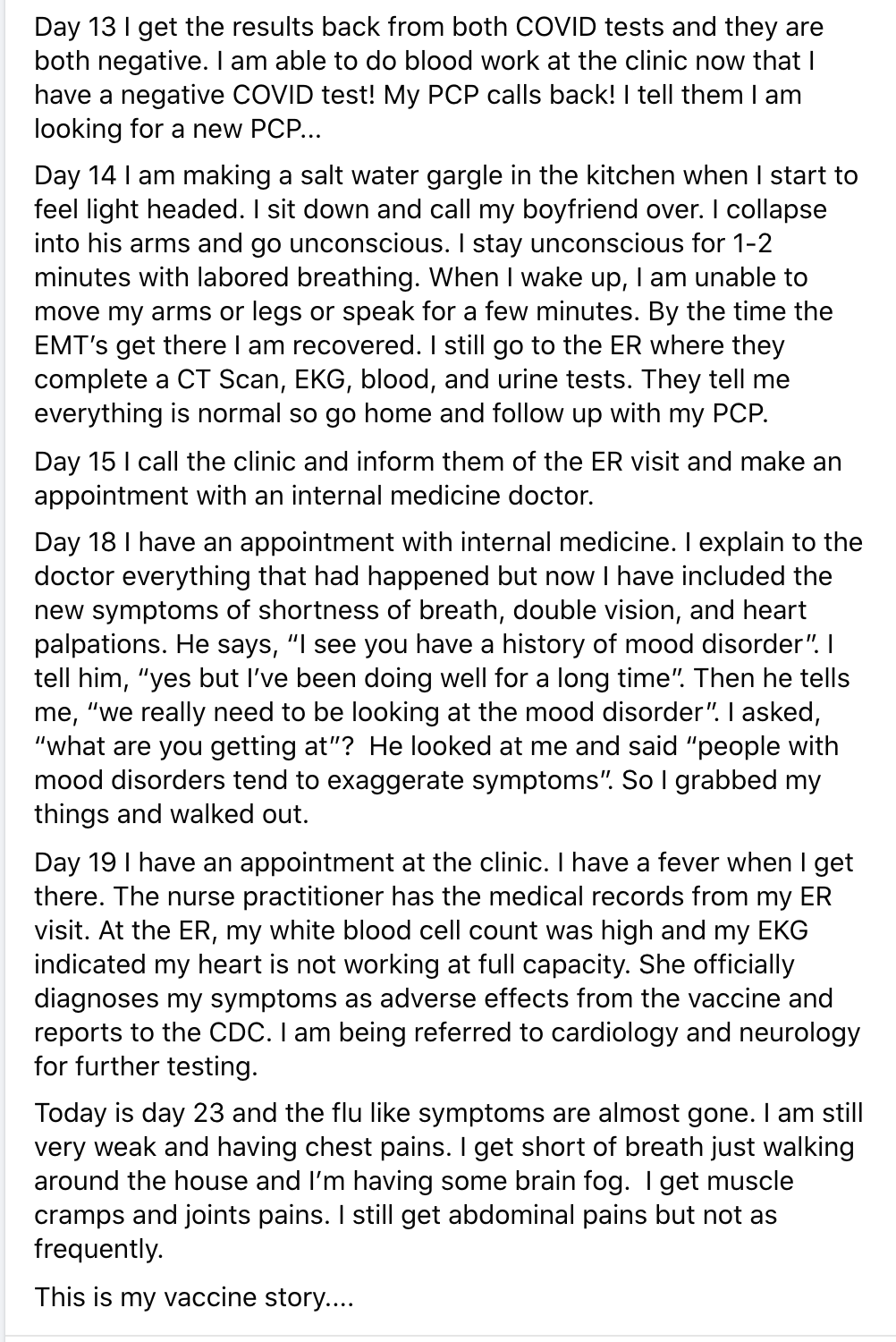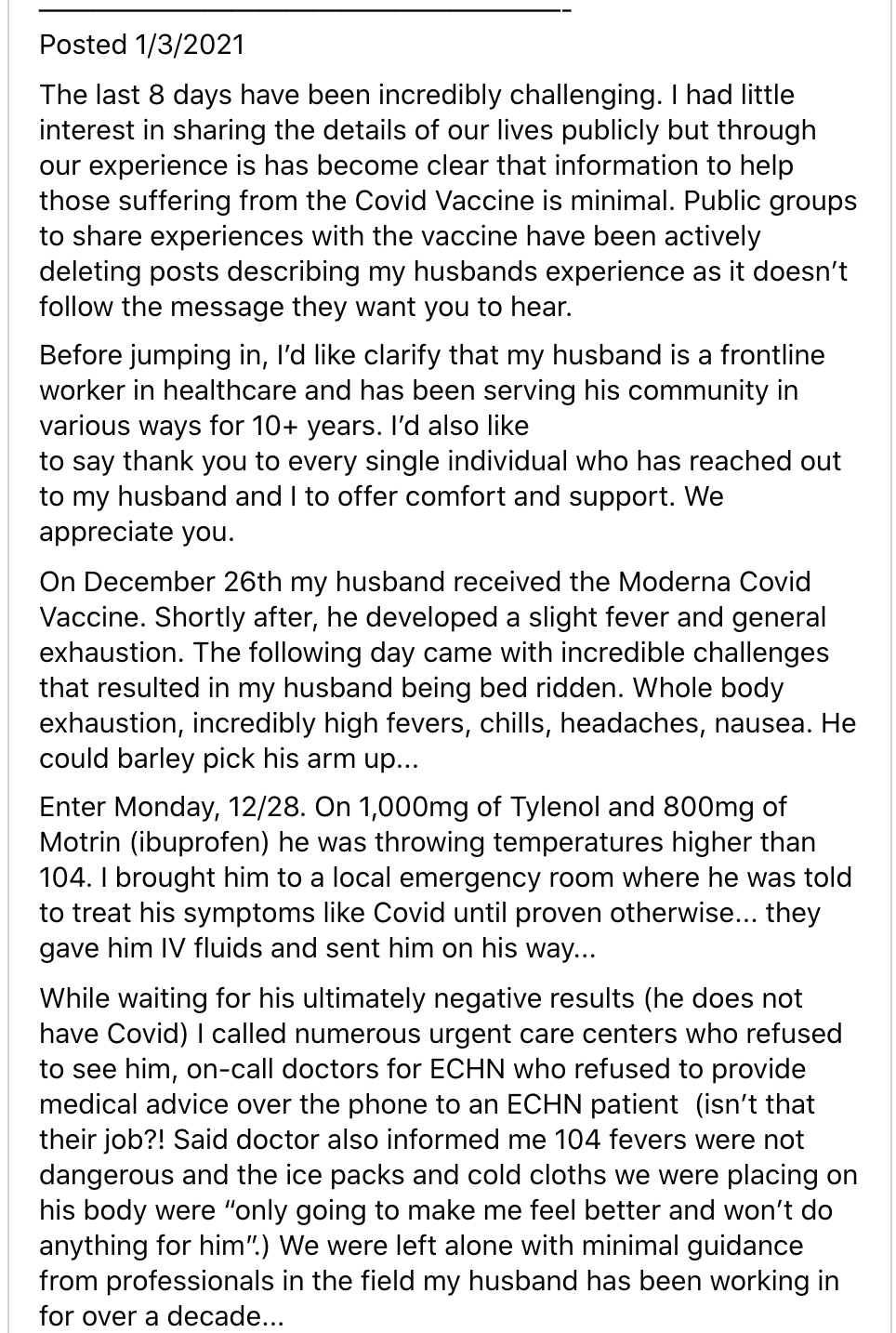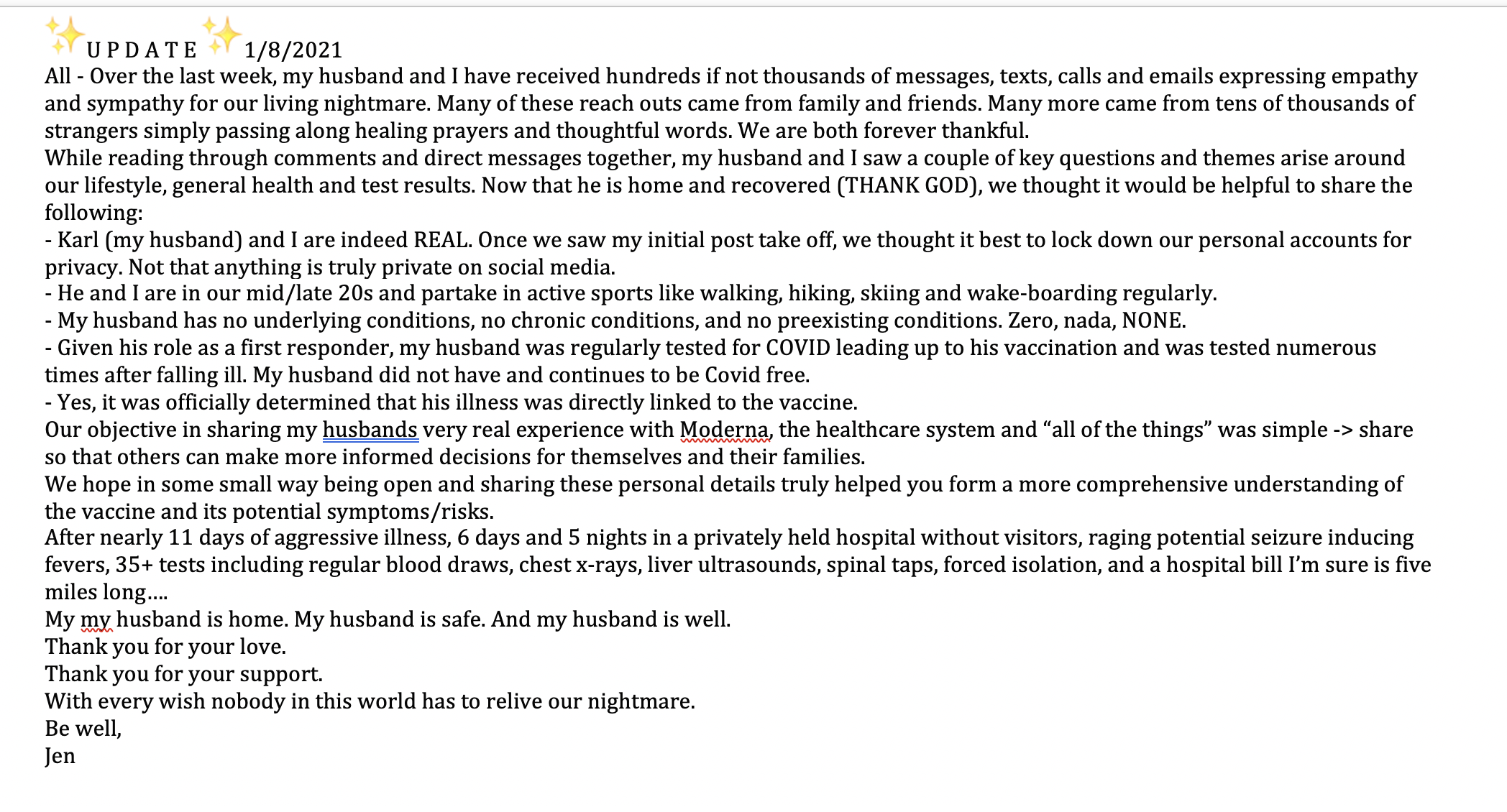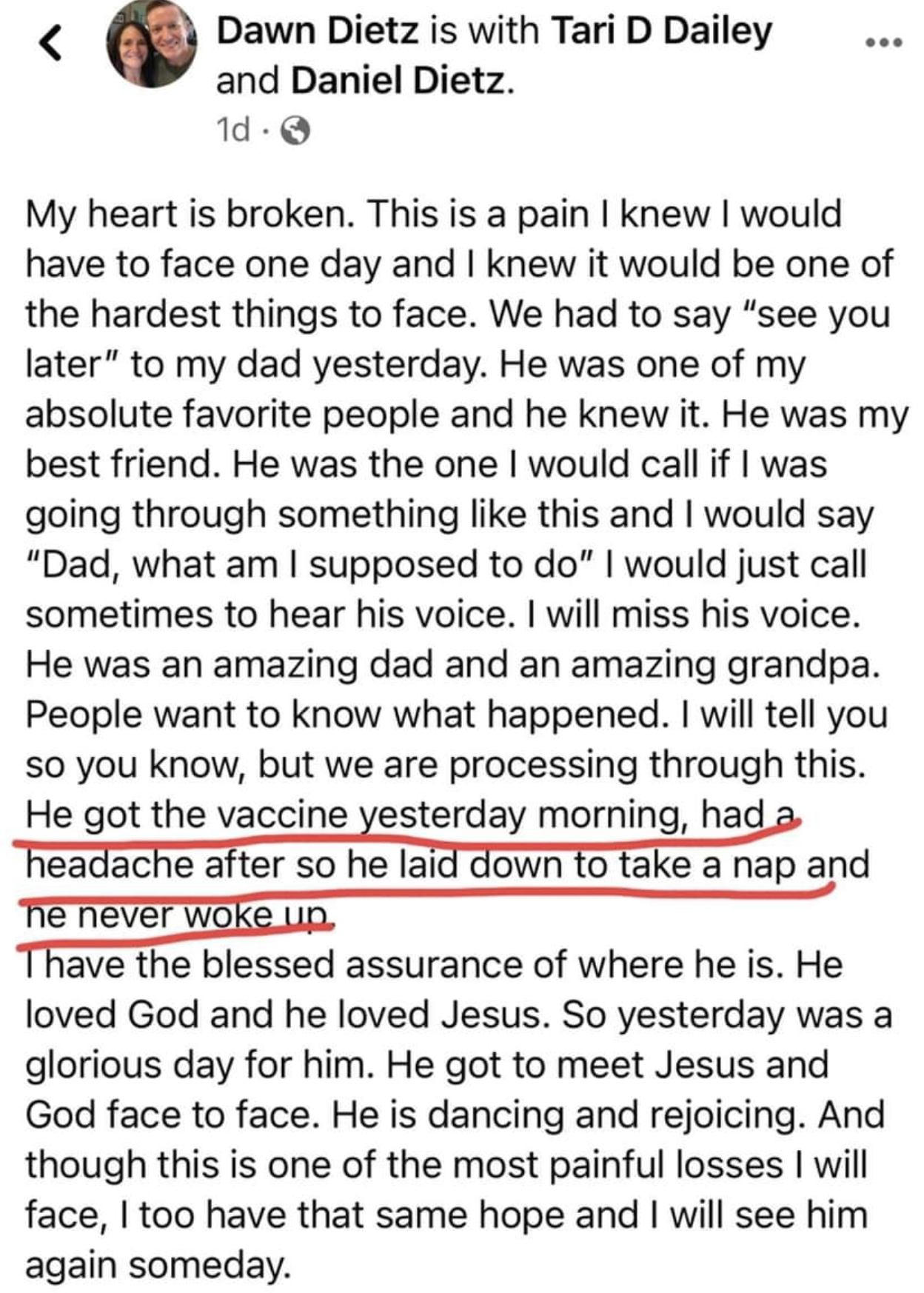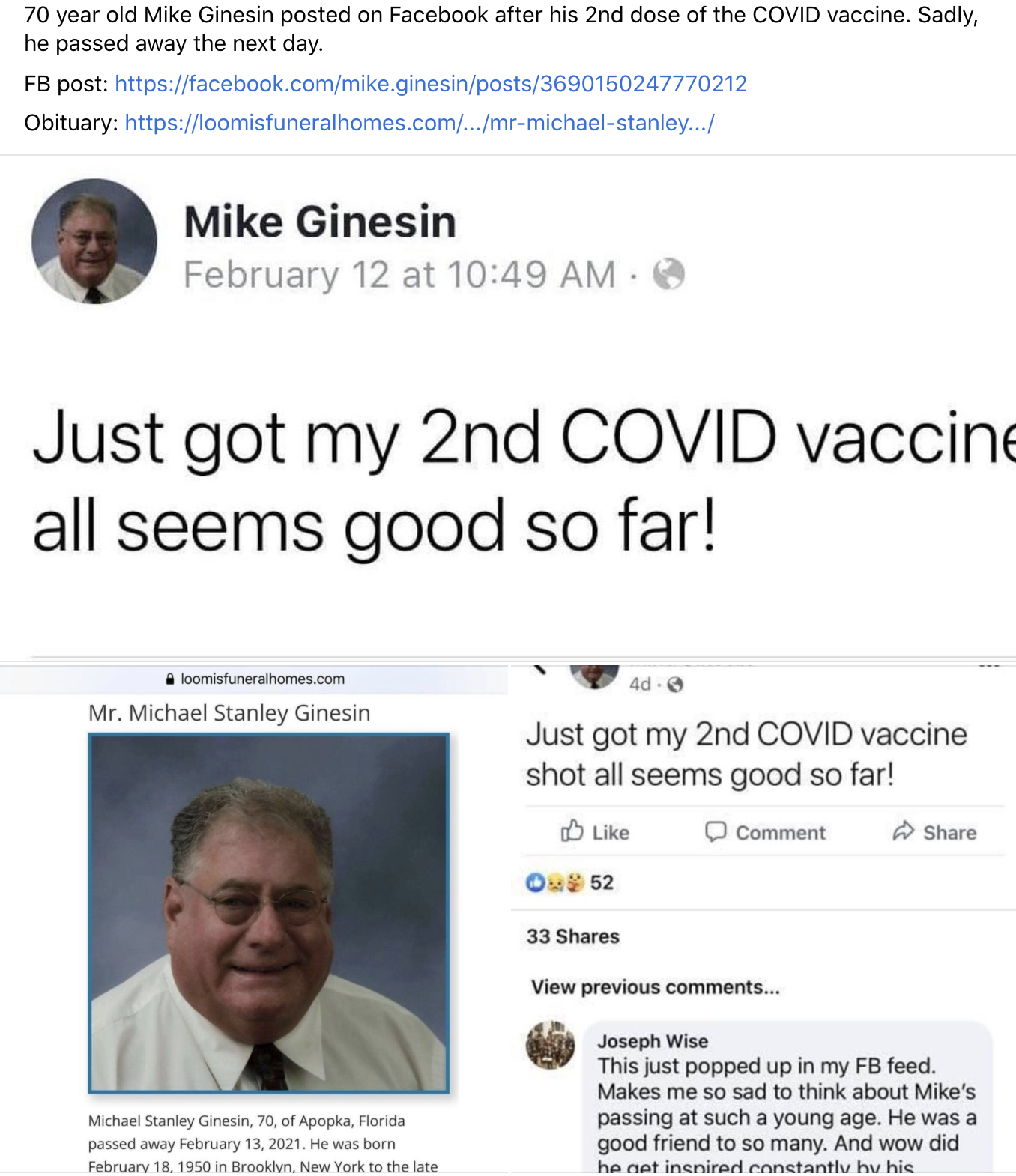 Mike passed away the day after his second vaccination.

"Dec 18th 2020 – My Dad participated in the Johnson & Johnson Trial COVID vaccine shot. They promised all medical expenses paid for any complications related to COVID for the next 2 years. My Dad found security in the medical expense coverage and possibility to have access to a vaccine- that he decided to do the trial.
Dec 25th 2020 – One week later- Christmas Day – Dad was very fatigued. He felt tired right after the shot and when I spoke with him on Christmas day, I recall he sounded exhausted. Which is unlike him, especially on Christmas.
Jan 4th 2021 By the first of the year, he was very sluggish and found it hard to do his exercises that he does weekly. He always likes to stay active.
Jan 11th – 18th Asthma like symptoms, harder to get through his workouts. Very short of breath and started to be winded very easily. Low grade fevers. Hard to make it through calls at work.
Jan 25th – Dad contacted Johnson & Johnson and they did a COVID test. Results came back 3 days later as negative. They advised he has flu like symptoms and to rest and drink lots of fluids.
Jan 29th my Dad could barely walk. His legs became so weak that he shaked when he walked. He thought maybe he was battling a flu and tried to keep resting through the weekend in hopes he would feel better.
Feb 1st – my mom brought him to Lake Mary Emergency room and they immediately transported him via ambulance to Advent Altamonte because of very high troponin levels.
Feb 1st – 4th -My Dad was at Advent Health Altamonte where they ran all kinds of tests and discharged him on the night of Feb 4th . Referring him to an oncologist, infectious disease Dr, cardiologist and PCP.
Feb 5th- Friday I saw my Dad at 11 AM and he could not walk and was very lethargic and sleepy. I called and made all his referral appointments and scheduled him to see his PCP first thing Monday.
Feb 6th- Saturday. I woke up at 6 AM and drove to my parents house and my Dad was completely out of it. He could not get out of bed, pick up his coffee to drink, lift his head. He did not know what year, day, month we were in. We took him to Advent Orlando and within 20 minutes they got him in and found a blood infection and swelling in brain.
Feb 20th We have been here 2 weeks today, and today my Dad started on dialysis.
I am not an anti-vaxxer by any means. But I think there should be some public awareness of the dangers of being part of a trial vaccine. Especially one that is being done in warp speed. And the chance I would recommend someone to get the Johnson & Johnson vaccine, is slim to none. They have denied any type of connection."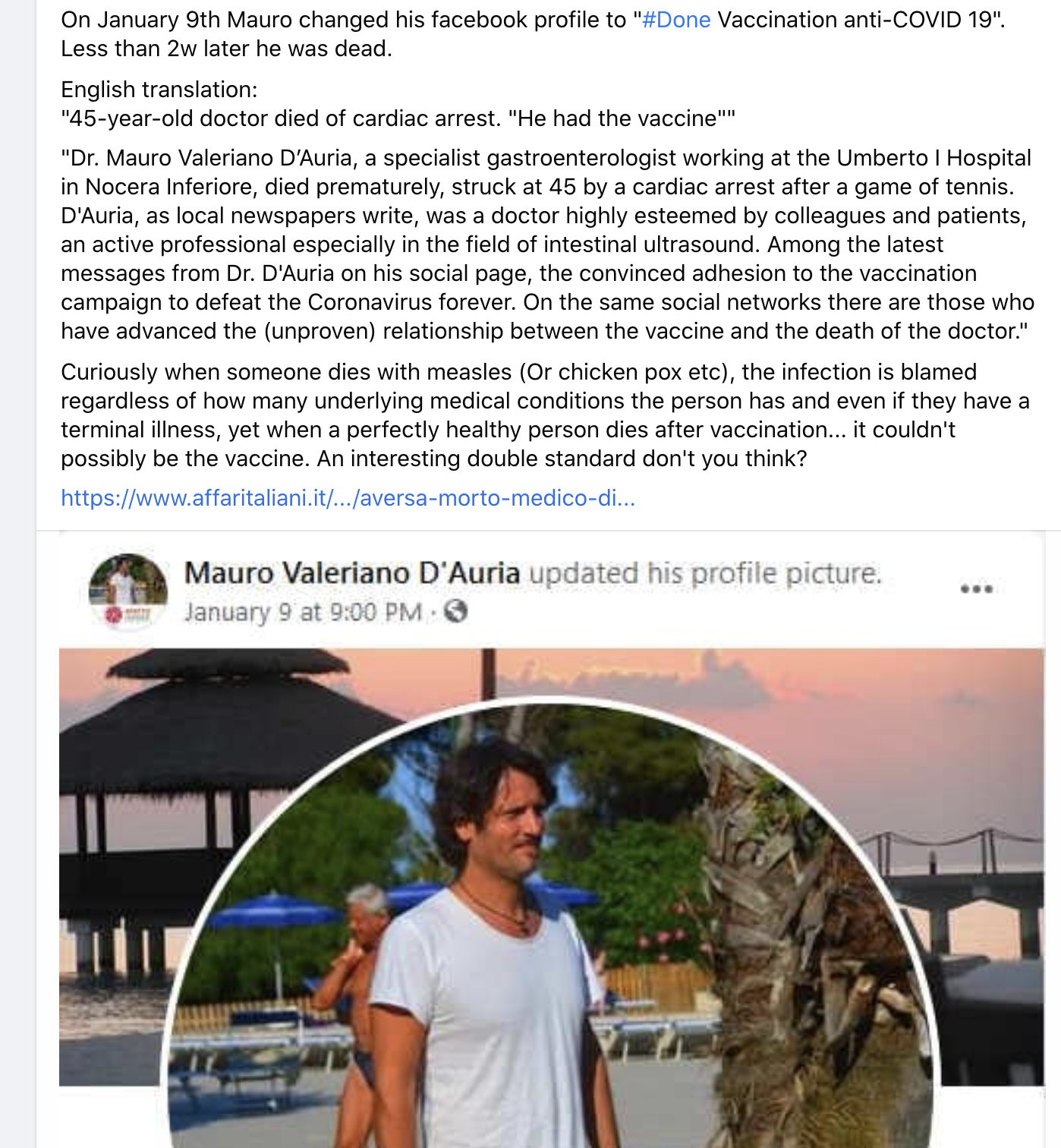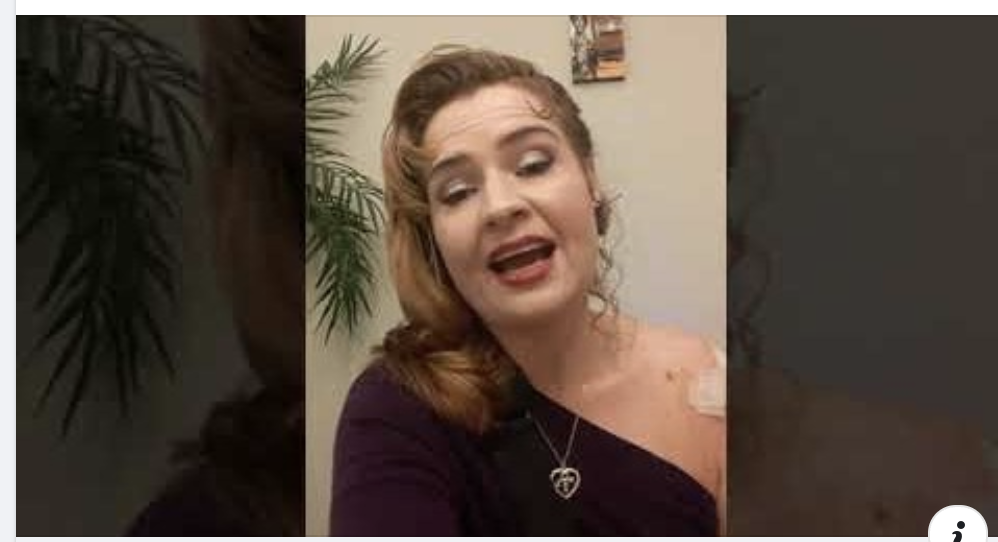 Olivia Camron was a Moderna trial participant and tells her story in this video of her adverse reactions.
Not Vaccine Related?
In most all of these news stories the general media narrative response has been that many of these cases were unrelated to the vaccine. The standard line is "Correlation is not causation". Yes, that is something we all learned back in a high school stats class. However, could we at least consider researching the possibility of an association? 
I think this is an example of why there is so much distrust around this issue. Were autopsies done in every case? Is it just because they didn't have a reaction in the first 15 minutes? And what about the woman who did – and died – and yet it is stated that there was no connection? To repeat: These are experimental vaccines that  have been created at "warp speed" using brand new technology, never before used in humans, were tested for several months, and then rolled out to vaccinate a global population.  How can we so quickly determine there is no association?
Again, I write on this topic so that people can examine the evidence for themselves and hopefully be allowed to make a choice for themselves.
What Happens If You Are Injured By a Covid Vaccine?
Unfortunately, you may be on your own in paying for your medical bills. (You can see above from the post by Yarah Dalmu)
Again, If you have to assume the risk, then you should have a choice.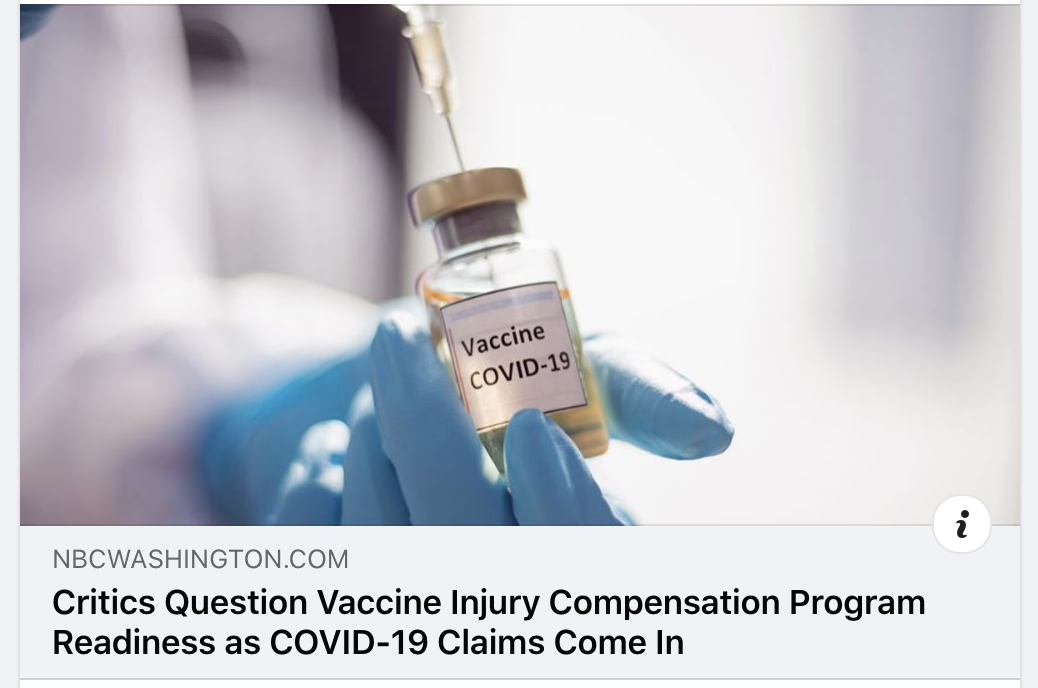 "It's disturbing that they could throw out so many of these so quickly," said Meyers, who believes most of those new cases were likely COVID-19 claims."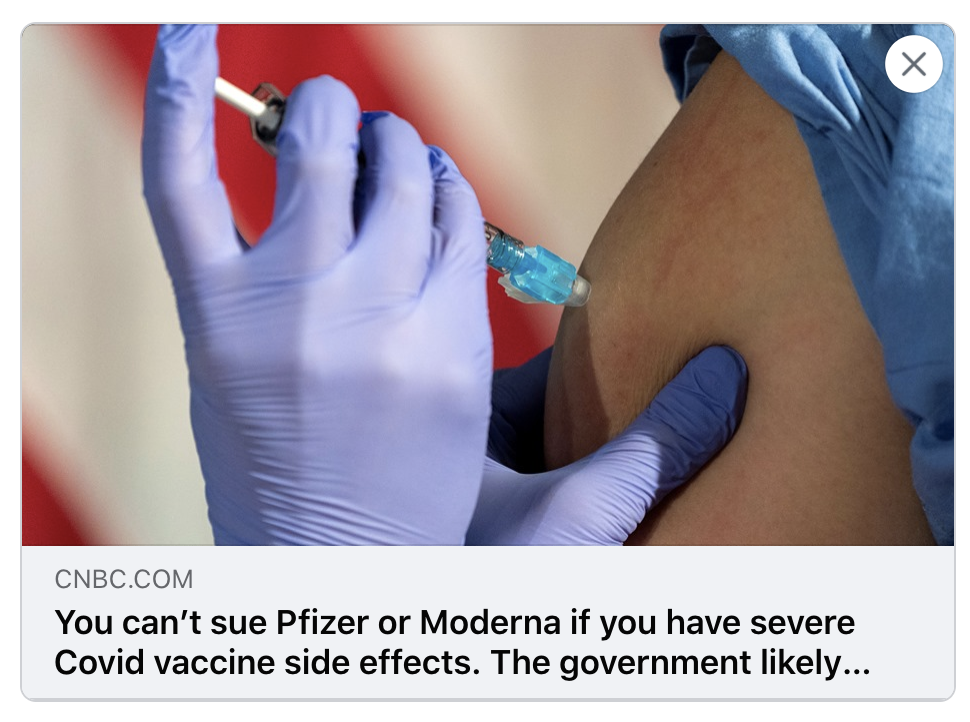 But experts specializing in vaccine law say it is difficult to navigate. "This government compensation program is very hard to use," said Reiss. "The bar for compensation is very high."
What Really is the Efficacy of the Covid Vaccine?
Dr. Doshi is an associate professor of pharmaceutical health services research at the University of Maryland School of Pharmacy and associate editor at The BMJ.
 "A rough estimate of vaccine efficacy against developing covid-19 symptoms, with or without a positive PCR test result, would be a relative risk reduction of 19% (see footnote)—far below the 50% effectiveness threshold for authorization set by regulators."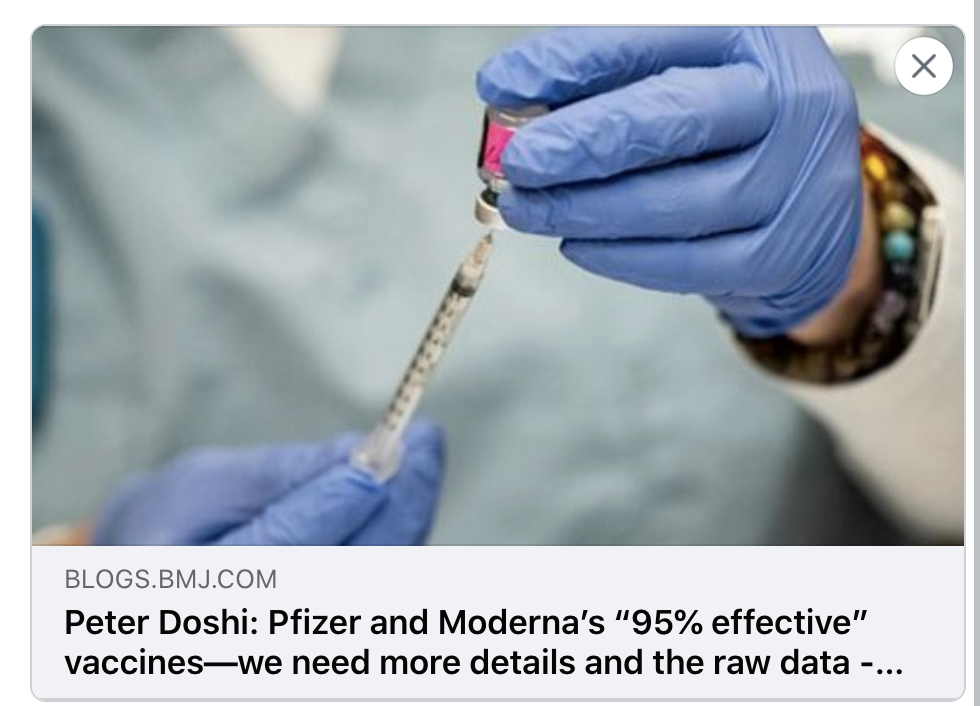 Dr. Doshi also noted in a NY Times article:
"The vaccines are not risk free. Most side effects appear to be mild and short lived, but not all. For example, with the Moderna vaccine, the frequency of grade 3 adverse events — those severe enough to prevent daily activity, is higher than it is for most vaccines: 17.4 percent, or nearly one in five 18-to-64-year-olds who received the vaccine in the company's trial. (Grade 3 adverse events appear to occur less frequently with the Pfizer vaccine, but a direct comparison is not possible.) And there have been some serious allergic reactions. It's reasonable for people to weigh all of this in making their decisions."
Reviewing the Financial Connection to Vaccines
Several years back, I wrote a blog post that contained a link to a WHO (World Health Organization) presentation. This photo was part of that presentation (minus my highlights):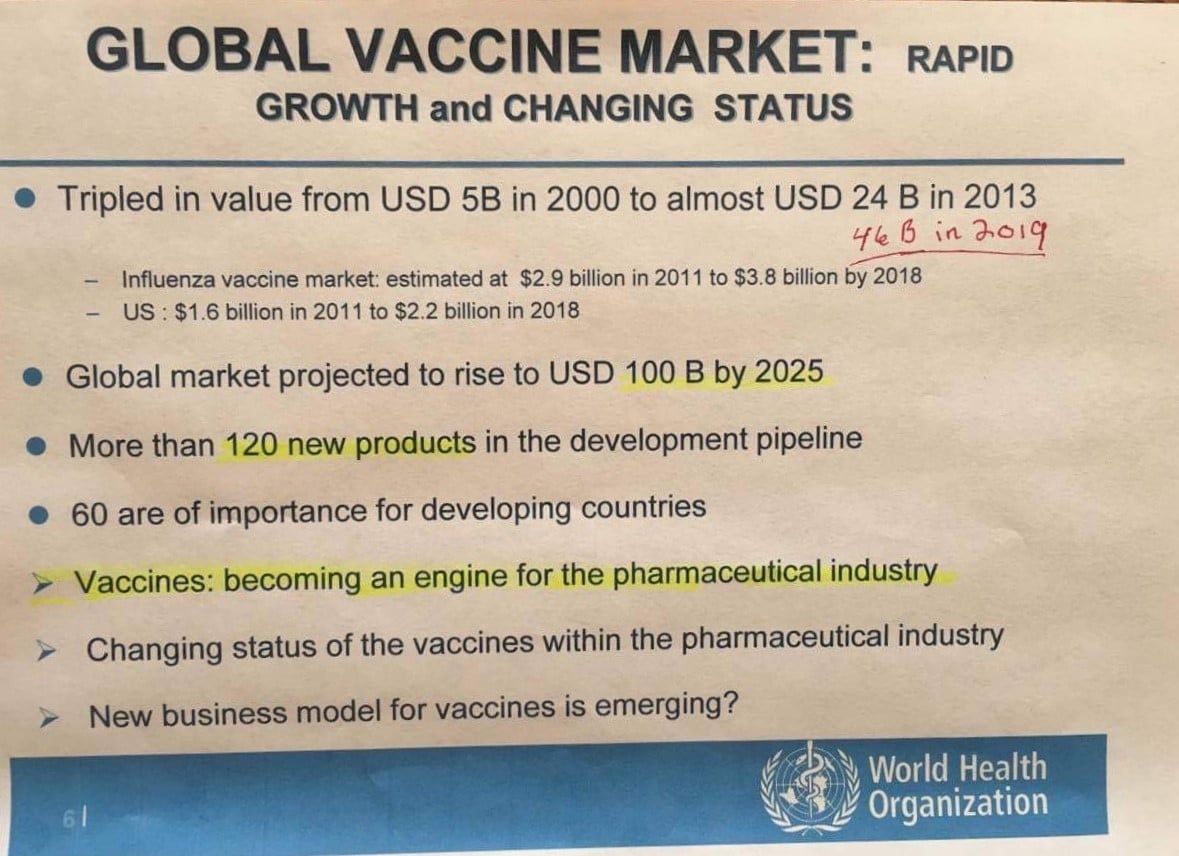 When you look at a driving force behind the making of vaccines, and the potential number of vaccines (Currently there are 69 doses on the CDC schedule for children), and The U.S. Department of Health and Human Service has been in the works to start an Adult schedule (click here), I think mandates become a problem.
It's a great market to be in when everyone is mandated to take your product and you do not have to be held liable for any injuries. I can understand why it would become an "engine".
To my knowledge, there is no other such product.
Please take a moment to review where we may be headed.
How many of the 120 new vaccine products might become mandated? How many will be on the new "Adult Schedule"?
Is that what has caused the vaccine schedule to increase?
1983: 22 doses of 7 vaccines by age 6
compared to:
2017: 50 doses of 14 vaccines by age 6
 and
 1983: 24 doses of 7 vaccines by age 18
2017: 69 doses of 16 vaccines by age 18
A recent article shares the profits from a Covid vaccine: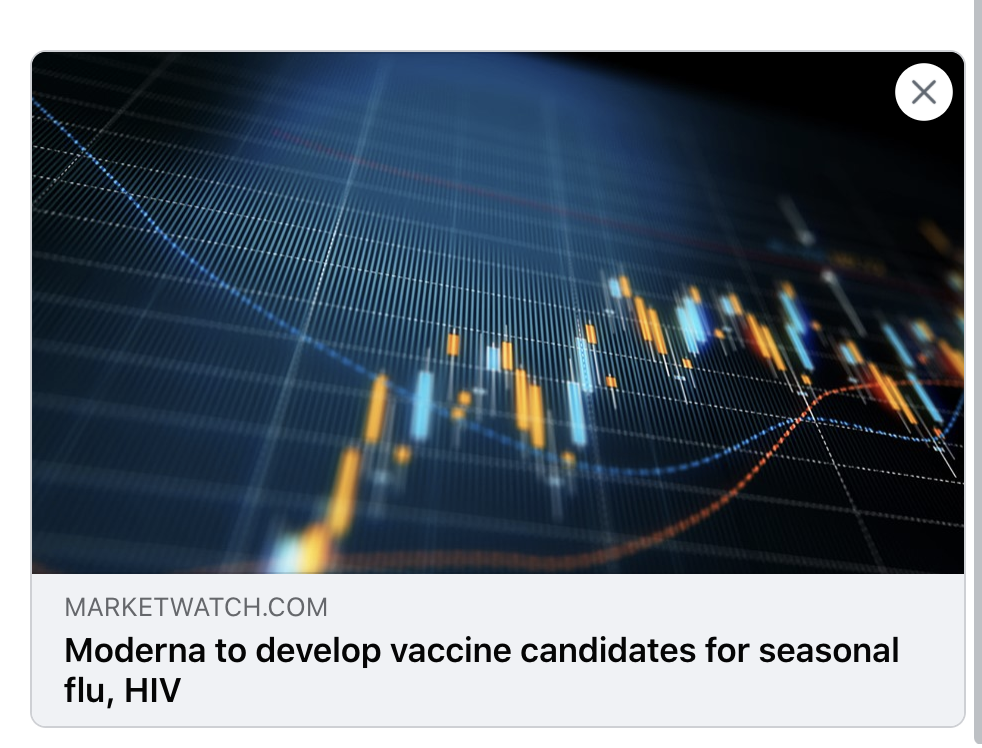 "As part of its corporate update, Moderna said it had about $5.2 billion in cash as of Dec. 31, compared to the $1.2 billion in cash it had at the same time a year ago, and it expects to generate at least $11.7 billion in revenue in 2021 for its COVID-19 vaccine based on advance purchase agreements. Moderna's stock has soared 489.1% over the last year, while the S&P 500 SPX, +0.11% is up 19.7%."
In 2018 the pharmaceutical industry spent almost $400 million lobbying congress. It is been stated that "Everybody takes money from Phrma, so they are all corrupted, that is why it is almost impossible to get anything done on Capitol Hill." That may be why members of congress say that they have faced pressure, been bullied or threatened when they have tried to raise vaccine safety issue. (See video here.)
Pharmaceutical companies cannot be sued for any liability from their products. We do know that vaccines can cause harm in some people. That is why the government has paid out over $4 billion dollars though the National Vaccine Injury Compensation program.
And What About Those Vaccine Passports Coming Your Way?
Will we get to the point where we cannot travel unless we all have a "Vaccine Passport"  showing we have whatever vaccine someone said we had to have? How many vaccines could that ultimately end up being?
You can read all about it here – just click on each picture.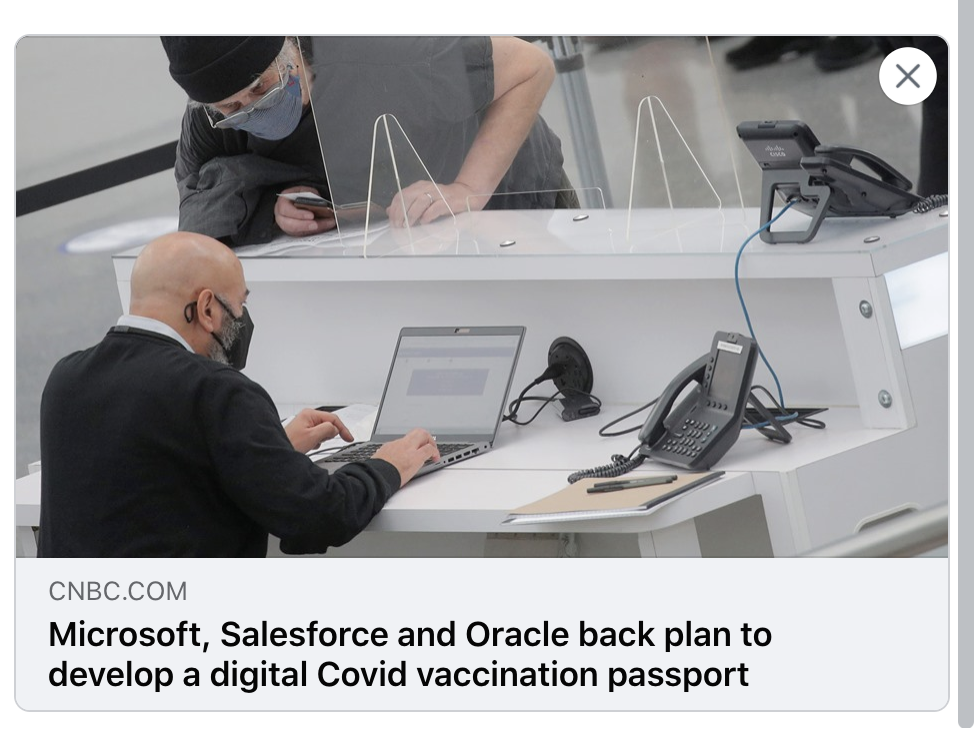 A digital Covid vaccination passport is being jointly developed by a group of health and technology companies who anticipate that governments, airlines and other firms will soon start asking people for proof that they have been inoculated."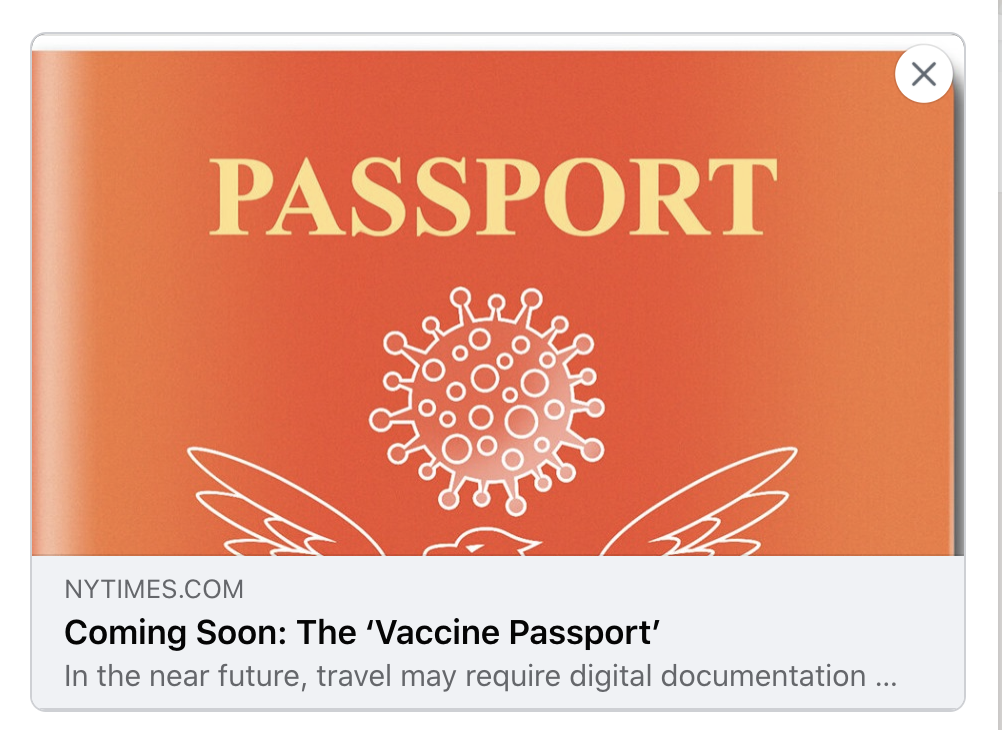 The Greater Good
Some believe that mandatory vaccines are needed for the "greater good" for society.  I would like to put forth the premise that TRUST is the greater good. If the goal is to build a public health policy that people believe in, across-the-board mandates, fueled by an industry where profit drives production, are probably not the best way to gain public trust.
Distrust has been growing for some time now for a variety of reasons. Right now, people have little faith in public policies because they do not believe what they are being told. 
I believe that people just want honest unbiased information and have the ability to choose which vaccines they feel are appropriate for them. I can also tell you after 25 years of covering this, censorship of information is at an all-time high. I say that not in some conspiratorial sense, but just from my own experience on trying to find information that was once readily available. And sometimes the information may still be there, but sites like Facebook and Instagram "bury it" so that it becomes almost impossible to find. 
When ONLY one side of an issue is allowed to be heard, and when that side has the power to literally silence and lock out other voices by that power by delegitimizing others concerns, and refusing to engage in rigorous debate, we have a serious breech in trust that will only continue to wear down the walls of trust.
The greater good in society is reflected in the laws that build a foundation of trust. Trust comes when people know that there is transparency in information, their concerns are being heard,  and knowing they have a seat at the table.
If a person has to be forced to do something that, given their medical history, might hurt them, or that goes against their first amendment protected religious convictions, in order to keep their job, go to school or move about in society, it will only breed a corrosive distrust and civil unrest.
Trust can be gained through robust education that allows for full informed consent, vigorous civil discourse and debate within the public square.
Forced vaccination will only damage public confidence across the board. 
The goal is not anti-vaccination. The goal is a safe, pro-informed consent vaccine policy, which upholds constitutional freedoms.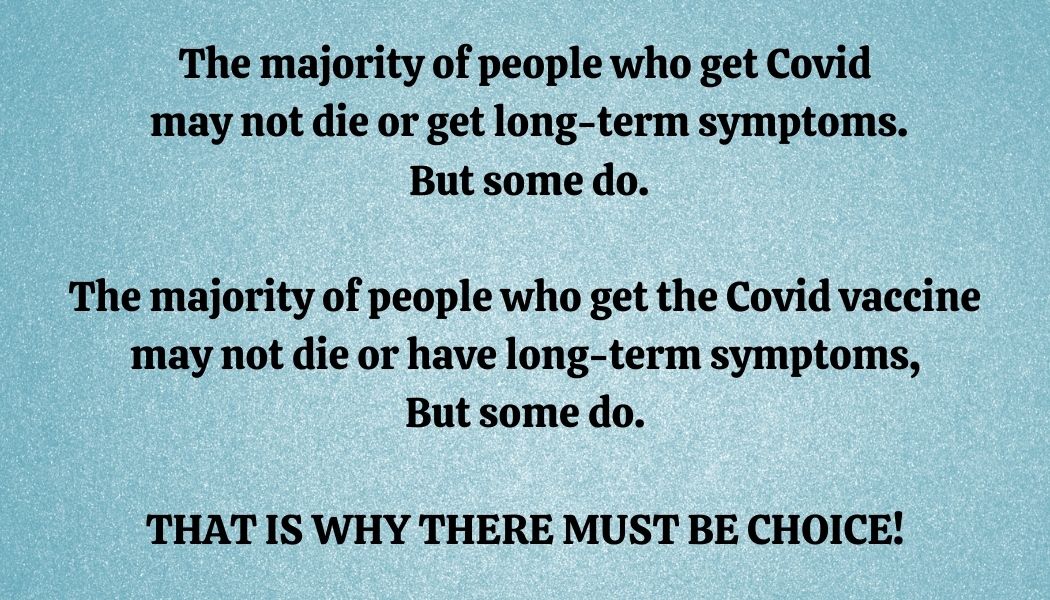 Do you live in Indiana?
If you live in Indiana and are concerned that a madatory vaccine policy might cause you to lose your job, I would urge you to check into  – and JOIN – Hoosiers for Medical Liberty.
 Check out their website here:

Your voice is needed! 
Inside or Outside Indiana
Stand for Health Freedom (SHF) is a nonprofit organization dedicated to protecting basic human rights, constitutional rights and parental rights. 
Click for website:


One Final Thought
Something that seems a bit perplexing is why the FDA would authorize a brand new mRNA technology for emergency use – something never used before in humans –  and yet not authorize the use of a long-standing drug such as Ivermectin, which has been successfully used in many studies for the treatment of Covid-19.   There may be many people that would like to have the experimental vaccine, but can we also be allowed to use what has been tested, and seems to have yielded good results? If you have not watched this video, I would HIGHLY recommend that you do – for your own health! Please note that the physicians and associates of the Front line Covid19 Critical Alliance (FLCCC) are neither affiliated nor aligned IN ANY WAY with the group calling itself 'American Front Line Doctors." (Also note the video clip does take a minute or so to load.)  You can find additional studies here and here.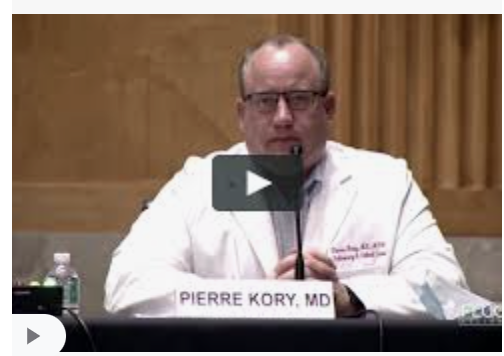 Make sure to check out this blog post that gives all the up-to-date data:

Be Informed, Be Engaged. Be Kind.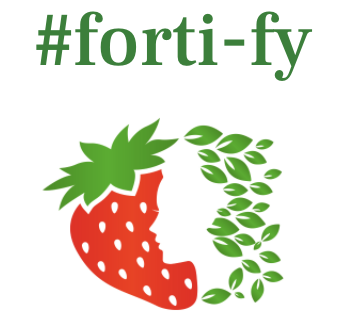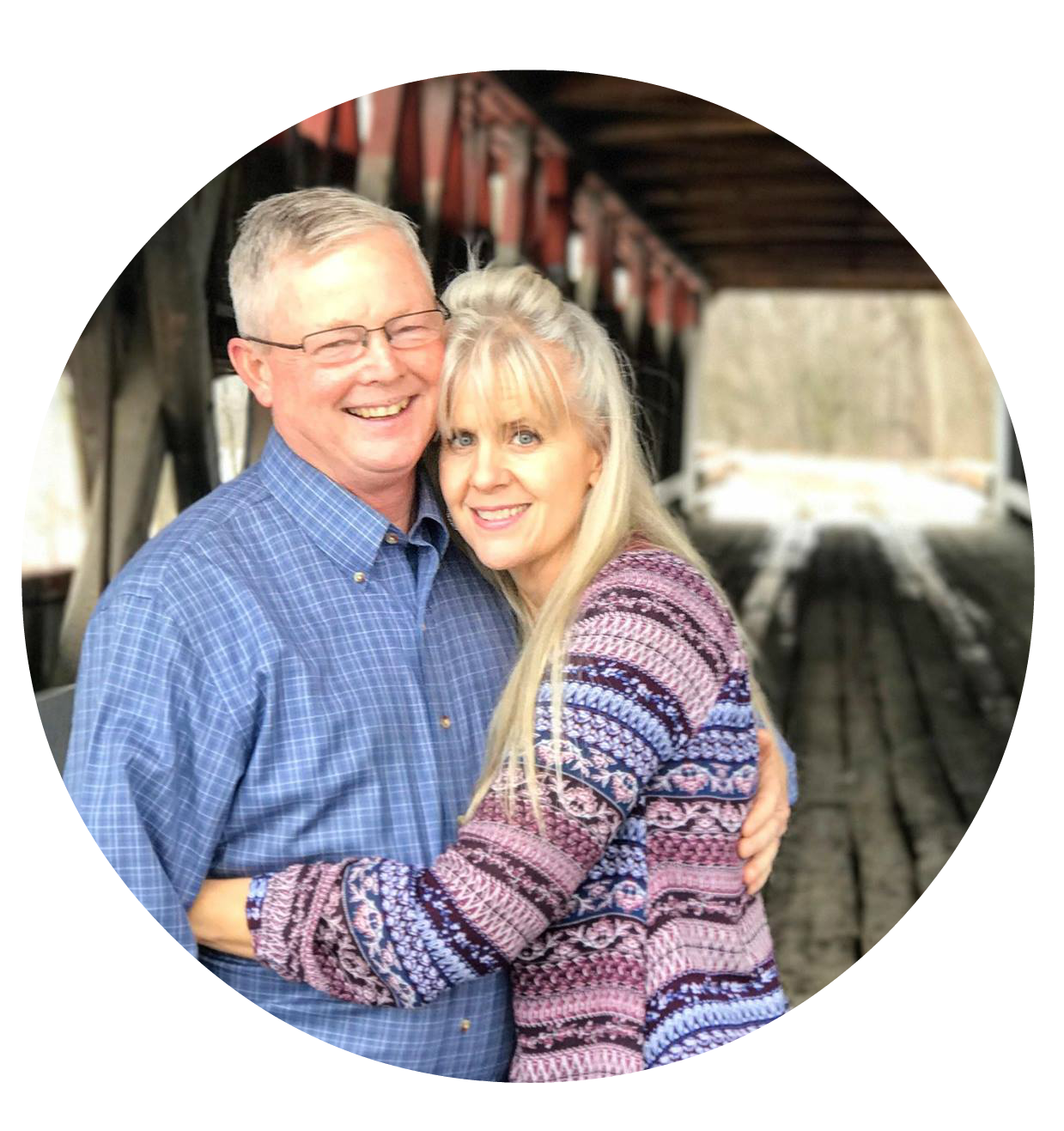 I am follower of Christ, a sinner saved by grace, trying to walk in the sweetness of life – resting in the strength of the triune God, who fortifies me daily with His righteousness, loving kindness and holiness of spirit. Read full bio here.