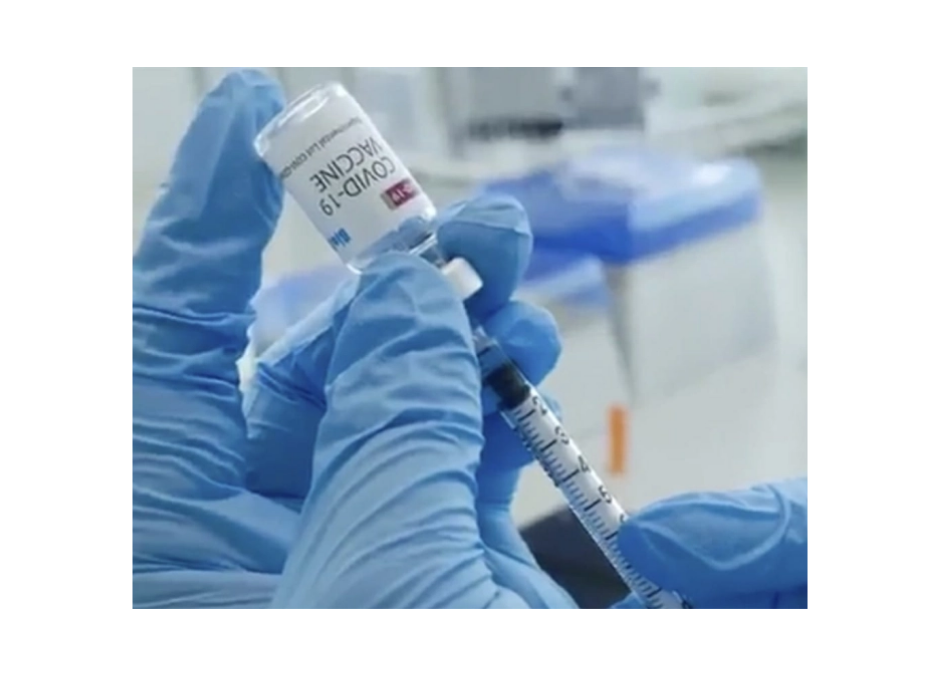 The Dilemma
After reviewing the vaccine debate over the last 25 years, I have seen ample evidence for why people have solid reasons for choosing to receive a vaccine, or not choosing to receive a vaccine.  The dilemma is who gets to make that choice for an individual.
Most of us have been presented the case that millions of doses of the Covid-19 vaccine have been administered and the vaccine has been deemed "safe and effective", and we should possibly move into mandates and even "vaccine passports".   I present the following information to bring a broader scope to the conversation that I hope will bring further review of the issue.
Current Reports of Adverse Events
The Vaccine Adverse Event Reporting System (VAERS)  is a national vaccine safety surveillance program run by CDC and the Food and Drug Administration.
The purpose of VAERS is to detect possible signals of adverse events associated with vaccines. VAERS collects and analyzes information from reports of adverse events (possible side effects) that occur after the administration of US licensed vaccines.
Reports are welcome from all concerned individuals: patients, parents, health care providers, pharmacists and vaccine manufacturers. (From FDA website)
VAERS is a passive reporting system, meaning it relies on individuals to send in reports of their experiences. There has been significant concerns as to the problem of underreporting of vaccine adverse events as many times events go unreported for a variety of reasons. There have been reports that VAERS only reflects about 1% of Adverse Events. The CDC reports that, "Approximately 37% of healthcare providers had identified at least one adverse event after immunization, but only 17% stated that they had ever reported to VAERS."
The other point I would to make is that the VAERS site makes it clear that just because there is a reaction to a vaccine, does not mean the vaccine was the cause. I would like to make a notation here in regard to the reporting of Covid deaths. It has been reported that there have been almost 400,000 Covid related deaths – meaning Covid may not have been the main cause but it contributed to the death.  If that is the paradigm used for Covid deaths then I think it would only be fair to use that same paradigm for Covid Vaccine related adverse reactions and death after the vaccine.
Following is a list of Deaths After the Covid-19 Vaccine. Again, keep in mind that the number listed may be much greater than the actual number for the reasons discussed above.
From the 1/7/2021 release of VAERS data:
Found 66 cases where Vaccine targets COVID-19 (COVID19) and Patient Died –  Click on photo:

You can search the CDC website here:
https://wonder.cdc.gov/vaers.html?fbclid=IwAR2o5qw2koeesFb83s4oB9mh_634QEjiQraHrLi8uwx8x5bBzreA4EdQJKc
The First Week Of the Vaccine Rollout
The CDC reported over 5000 "health impacts" in the FIRST week of the roll out.  A "health impact' is defined as "unable to perform daily activities, unable to work, required care from doctor or helath care professional."
The number of AE's currently reported on the VAERS site is over 13,000.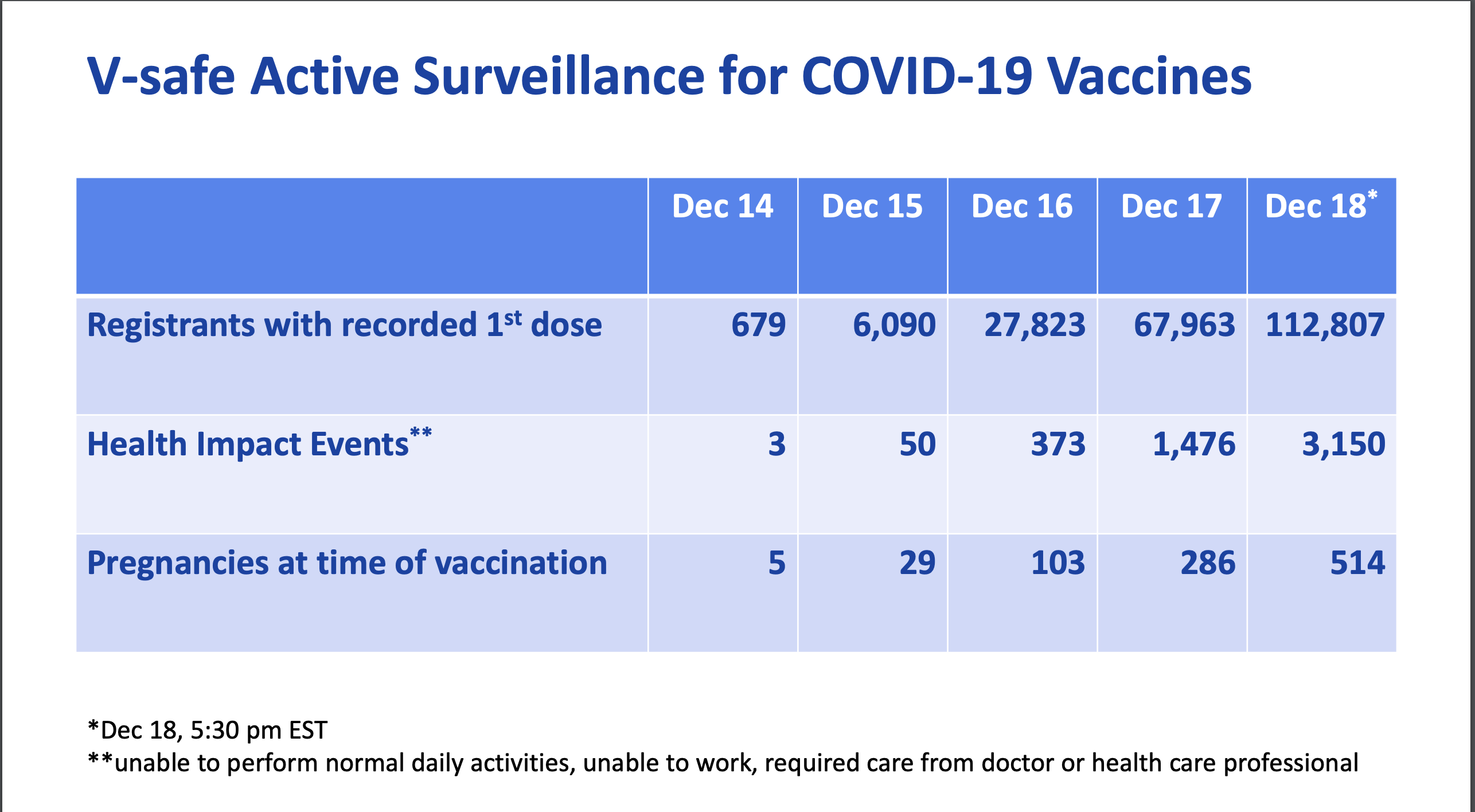 Here is the report for Life Threatening Adverse Reactions:
Click on photo:

SERIOUS ADVERSE REACTIONS
Please watch these videos. The first two are from Shawn Skelton. The third is from a son,( Brant Griner), posting about his mom.
Click on post to start video – Part 1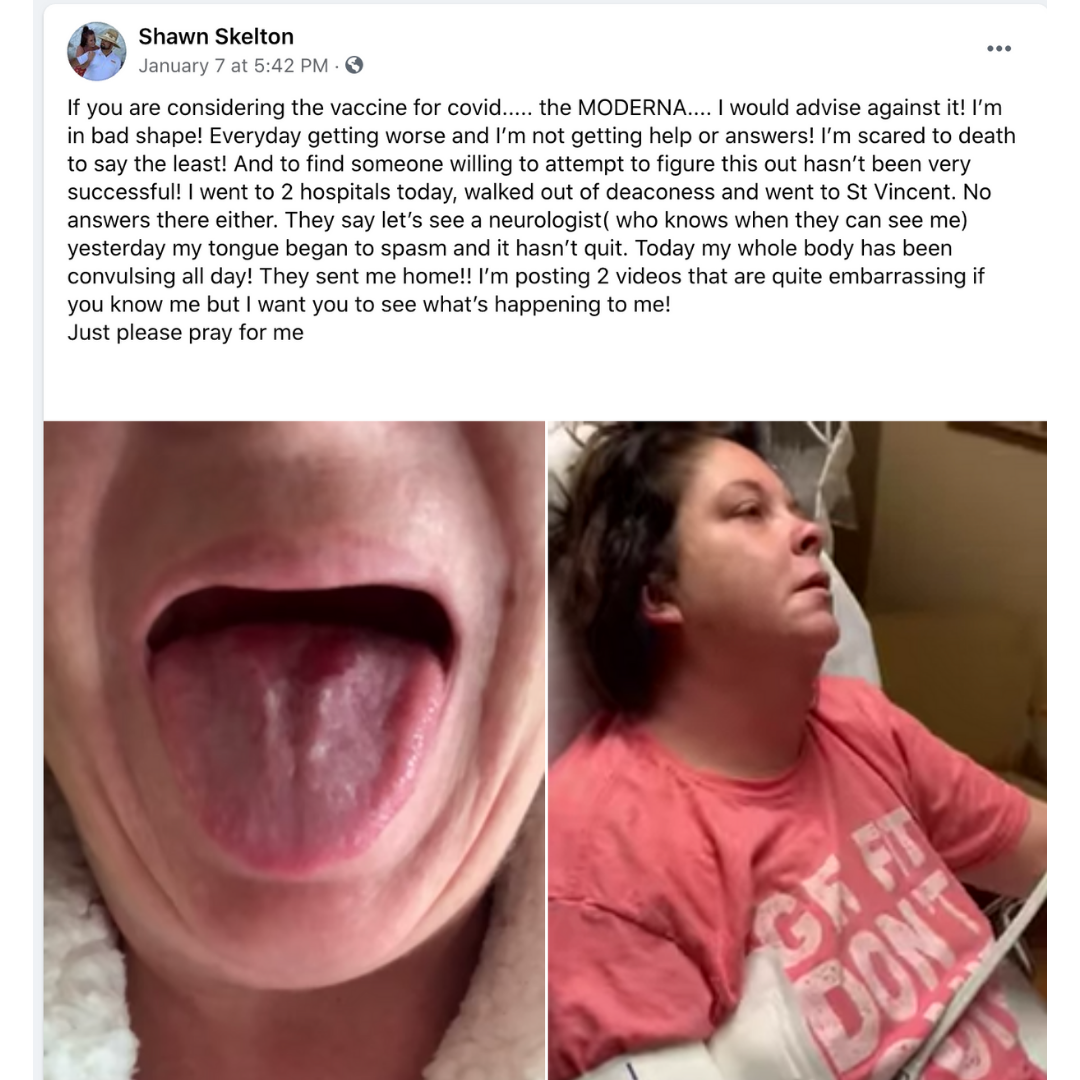 Click on picture to start video of Shawn – Part 2
Click on post to start video:
The same thing happening to Shawn is happening to Brant's mom.
Concern for the Elderly:
As I was thinking about my 86-year-old mother getting the vaccine, with health issues, I ran across these stories:
CLICK ON HEADLINES FOR STORIES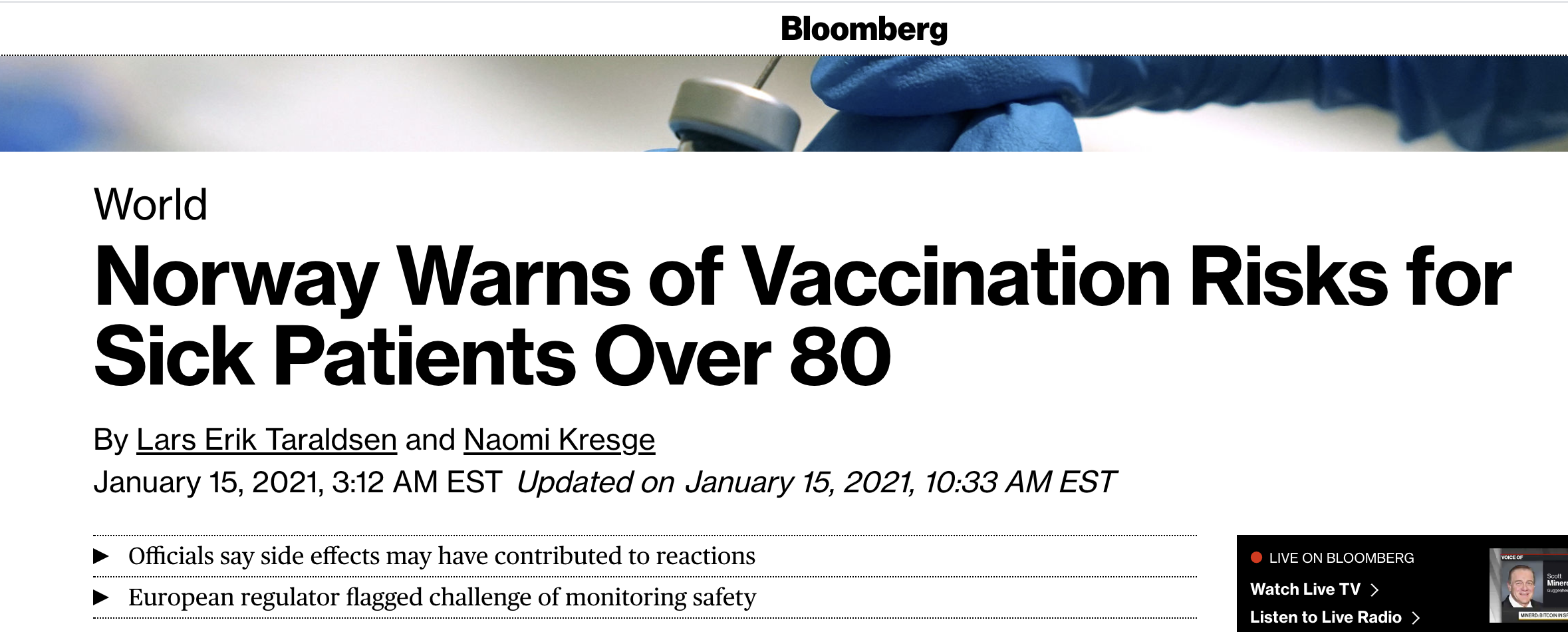 "Norway said Covid-19 vaccines may be too risky for the very old and terminally ill….Norwegian officials said 23 people had died in the country a short time after receiving their first dose of the vaccine."
75-year-old Israeli man dies 2 hours after getting Covid-19 vaccine:


"The man had received the first dose of the Pfizer-BioNTech vaccine during the afternoon as part of Israel's mass inoculation program. He later collapsed at home."
"In a separate incident Monday evening, a man was taken to the Terem emergency medical clinic in Jerusalem after suffering a severe allergic reaction around an hour after receiving a dose of the vaccine."
Again, note that when a person dies with Covid, Covid is usually given as the cause of death, yet when a person dies after a Covid vaccine, it is not implicated at all. I think there should be more consistency here. 
Further Complications:
Here are just a few of several other stories related to this topic:

"After taking the Benadryl, Tilli said she felt better momentarily but within minutes her symptoms came back stronger. The paramedics gave her an EpiPen and that's when things "started to go downhill."

"We found out that the young man had contracted the coronavirus asymptomatically before he was vaccinated. It may be accidental but I would not underestimate it. Care must be taken in vaccination of people who were sick with coronavirus in the past."

 "A Mexican doctor who had a serious allergic reaction after receiving Pfizer Inc and BioNTech's vaccine against COVID-19 remains hospitalized and has not fully recovered muscle strength, health authorities said on Wednesday."
CDC and Pfizer are investigating death of 'very healthy' Miami obstetrician 16 days after he received the vaccine and suffered a brain hemorrhage.
'In my mind his death was 100 percent linked to the vaccine. There is no other explanation,' she told DailyMail.com, fighting back tears. He was in very good health. He didn't smoke, he drank alcohol once in a while but only socially. He worked out, we had kayaks, he was a deep sea fisherman. They tested him for everything you can imagine afterwards, even cancer, and there was absolutely nothing else wrong with him.'
Click on photo for story.

"A Portuguese health worker, identified as Sonia Acevedo, was reported to have died two days after receiving the COVID-19 vaccine developed by Pfizer Inc and BioNTech." 
Click on the photo below to read about all the cases of Anaphylatic Reactions to the Vaccine:
(There are more than just what is in the photo)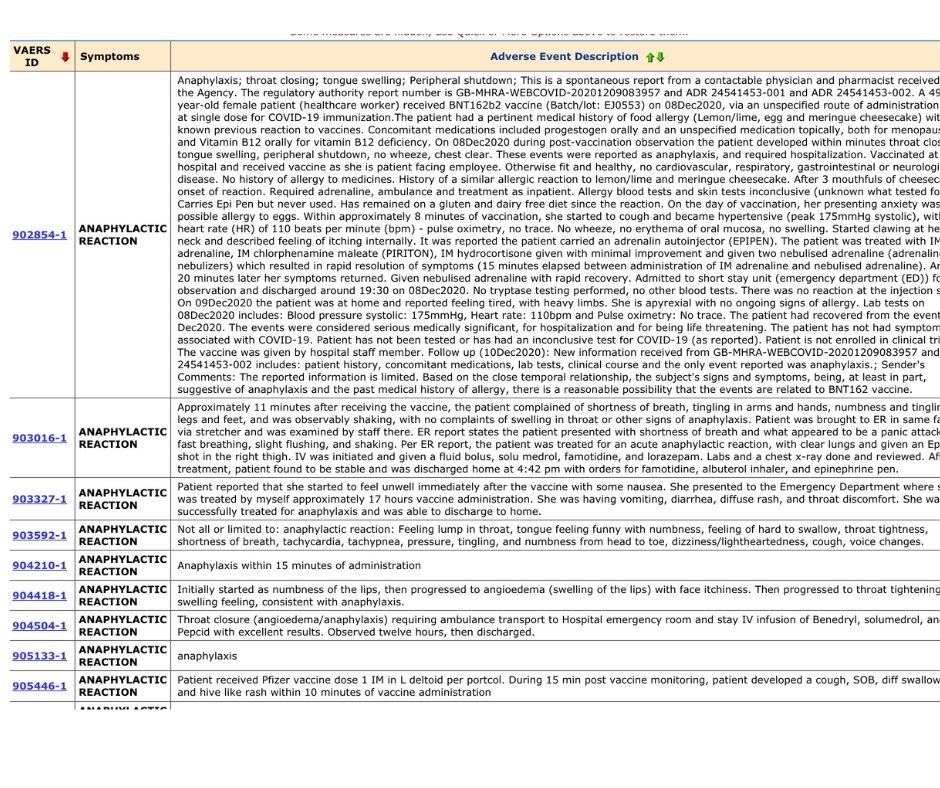 Then this today: 

More Anecdotal Stories
Here you will read many more anecdotal stories from people who have had reactions –  again these are anecdotal. Some experiencing  bad reactions still believe it is worth it and would advocate that everyone still get the vaccine, even with reactions; others would not. Both are a fair representation of the population.
Click on  photo for the compiliation of posts.
The name on this post was Jennifer Denton.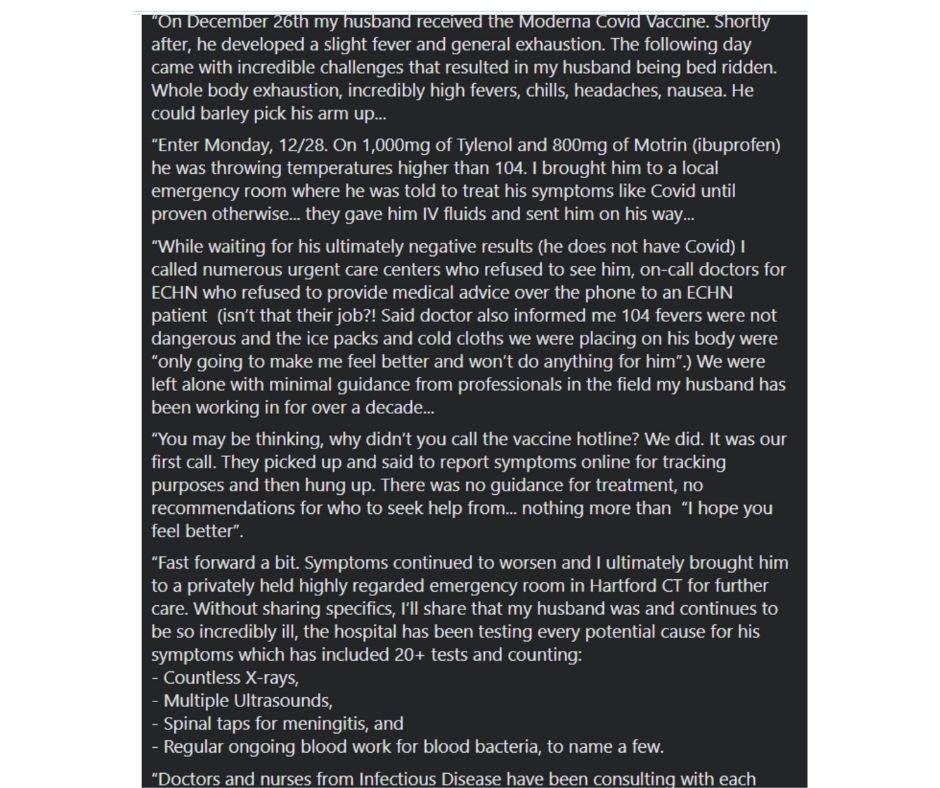 What Really is the Efficacy of the Covid Vaccine?

Dr. Doshi is an associate professor of pharmaceutical health services research at the University of Maryland School of Pharmacy and associate editor at The BMJ.
 "A rough estimate of vaccine efficacy against developing covid-19 symptoms, with or without a positive PCR test result, would be a relative risk reduction of 19% (see footnote)—far below the 50% effectiveness threshold for authorization set by regulators."
 Dr. Doshi also noted in a NY Times article:
"The vaccines are not risk free. Most side effects appear to be mild and short lived, but not all. For example, with the Moderna vaccine, the frequency of grade 3 adverse events — those severe enough to prevent daily activity, is higher than it is for most vaccines: 17.4 percent, or nearly one in five 18-to-64-year-olds who received the vaccine in the company's trial. (Grade 3 adverse events appear to occur less frequently with the Pfizer vaccine, but a direct comparison is not possible.) And there have been some serious allergic reactions. It's reasonable for people to weigh all of this in making their decisions."
Reviewing the Financial Connection to Vaccines
Several years back, I wrote a blog post that contained a link to a WHO (World Health Organization) presentation. This photo was part of that presentation (minus my highlights):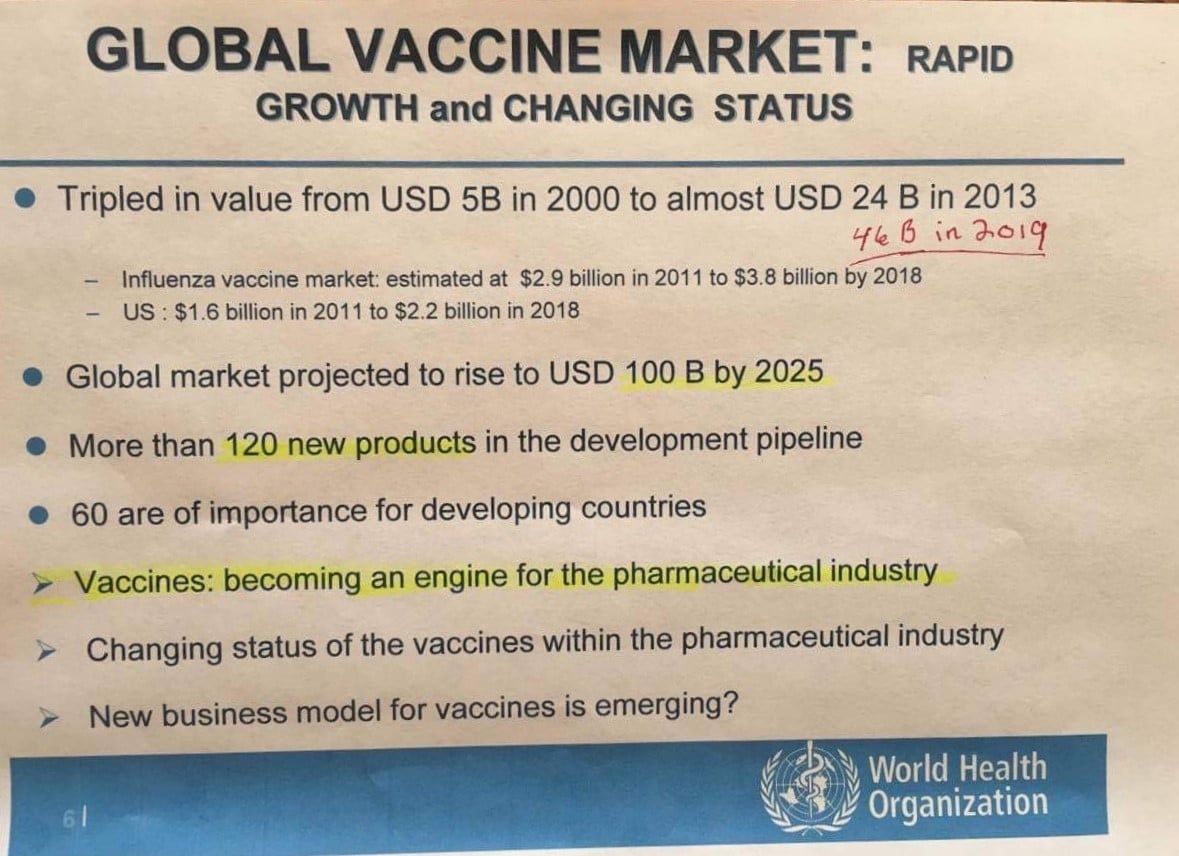 When you look at a driving force behind the making of vaccines, and the potential number of vaccines (Currently there are 69 doses on the CDC schedule for children), and The U.S. Department of Health and Human Service has been in the works to start an Adult schedule (click here), I think mandates become a problem.
It's a great market to be in when everyone is mandated to take your product and you do not have to be held liable for any injuries. I can understand why it would become an "engine".
To my knowledge, there is no other such product.
Please take a moment to review where we are headed.
How many of the 120 new vaccine products might become mandated? How many will be on the new "Adult Schedule"?
Is that what has caused the vaccine schedule to increase?
1983: 22 doses of 7 vaccines by age 6
compared to:
2017: 50 doses of 14 vaccines by age 6
 and
 1983: 24 doses of 7 vaccines by age 18
2017: 69 doses of 16 vaccines by age 18
A recent article shares the profits from a Covid vaccine:

"As part of its corporate update, Moderna said it had about $5.2 billion in cash as of Dec. 31, compared to the $1.2 billion in cash it had at the same time a year ago, and it expects to generate at least $11.7 billion in revenue in 2021 for its COVID-19 vaccine based on advance purchase agreements. Moderna's stock has soared 489.1% over the last year, while the S&P 500 SPX, +0.11% is up 19.7%."
In 2018 the pharmaceutical industry spent almost $400 billion lobbying congress. It is been stated that "Everybody takes money from Phrma, so they are all corrupted, that is why it is almost impossible to get anything done on Capitol Hill." That may be why members of congress say that they have faced pressure, been bullied or threatened when they have tried to raise vaccine safety issue. (See video here.)
Pharmaceutical companies cannot be sued for any liability from their products. We do know that vaccines can cause harm in some people. That is why the government has paid out over $4 billion dollars though the National Vaccine Injury Compensation program.
How do you gain the public trust with mandates?
I posted several months ago on vaccine passports, and it has been in the news again recently:

"

A
 

digital Covid vaccination passport is being jointly developed by a group of health and technology companies who anticipate that governments, airlines and other firms will soon start asking people for proof that they have been inoculated." 
The Greater Good
Some believe that mandatory vaccines are needed for the "greater good" for society.  I would like to put forth the premise that Truth is the greater good. If the goal is to build a public health policy that people believe in, across-the-board mandates, fueled by an industry where profit drives production, are probably not the best way to gain public trust.
Distrust has been growing for some time now for a variety of reasons. Right now, people have little faith in public policies because they do not believe what they are being told. 
I believe that people just want honest unbiased information and have the ability to choose which vaccines they feel are appropriate for them. I can also tell you after 25 years of covering this, censorship of information is at an all-time high. I say that not in some conspiratorial sense, but just from my own experience on trying to find information that was once readily available. And sometimes the information may still be there, but sites like Facebook and Instagram "bury it" so that it becomes almost impossible to find. By the time you read this, there may be information in this post that has been censored.
When ONLY one side of an issue is allowed to be heard, and when that side has the power to literally silence and lock out other voices by that power and by delegitimizing others concerns and refusing to engage in rigorous debate, we have a serious breech in trust that will only continue to wear down the walls of trust.
The greater good in society is reflected in the laws that build a foundation of trust. Trust comes when people know that their concerns are being heard and knowing they have a seat at the table.
If a person has to be forced to do something that, given their medical history, might hurt them, or that goes against their first amendment protected religious convictions, in order to keep their job, go to school or move about in society, it will only breed a corrosive distrust and civil unrest.
Trust can be gained through robust education that allows for full informed consent, vigorous civil discourse and debate within the public square.
Forced vaccination will only damage public confidence across the board  – then all vaccination policy will be compromised. What has been called "the pillar of public health" has the potential of crumbling down. The majority of people do not want that. 
The goal is not anti-vaccination. The goal is a safe, pro-informed consent vaccine policy, which upholds constitutional freedoms.
Do you live in Indiana?
If you live in Indiana and are concerned that a madatory vaccine policy might cause you to lose your job, I would urge you to check into  – and JOIN – Hoosiers for Medical Liberty.
 Check out their website here:

Right now they are working diligently on Senate Bill 74,  which upholds your medical freedom.  Your voice is needed!
Inside or Outside Indiana
Stand for Health Freedom (SHF) is a nonprofit organization dedicated to protecting basic human rights, constitutional rights and parental rights. 
Click for website:


Be Informed, Be Engaged. Be Kind.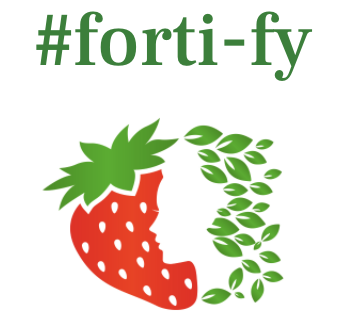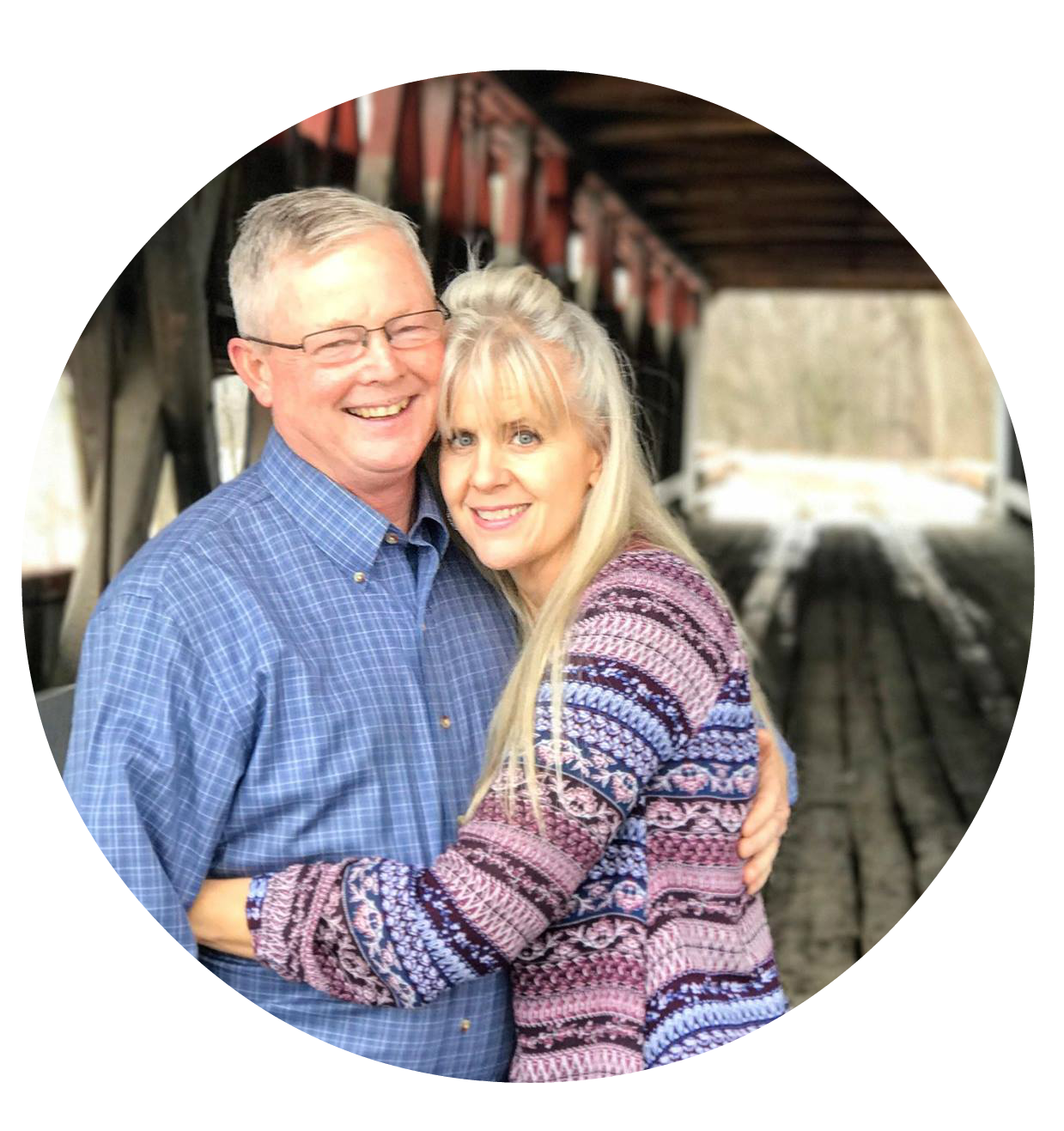 I am follower of Christ, a sinner saved by grace, trying to walk in the sweetness of life – resting in the strength of the triune God, who fortifies me daily with His righteousness, loving kindness and holiness of spirit. Read full bio here.