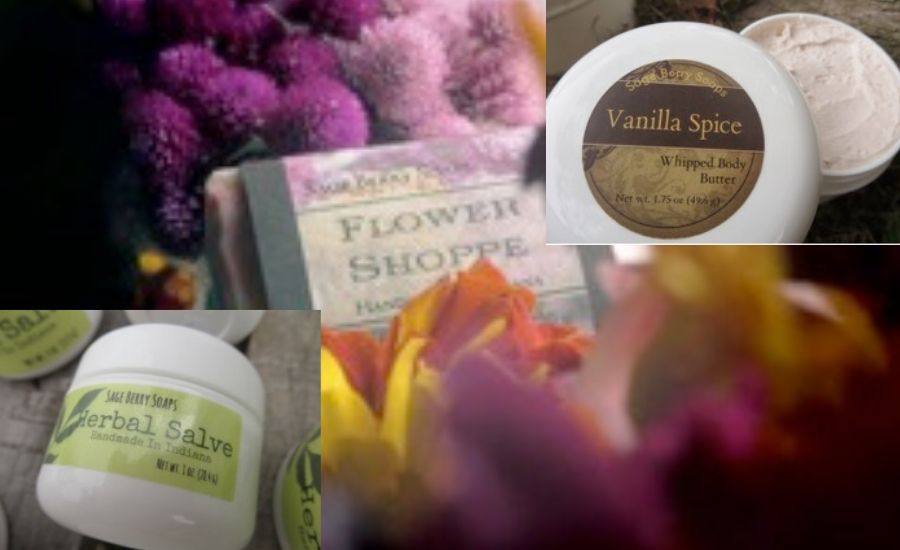 Do you love to give and receive REALLY useful gifts?
Then you will love my friend Susan's homemade Sage Berry Soaps, Salves, Whipped Body Butters, Lotion Bars and Lip Balms! Susan makes all of these by hand and she is one of those very "natural" people, so you know you will never find "junk" in any of her products!
If you have kids or pets, you NEED the ultimate
Sage Berry Herbal Salve!
We have used Susan's Herbal Salve for years – on EVERYTHING! Cuts, scrapes, deep gashes, dry skin, insect bites – you name it  – that includes on cows, horses, pigs, dogs and cats!!!! (Although, use on animals is just what we do – not sure if that was Susan's intent!) We just wipe off the affected area with a little tea tree oil and then apply Sage Berry Salve.  Always. On Everything.  And we've been doing that for a lot of years with a lot of kids – and a lot of animals!
Many years ago I stopped buying store bought triple antibiotic ointment and replaced it with this  salve. When you look at the ingredient list in this powerful medicinal salve, you will see it is a POWER HOUSE chock-full of healing properties – comfrey, plantain, yarrow root, lavender, rosemary, tea tree – – it would take me pages to list all numerous benefits of all these herbs and oils! These are all known for healing damaged tissues, helping external wounds, minimize the risk of infection, killing bacteria, activating blood platelets to form protective layer of skin, reducing pain and inflammation, increase cell growth causing the wound to heal faster, decrease the appearance of scars, anti-septic, anti-microbial, and anti-fungal action!
THIS IS ONE POWERFUL SALVE!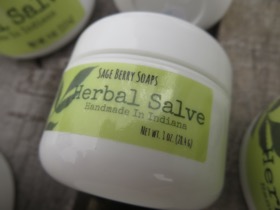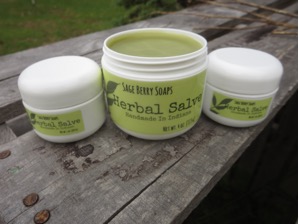 Herbal Salve:
1 ounce – $6.00

2 ounce – $9.00

4 ounce – $13.00
Herbal Salve
Ingredients
Coconut oil

Olive oil

Beeswax

Comfrey leaf

Plantain leaf

Yarrow leaf

Echinacea roots & tops

Lavender flowers

Lavender essential oil

Rosemary essential oil

Tea Tree essential oil

Rosemary oil extract
This aromatic salve is made by infusing the herbs in a base of olive and coconut oils. After straining out the herbs, beeswax is added to provide a more solid texture. Lastly, I combine it with essential oils and rosemary oil extract (to help prevent rancidity in the coconut and olive oils). This is a favorite for families with many active children, who also share living space with mosquitoes ☺.
And I just love the fragrances of the Sage Berry Natural Soaps.
Eighteen scents to choose from!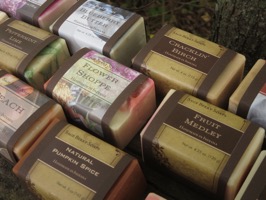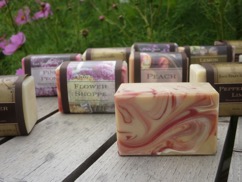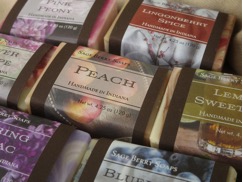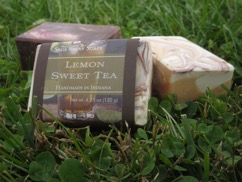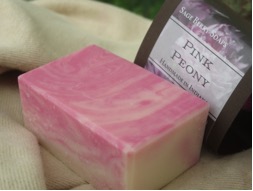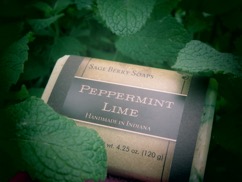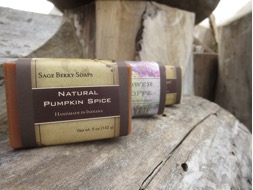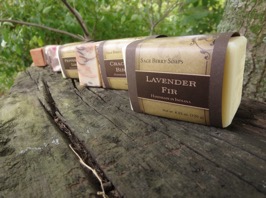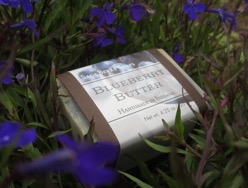 Some of the oils used in soapmaking: Olive, palm, coconut, palm kernel, shea butter, beeswax, avocado, jojoba.
Current Soap Scents: ($3.75 each + tax, unless indicated otherwise)
Blueberry Butter

Lemon Sweet Tea

Spring Lilac

Pumpkin Spice – $4.00

Peach

Vanilla Spice
Lavender Mint

Cracklin' Birch (masculine)

Fruit Medley

Japanese Cherry Blossom

Flower Shoppe

Spice
Peppermint Lime

Lingonberry Spice

Lavender Fir

Raspberry Truffle

Pink Peony

Pink Gardenia
And then there are the luscious Sage Berry Whipped Body Butters!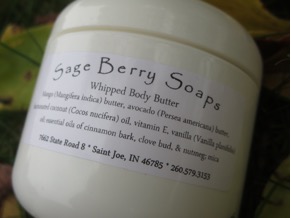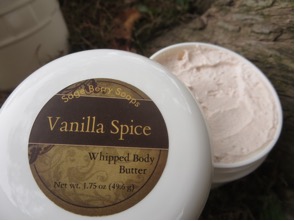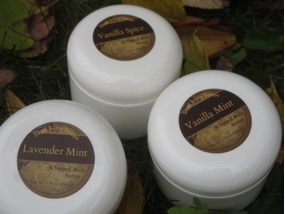 Dry winter skin motivated Susan to try this "whipped body butter" that she'd read about. The texture is reminiscent of marshmallow cream.She generally does not use it on hands  during the day because it is somewhat greasy – it's not a lightweight lotion. But highly recommends this as being great for legs and body after a shower or before bed!
Ingredients:
Mango butter

Avocado butter

Fractionated coconut oil (MCT oil)

Vitamin E

Fragrance – combination of essential oils & fragrance oils
Hot Apple Cider

Jasmine Green Tea

Lavender Mint

Peach

Peppermint

Vanilla Mint

Vanilla Spice
Whipped Body Butter: 1.75 oz of whipped body butter in a plastic tub ($7.00 each + tax)
Please give 5 – 7 days advance notice, as these are made to order.
And Don't Forget the
Lip Balms and Lotion and Salt Bars!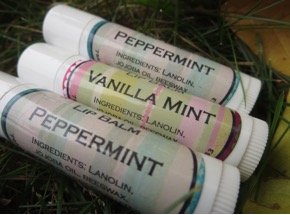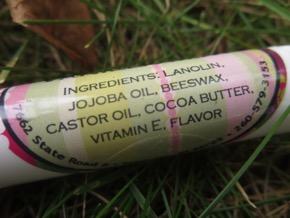 Lip Balm
Ingredients:
Lanolin

Jojoba oil

Beeswax

Castor oil

Cocoa butter

Vitamin E
Lip Balm Flavors:
($2.00 each + tax)
Peppermint

Spearmint

Vanilla Mint
Lotion Bars:
1.3 oz of solid lotion in a tin ($4.00 each + tax)
Please give 5 – 7 days advance notice, as these are made to order.
Cracklin' Birch

Fruit Medley

Hot Apple Cider

Jasmine Green Tea

Lilac
Salt Bars:
Coming in 2020
            These are bars of soap with a large portion of salt added to the soap batter just before pouring into the mold. The final bar is smooth and hard and does not turn to mush in the soap dish. The lather is creamy. I always keep one of these at the bathroom sink.
A little history on how Susan got started:
"In the mid 1990's I read an article in Country Woman magazine about a woman who made and sold soap. That idea so intrigued me that I immediately searched the library for any books on soap making. I found two, at the most. Nevertheless, I plunged right in after reading all I could find. I was so excited when my first bars actually lathered – real soap!
I kept right on learning, experimenting, and having mostly successes. I gradually found more resources in book form, and then, exponentially, on the internet. Now, there is an abundance of information in books and online for any level of soap maker.
There was no way that we could use up all the soap I made. Friends and family could only be gifted so much soap. So, I began selling. I expanded to lip balms, salve, and other products as I learned new things.
I thoroughly enjoy learning about soap and other personal care products. I make various products for my family that I do not offer for sale. It would not be unusual for me to walk around to family members with a batch of soap in hand, saying, "Smell, smell." ☺ I'm happy when they like my products and ask me to make something to meet a particular need."
The information on Sage Berry Soap products has not been evaluated by the FDA and is not intended to diagnose, treat, prevent, or cure any disease.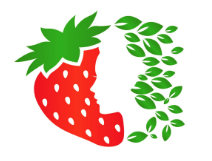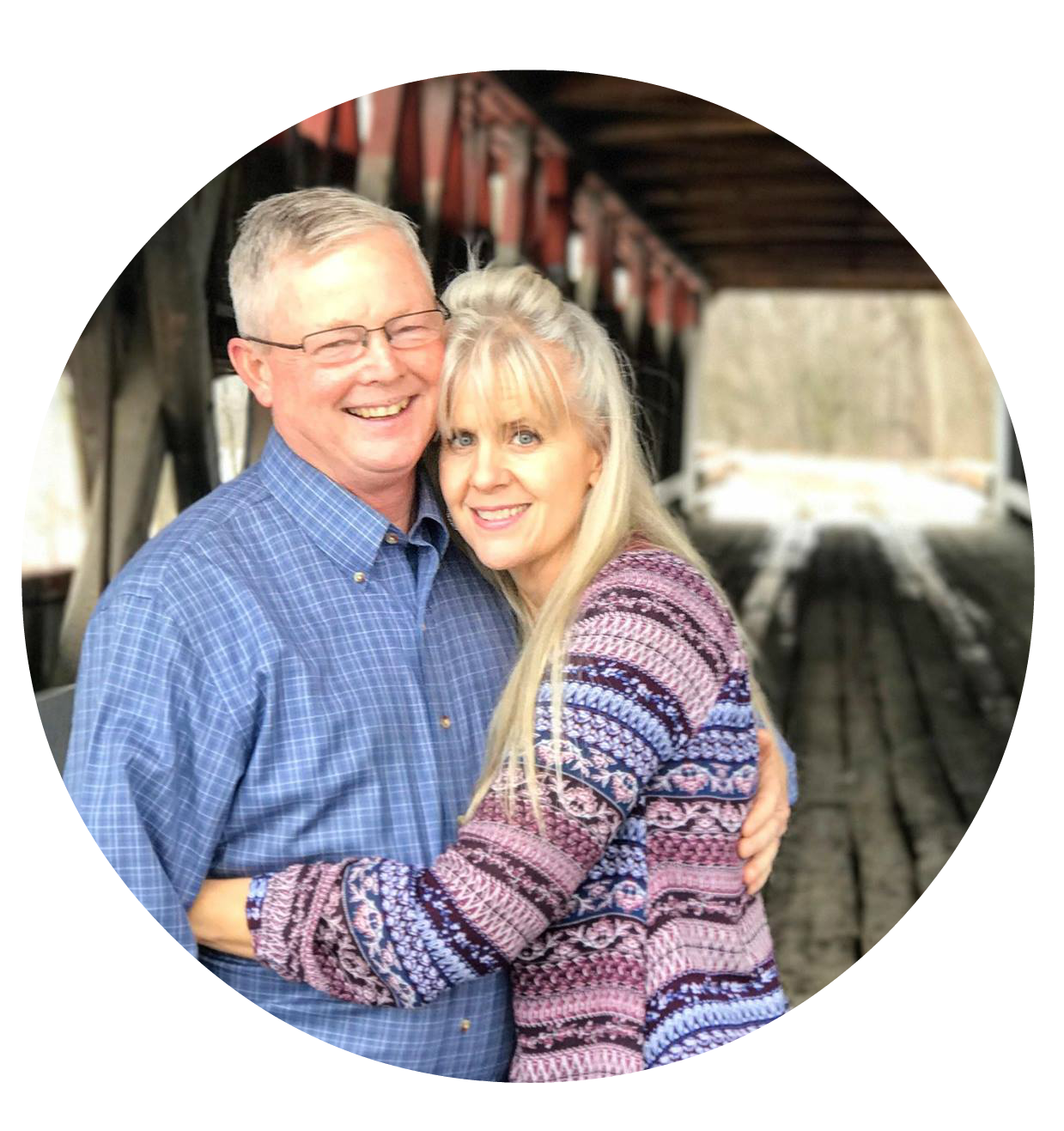 I am follower of Christ, a sinner saved by grace, trying to walk in the sweetness of life – resting in the strength of the triune God, who fortifies me daily with His righteousness, loving kindness and holiness of spirit. Read full bio here.