Denise shared this idea at her home during a 'long distance grandparent lunch" get together and I absolutely loved it! – Ann
When our son, daughter-in-law, and 15-month old grandson were visiting last year, I noticed Judah was very interested in the photographs that were displayed in our home. He seemed to really enjoy it as we would name and point out to him the different individuals pictured. That interest gave me the idea to make him a family photo book of his own.
Originally, I was going to include both sets of grandparents and all Judah's aunts and uncles from both sides of the family. However, my discount coupon to purchase a book was only good through the weekend and I didn't have time to request photos from our daughter-in-law's family, thus it became "Judah's Book: Daddy's Family!"
I quickly picked out my favorite, recent photos of our family. I love pictures, so it was hard to chose, but I included group shots, individual poses, action shots of us involved in favorite activities, and photos that included Judah and his parents. I wrote simple captions such as, "Aunt Hannah is riding a horse," or "Uncle Josh likes to climb." I ordered the book and had it shipped directly to his home two states away.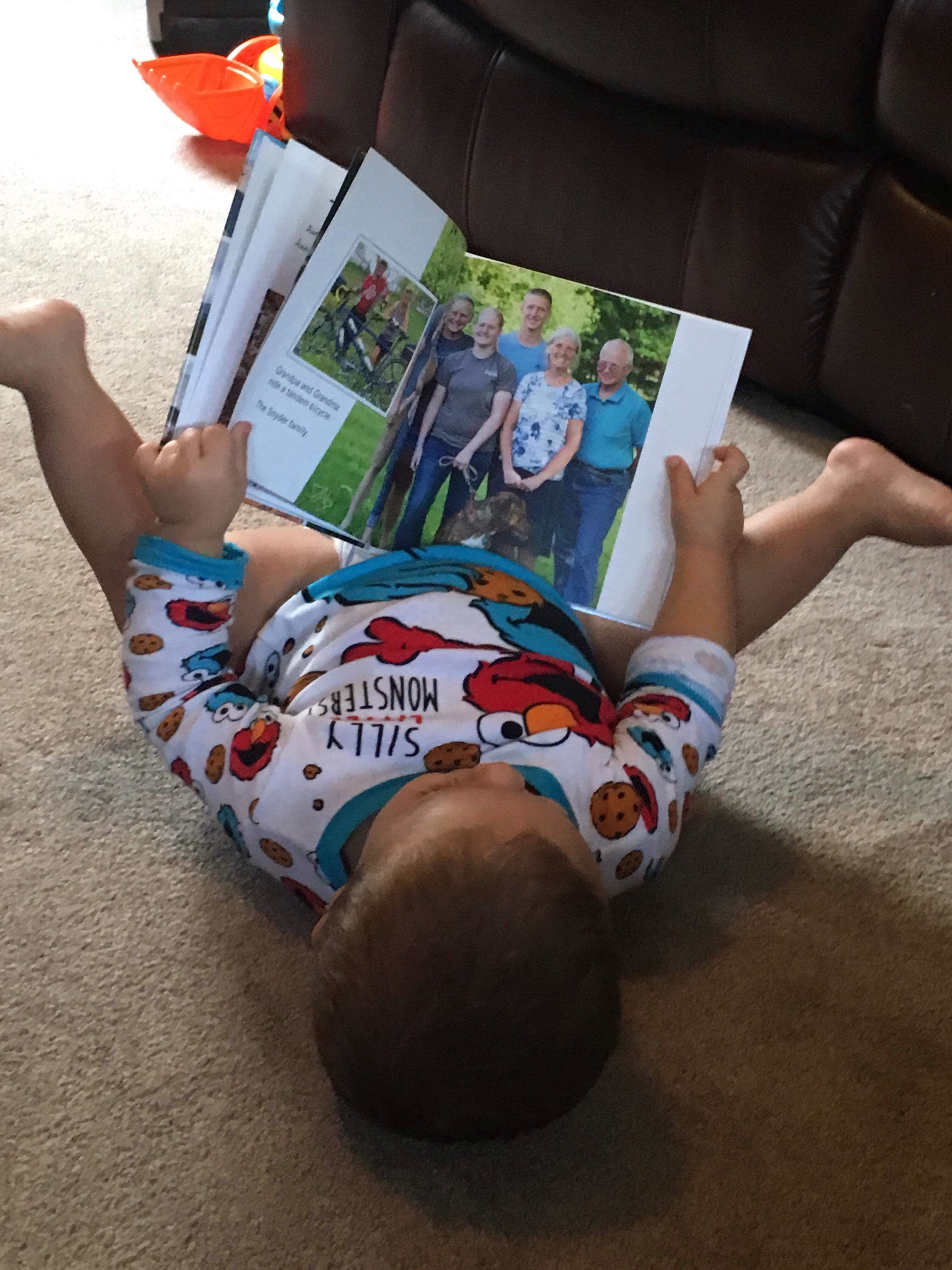 That book has been such a wonderful tool for our family! His parents read him the book, pointing out the different family members in the photos and talking about us. One Sunday morning, my son sent me this picture of our grandson looking at the book on his own. What joy that brought to this long-distance grandma! His parents tell me it's one of Judah's favorite books. Although we are not able to be with him as often as we would like, Judah is "seeing" and learning about our family. I also think that it helps Judah to know us a little better when we did visit, so we were not quite so unfamiliar to him.
I utilized Shutterfly to design and order their standard 8×8 hard back book—there are other companies that provide similar products, as well. The book has been well-used and shows it! My daughter-in-law has taped torn pages, but I am  glad that it's been used by a toddler—that was my hope. I didn't want to make a "keepsake" that couldn't be touched.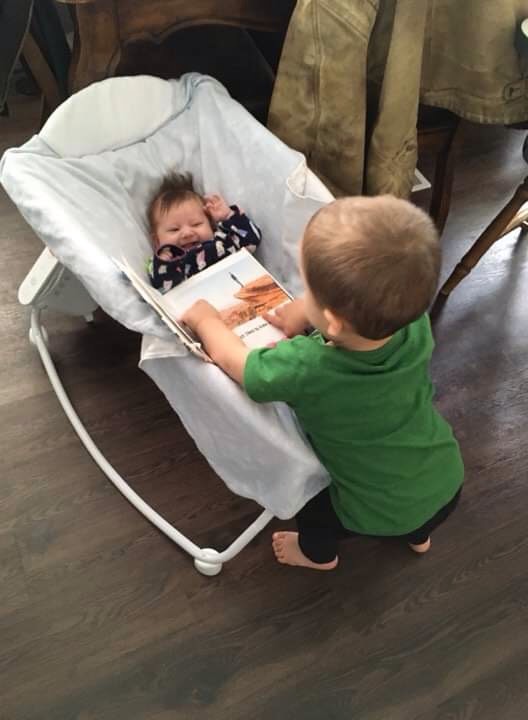 At the beginning of January, our second grandchild was born. I received this second picture several months later. Reading "Judah's Book" to his sister! It's a small investment of time and money that has helped us bridge the distance!